You've heard that LEED Version 4 was scheduled to launch in June 2014. The USGBC has now released a date.
The last day to take the credential exams with LEED v2009 (also known as version 3) content will be June 15, 2014. The first day to take the exams with the new LEED v4 content will be June 30, 2014. No tests will be administered in between these dates.
Everblue will continue to offer its LEED 2009 training until May 19. Don't be fooled by the naming convention; LEED Version 2009 is the current standard for professionals preparing to take their LEED Exam. As can be expected in a growing and evolving industry such as this, the USGBC makes updates to its green building standard every few years to maintain relevancy. LEED 2009 is the active green building standard and will remain the tried-and-true solution until the exams for it expire on June 15. We have chosen a May cut-off date for LEED v3 training in order to give students time to adequately study and prepare for their LEED v3 exams.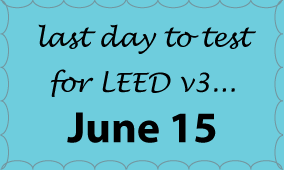 Our recommendation is to enroll in LEED 2009 training as early as possible, not only to give yourself time to study but because we anticipate a last-minute rush in exam registrations in May and June. With a professional endeavor this important, you don't want to risk not securing a test spot at Prometric. Generally speaking, we recommend to our students that they go ahead and register for their LEED exam immediately following their exam prep course. This creates a real deadline to work toward and helps students focus on their studying. Don't wait until the last minute to sign up for your LEED exam!
Everblue will launch its LEED Version 4 exam prep training on May 19. Students who enroll in this training will be preparing to take the LEED v4 exam. The differences between LEED 2009 and Version 4 will be discussed in a 4-hour overview course that we will launch in late May. This overview will enable students and graduates of the LEED 2009 system to get up to speed on the Version 4 updates without having to test again. Always at the cutting edge of the LEED industry, Everblue is your one-stop resource for LEED exam prep, industry updates, and credential maintenance. We navigate the market changes so you don't have to! You can trust us to provide you with the knowledge you need to pass your exams and move forward in your career with a LEED credential.