The creation of the LEED v4 standard is the culmination of years of feedback from various members and users, all of whom influence the adoption of new green building concepts in the marketplace. Given the USGBC's mission to maintain a consensus and market-driven approach to the LEED standard, the new version will feature new and innovative credits that will propel green building forward.
What's New in the LEED v4 Standard?
Enhanced International Recognition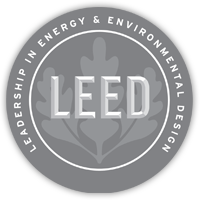 Primarily, the new rating system will provide greater recognition of regional context through the inclusion of local and regional equivalences to typical referenced standards. Specific project areas will now be able to obtain points not commonly covered in the standard LEED credit categories. Further, given the international scope of LEED projects, v4 will now provide metric units for all tools and resources through LEED Online.
New Market Sectors
The expansion of green building demand across various sectors has necessitated the inclusion of a wider array of LEED project types. In LEED v4, these specific spaces will have dedicated solutions – addressing needs exclusive to that area. Ultimately, LEED v4 will address new solutions for the following building types:
Existing Schools
Existing Retail
Data Centers (new & existing)
Warehouses and Distribution Centers (new & existing)
Hospitality
Mid-Rise Residential Building
Improved Rating Systems
LEED Green Building Design + Construction
New: Hospitality, Data Centers, Warehouses & Distribution Centers, Healthcare, Homes, and Mid-Rise Buildings
Existing: New Construction, Schools, Retail
LEED Green Interior Design + Construction
New: Hospitality
Existing: Commercial Interiors and Retail
LEED Existing Buildings: Operations + Maintenance
New: Hospitality, Data Centers, and Warehouses & Distribution Centers
Existing: Existing Buildings, Schools, and Retail
LEED Neighborhood Development
New: Neighborhood Development Plan (projects during planning phase – certifying the plan) and ND Development (completed development certification)
New Credit and Impact Categories
Credit Category: Location & Transportation
Impact Categories: Tools for development and point allocation that will address more impact categories if they have a higher number of points.
Why You Should Get Accredited Today
The USGBC will introduce the final version of LEED v4 at the 2013 Greenbuild Conference & Expo. However, students will not be required to take the new v4 accreditation exams until Spring 2014, providing ample time to take advantage of current training courses. Likewise, project teams can continue to register their projects under LEED 2009 until June 1, 2015. With exam and project requirements becoming more stringent, now is the best time to prepare for a LEED accreditation exam with one of Everblue's exam prep programs: LEED Green Associate, LEED AP Building Design + Construction, LEED AP Operations + Maintenance, and LEED Credential Maintenance. For questions and concerns, please contact us at (800) 460-2575 or email us at [email protected]