LEED stands for Leadership in Energy & Environmental Design. By the name and acronym alone, it might be unclear as to what kind of knowledge individuals are expected to have to pass the LEED exam, but hopefully we can shed some light on this below with our LEED exam outline information.
Before you can even start thinking about the LEED exam, you first have to ask, "Can LEED help my career? If so, how?"
To answer that question, you have to have a basic understanding of what LEED represents, specifically the knowledge areas and skills that are expected of LEED professionals. Take a moment to review our New to LEED? Start Here! series for more information about LEED.
An Introduction to the LEED Exam
A high-level outline of LEED knowledge areas is available in the Candidate Handbook published by the U.S. Green Building Council (the creators of LEED). While this information is relatively helpful to people who are new to LEED, you'll see that the "Knowledge Domains" in the handbook are formatted very much like bullet points. In other words, you have to obtain knowledge in 9 categories and then know what the 8-9 terms in each category mean. Unless you have work experience on LEED building projects, the categories and concepts will likely look like gibberish to you.
For this reason, the U.S. Green Building Council (USGBC) developed a network of Education Partners. As a USGBC Education Partner, Everblue's curriculum team gains exclusive access to the LEED exam specifications so that we can create LEED Exam Prep training programs that are helpful, informative, and accurate to the exam. Thus, candidates are not left to their own devices when studying for the LEED exam; they can follow along with tried-and-true curriculum that will teach them the concepts and explain the value and application of each LEED knowledge area.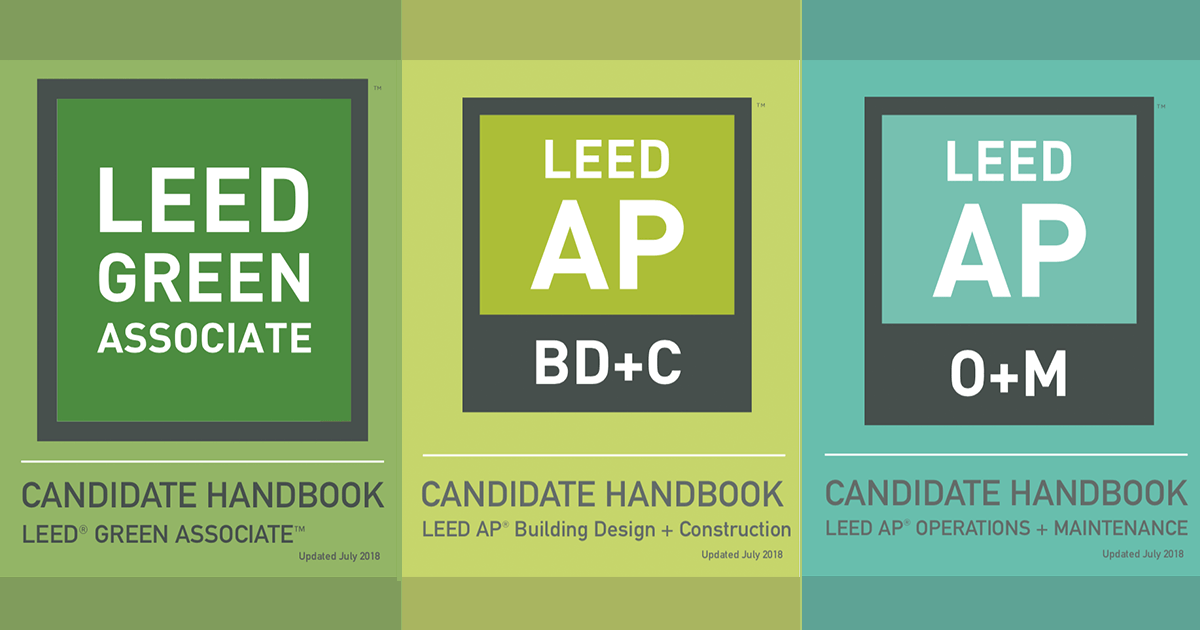 Before we really get into the LEED Knowledge Domains, let's briefly understand how the LEED exam is formatted.
Overview of LEED Exam Format
Each LEED exam contains 100 randomly generated multiple-choice questions. Because these questions are pulled from a pool of 1000+ questions, no two candidates will have the exact same exam. Candidates will have 2 hours to answer their unique 100-question exam.
According to the USGBC Candidate Handbook, the LEED credentialing exams assess a candidate's abilities at three cognitive levels: Recall, Application, and Analysis.
Recall Questions: These questions assess a candidate's ability to recall factual material, such as numerical thresholds and precedent-setting standards.
Application Questions: These questions provide the candidate with a novel problem or scenario that the candidate can solve using familiar principles or procedures.
Analysis Questions: These questions assess a candidate's ability to break the problem down into its components to create a solution. The candidate must not only recognize the different elements of the problem but must also evaluate the relationship or interactions of these elements.
The exams are computer-based and administered by Prometric, a third-party test-proctoring company with testing centers in nearly every major city in the world. Because the exam is digital, candidates will know their score immediately after they submit their responses.
The exam has both scored and unscored questions. Unscored questions are used to gather performance data to inform whether the question should be scored on future exams.
LEED Knowledge Domains
The LEED Knowledge Domains outlined in the Candidate Handbook are the main criteria that make up our LEED exam outline and are meant to provide a general overview of the exam content areas. They are organized by LEED Credit Category.
Regardless of which LEED exam you are pursuing – LEED Green Associate or LEED AP – you will be tested on your knowledge of the LEED Credit Categories. The difference is how the questions are weighted by category and the extent to which you must possess knowledge and technical skills.
Below you'll see the breakdown of the three most popular LEED exams:
Knowledge Domains

# of Questions on Exam per Category

LEED GA

LEED AP
BD+C

LEED AP
O+M

LEED Process

16

8

12

Integrative Strategies

8

9

Location and Transportation

7

9

5

Sustainable Sites

7

9

9

Water Efficiency

9

9

13

Energy and Atmosphere

10

14

21

Materials and Resources

9

12

10

Indoor Environmental Quality

8

11

15

Project Surroundings & Public Outreach

11

4

Unscored Questions

15

15

15
On the LEED Green Associate exam, candidates are asked the most questions about the LEED Process. This makes sense, given that LEED Green Associate is the entry-level credential for LEED professionals. As a LEED Green Associate, it's important to understand the process and how different design, construction, and operations activities interact.
On the LEED AP Building Design + Construction (BD+C) exam, candidates are asked the most questions about Energy and Atmosphere. Concepts like building orientation, passive design, and space usage are most crucial at the new construction phase. The next most important category for LEED AP BD+C credential holders is Materials and Resources, which again makes sense when you're thinking about building and material reuse.
On the LEED AP Operations + Maintenance (O+M) exam, candidates are asked the most questions about Energy and Atmosphere. Concepts like commissioning, demand response, renewable energy, energy metering, and benchmarking are directly applicable to the successful operations and maintenance of existing buildings. There are no questions on the LEED AP O+M exam on Integrative Strategies or Public Surroundings and Outreach, which is interesting since collaborative teamwork, interrelated systems, and codes are important to any building project.
If you're looking for greater detail on what's covered on the LEED exam, you should enroll in a LEED course. Start today with Everblue's LEED Green Associate Exam Prep where we'll take a deep dive into each of the LEED Credit Categories and sub-topics. We'll teach you everything you need to know to pass the LEED Green Associate exam on your first try – guaranteed!