By earning your LEED AP credentials, you can showcase your knowledge, experience, and credibility in the green building industry.
LEED AP stands for LEED Accredited Professional. Though this sounds like a great starting point, there's actually a MANDATORY level beneath it called LEED Green Associate. Earn your LEED credential now!
All people interested in LEED – regardless of education, occupation, or experience – must first start at the LEED Green Associate level. After you pass the LEED Green Associate exam, you can then decide whether you want to pursue the LEED AP credentials.
But there's one more catch: Multiple LEED AP credentials exist! Which one should you get?
In this post, I'll give you a little bit more of the backstory on why you must earn LEED Green Associate before LEED AP. I'll also give you more information on which LEED AP credentials might be best for you.
A Quick History on LEED Credentials
The U.S. Green Building Council (USGBC) created the Leadership in Energy and Environmental Design (LEED) standards in the year 2000 as a way to differentiate high-performance green buildings from the traditional building stock. Each building that satisfied the LEED requirements would not only become more energy-efficient, durable, and safe but would also go on to earn a "LEED Certification" label for marketability purposes.
A year later, the USGBC launched the LEED credentialing exams for individuals. Because "LEED Certification" was already a designation for buildings, the USGBC created a label called "LEED Accreditation" for people. Thus, when someone passed the LEED credentialing exam, they would become a LEED AP, or LEED Accredited Professional. The LEED AP designation aimed to showcase construction professionals who were knowledgeable on green building topics and LEED strategies.
In 2009, USGBC changed its LEED credentialing process. It became apparent that some individuals needed a basic understanding of LEED, while others needed to understand the intricacies and documentation behind LEED building practices. The USGBC aimed to accommodate the various levels of knowledge by offering a tiered hierarchy of titles. They introduced LEED Green Associate as the entry-level designation and LEED AP Specialty for advanced building professionals.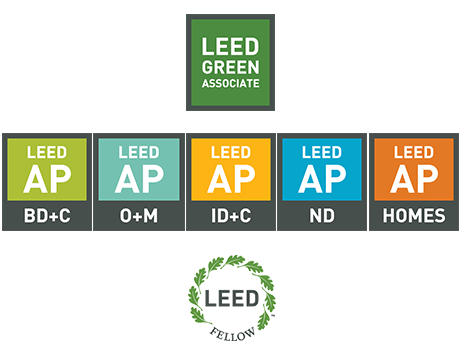 As you can see, instead of simply taking the LEED AP exam, all professionals now must pursue the LEED Green Associate accreditation as a mandatory first step before pursuing the *new* LEED AP Specialty designation. You'll also notice that the original LEED AP credential has been retired. (LEED Fellow is a super advanced designation for LEED AP Specialty professionals with years of work experience, who have been nominated for their contributions to the green building industry by fellow LEED AP credential holders.)
How Pre-2009 LEED AP is Different from LEED AP Specialty
Prior to 2009, the only designation available was LEED AP, which illustrated a high-level understanding of LEED in general. In a sense, this level was actually replaced by LEED Green Associate. As more buildings started to incorporate LEED principles, a gap was created in the marketplace for advanced green building experts who regularly worked on LEED projects. Not only did they not want to be lumped in with the entry-level professionals, but they craved more technical knowledge to do their jobs better.
The LEED AP Specialty certification is different from the original LEED AP designation in that a LEED AP Specialty demonstrates proficiency in a specific track of LEED building projects (such as new construction or existing buildings), whereas the original LEED AP title highlighted an individual's overall understanding of LEED.
There are five LEED AP Specialty designations available:
LEED AP Building Design + Construction (BD+C)
LEED AP Operations + Maintenance (O+M)
LEED AP Interior Design + Construction (ID+C)
LEED AP Homes
LEED AP Neighborhood Development (ND)
So when it comes to the LEED credentialing process, all candidates are required to first earn the LEED Green Associate accreditation as a means of demonstrating the basic understanding of LEED. From there, an individual can choose to remain a LEED Green Associate (if it's appropriate for their job and career goals) OR they can upgrade to become a LEED AP with a Specialty in a building category related to their occupation.
We're going to talk about the two most popular LEED AP credentials right now, which are LEED AP BD+C and LEED AP O+M.
Build it Right (From the Start) with LEED AP BD+C
Often known as LEED for New Construction, the LEED AP Building Design + Construction specialty provides a framework for building a holistic green building.
When designing and constructing a new building, project teams have a choice: to join the movement of global leaders producing innovative buildings from the ground up…or to maintain the status quo. Those who want to create healthy, resource-efficient, cost-effective buildings would choose to specialize in LEED Building Design + Construction.
Who It's For
Suits professionals with expertise in the design and construction phases of green buildings, serving the commercial, residential, education, and healthcare sectors
Intended for the core team members participating on the new construction or major renovation of a commercial, institutional, or industrial building project
Individuals who hold this credential are often architects, engineers, developers, or consultants who want to lead their teams to greater success in delivering sustainable solutions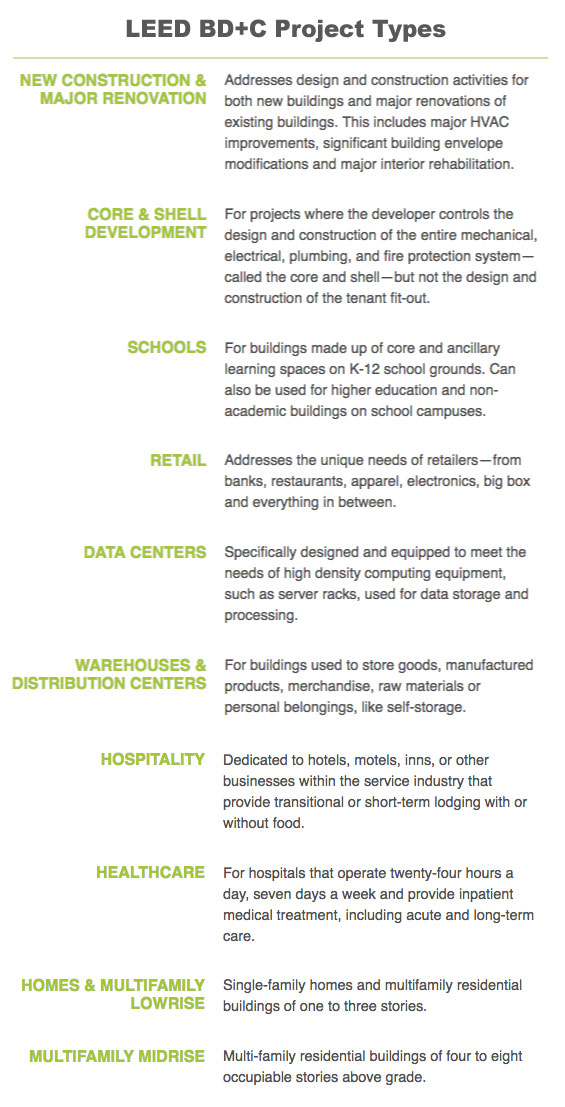 Because the LEED AP BD+C qualifies professionals to work on a wide range of building types, it offers a solid foundation of green building knowledge and project flexibility.
Improve Existing Buildings with LEED AP O+M
There are many existing buildings around the world that are inefficient and resource-depleting. A specialist in LEED Operations + Maintenance can turn an existing building around with informed choices and unique strategies.
According to the USGBC, it can take up to 80 years to make up for the environmental impacts of demolishing an existing building and constructing a new one, even if the resulting building is extremely energy efficient. It makes more sense to retrofit an existing building and bring it up to today's standards.
Who It's For
Distinguishes professionals implementing sustainable practices, improving performance, heightening efficiency, and reducing environmental impact in existing buildings through enhanced operations and maintenance
Intended for cross-disciplinary teams participating on the renovation or retrofit of an existing building
Individuals who hold this credential are often property managers, facility managers, building engineers, HVAC technicians, commissioning agents, pest control contractors, janitorial staff, or sustainability consultants who want to lead their teams to greater success in delivering sustainable solutions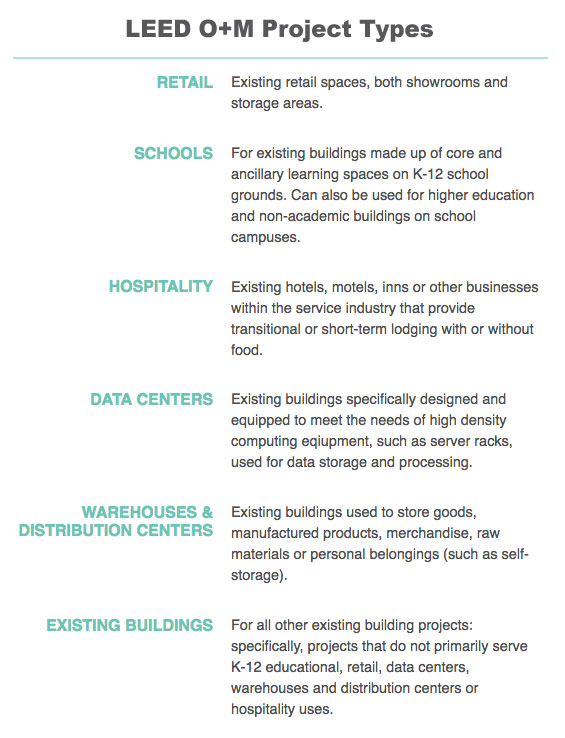 With so many existing buildings available to upgrade, there is so much promise for LEED AP O+M credential holders.
Which LEED AP is Best for Me?
By this point, you should have an idea of which LEED AP credential is best suited to your current role and/or the work that you'd like to do. It's okay if you're not yet sure about which LEED AP credential you want – remember that you have to earn your LEED Green Associate accreditation first!
During your LEED Green Associate exam preparation, you will gain exposure to all of the LEED categories and strategies, which will better inform you on which LEED AP credential is appropriate for you.
You may also be wondering, is it possible to earn multiple LEED AP credentials? Yes. Depending on the work that you do, and especially if you are a sustainability consultant with a wide range of clients, it may be a good idea to earn more than one LEED AP credential. This way, you can demonstrate proficiency on multiple types of building projects and use your specialized knowledge to make smarter choices along the way.
I hope this post has offered a helpful explanation to what it means to be a LEED AP. If you have any other questions, please don't hesitate to give us a call at (800) 460-2575 or to enroll in our LEED Green Associate exam prep training. We'll teach you everything you need to know to be successful with a career in LEED! Get started today!