Now that Christmas is done, the takedown begins – many families begin the next day, while others wait until January 1st and beyond. But at some point, the live Christmas tree will wither, and the pine needles will scatter the floor. The ornaments and lights will be removed and packed away for following years, but what to do with the tree itself? Well, Christmas tree recycling options do exist, you know.
Recycling collections and drop-offs
Real Christmas trees are biodegradable, which means they can be easily reused or recycled for mulch and other purposes. In many cities, between December 26, 2013 and January 13, 2014, trees and greens can be placed curbside for recycling pickup on your regular collection day. It is good to be aware that there are often requirements for size, removing ornaments, flocking, and bundling. Most counties have free drop-off locations throughout the county. Usually, you may take up to two trees to a drop-off location at no charge. It is best to check with your local collection service or municipal waste authority for policies and pick up dates in your area.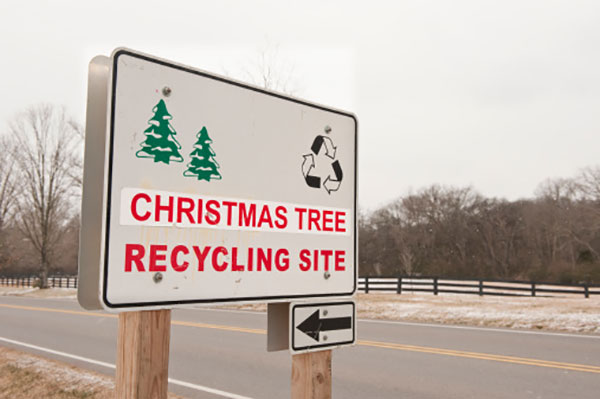 How many of the 25 million to 30 million fresh Christmas trees sold each year are recycled is difficult to measure because most recycling programs "are implemented on such a local level," said National Christmas Tree Association spokesman Rick Dungey. The good news, though, is that tree-recycling efforts are now "ubiquitous," and recycling your tree is "easier than ever."
New York's Rockefeller Center tree recycled
This is the seventh year in a row that the tree from New York's Rockefeller Center will be donated to Habitat for Humanity. The tradition began in 2007 when the Rockefeller Center tree went to build a home in Pascagoula, Mississippi for a survivor of Hurricane Katrina. Lumber from the Rockefeller Center tree is marked so that the families know its origin. In some years, families that have been the recipients of these Habitat homes have attended the tree-lighting event in Manhattan.
Trees used as buffers for erosion
In Jefferson Parish, a suburb of New Orleans, former Christmas trees help prevent marshland erosion. The trees are placed in wooden cribs, in shallow water parallel to the shore, where they absorb the impact of waves.
Many beaches also use recycled Christmas trees to protect against erosion. Strategically placed, the trees catch sand and are eventually covered by it, becoming part of the dune system. A number of beaches at the New Jersey shore were built up using Christmas trees after last year's Hurricane Sandy.
Options for artificial trees
People who use artificial Christmas trees don't typically throw them out after one year. But when they have reached the end of their use, there's a program to recycle them as well. Polygroup, one of Walmart's largest suppliers of artificial Christmas trees, sends the trees – including lights and electric cords – to a recycling center in China where they are shredded and broken down for reuse in other products.
During this holiday season, help our environment by recycling your Christmas tree.
If your interest in recycling and sustainability extends beyond Christmas, check out our sustainability training courses. We offer short classes about green building, home energy efficiency, and solar energy.