The Residential Energy Services Network, or RESNET, recently published findings from a new study conducted by the Consortium for Energy Efficiency about how utilities are encouraging the growth of energy efficiency in new home construction, largely by requiring a HERS score.
Many new construction energy efficiency programs provide financial incentives to builders or consumers who have incorporated specific measures in their home. These measures include insulation, windows, ducts, heating and cooling equipment, lighting, and appliances.
The study found that a majority of these programs rely on HERS ratings for compliance verification. Some of these programs even require an impressive HERS Index score of 65 or lower to show eligibility in the program.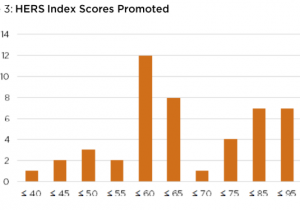 The report is based on 71 utility programs located in 36 U.S. states and two Canadian provinces. Those utilities with a HERS Index requirement include:
Alabama Power
Alliant Energy – Iowa
Ameren Missouri
Baltimore Gas and Electric Company
Berkshire Gas
Cape Light Compact
Columbia Gas of Massachusetts
Columbia Gas of Ohio
Connecticut Natural Gas
Duke Energy
Efficiency Vermont
Eversource – Eastern Massachusetts
Eversource – New Hampshire
Eversource – Western Massachusetts
Georgia Power
Gulf Power
Liberty Utilities
MidAmerican Energy – Iowa
National Grid – Massachusetts
National Grid – Rhode Island
New Hampshire Electric Co-op
New Jersey Natural Gas
New Jersey's Clean Energy Program
PECO
Questar Gas – Utah
Questar Gas – Wyoming
Salt River Project
Southwest Gas – Arizona
Unitil – New Hampshire
Vermont Gas
Xcel Energy
To learn more about becoming a certified HERS Rater and joining this growing industry, please visit our RESNET HERS Rater Training page or call us at (800) 460-2575.