When applying for jobs, candidates are often asked to submit supporting documentation to prove their academic degree, course completion, and/or other honors. Those who possess a professional credential in Leadership in Energy and Environmental Design (LEED) have two official resources for advertising their LEED professional status. And employers, if you're reading this, please use these tools to verify LEED accreditation for your job candidates.
Verify LEED Accreditation with these tools
When you sign up to take the LEED exam, you will create an account with the U.S. Green Building Council (USGBC) at www.usgbc.org. You will use this account to submit continuing education hours, sign up for additional LEED exams, and to utilize the two resources we are about to talk about – downloading your LEED credential certificate and getting listed in the USGBC Directory.
1. LEED Certificate
After you log into your USGBC Account, navigate to the left sidebar menu and choose the menu item labeled Credentials. From there, choose Overview.
On this page, you will see details about your LEED Accreditation status. Midway down the page, there is a section for "Download certificates." You will see the names of the credentials for which you have passed exams. When you click the Download link, your official LEED certificate will immediately download to your computer.
The official LEED Accreditation certificate lists your name, credential, date issued, and expiration date.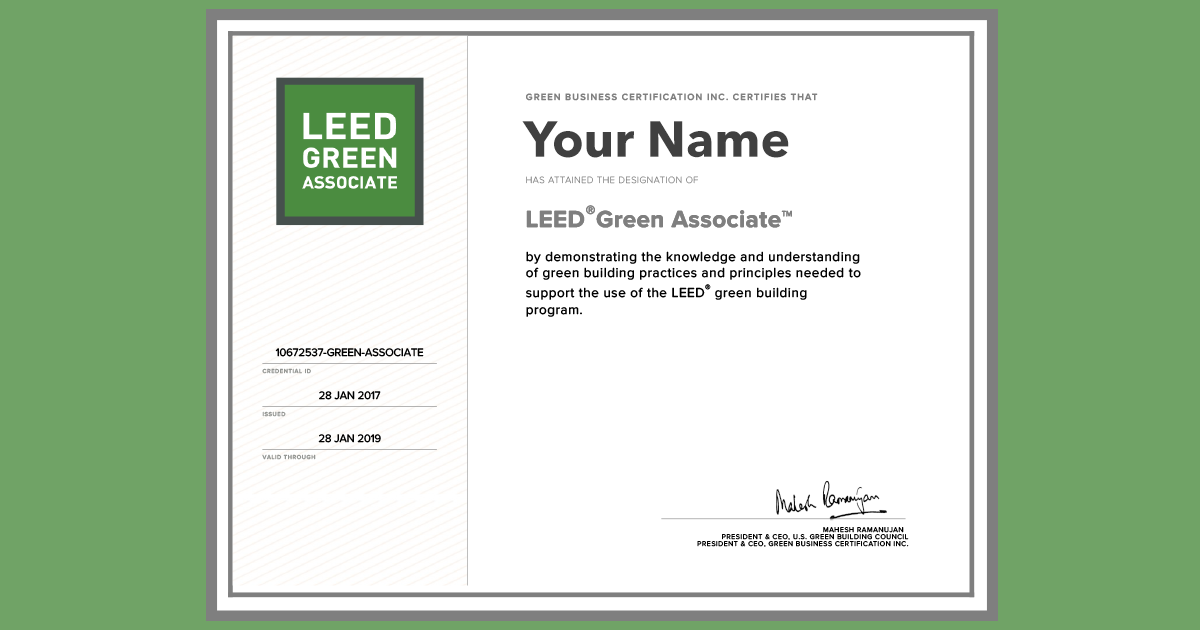 As you're applying for LEED jobs, be sure to include a digital attachment of this certificate to show proof of your LEED Accreditation. You may also print the certificate to include with hard-copy application materials. As a last resort, you can request for a printed certificate to be mailed to you for $25.
It's important to maintain a copy of your LEED certificate so that you can provide third-party verification to anyone who may ask. While it's great to list your LEED Accreditation on your LinkedIn profile, business card, and email signature for marketability purposes, the LEED certificate serves as a stamp of approval from USGBC.
2. USGBC Directory
The USGBC maintains three directories:
Organizations – which features USGBC Member Companies that support LEED
Projects – which features registered and certified LEED building projects
People – which features individual supporters of LEED and LEED-accredited professionals
Of course we're going to talk more about the directory for People.
The USGBC Directory for people is located at www.usgbc.org/people
You can search by name or browse the listings.
On a given profile, you may find the following information:
Name
Occupation
Company
Location
Headshot
Email address
Earned LEED credentials
Bio
Badges
If you are applying for a LEED job, your prospective employer will likely utilize the USGBC Directory to verify your LEED accreditation, so it's important that you opt into being shown.
Once again, log into your USGBC account and navigate to the left sidebar menu. Choose the Personal Profile menu item. You'll see a bluish box at the top that explains the option to appear in the "Public directory listing." You can toggle between two options: Visible and Hidden.
Regardless of whether you are currently seeking a LEED job, it's in your best interest to appear in the USGBC Directory. Make sure that the "Visible" option is selected. On this same page, you can populate the information that will appear on your public directory listing.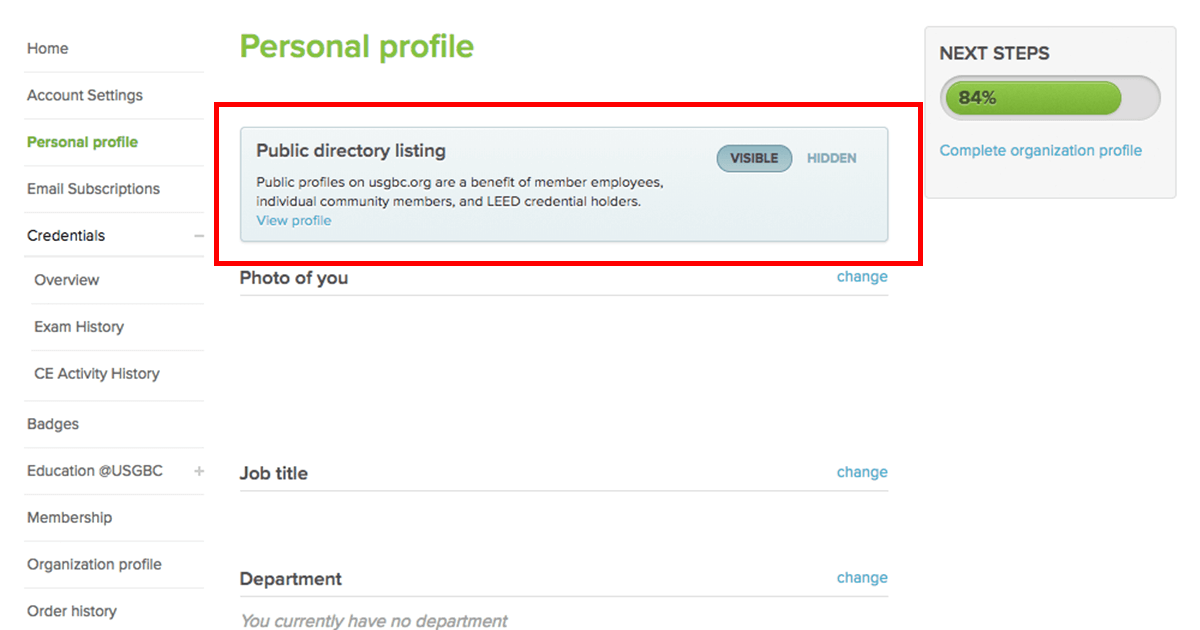 And voila! You should now appear in the USGBC Directory for friends, colleagues, and prospective employers to see. The USGBC Directory is the best place for third parties to do a LEED license verification and check your status.
If you're ready to add a LEED professional credential to your resume and skill set, start with Everblue's LEED Green Associate Exam Prep training. We'll teach you everything you need to know to pass the first-level LEED exam. From there, you'll be all set to begin working in the LEED industry! For more information, give us a call at (800) 460-2575.