Recycling is good for the planet and your budget! Instead of spending money on new Christmas ornaments this year, why not take some "trash" and turn it into holiday treasure? In Part 3 of my series, I'll give you five recycled Christmas crafts that you can use as ornaments on your tree.
Here are a few simple Christmas decorations you can make from things that you would otherwise add to your recycling bin or trash pile:
Bottle Cap Snowman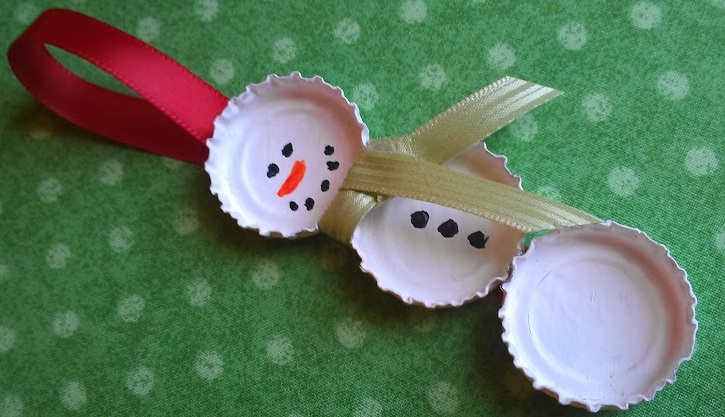 Begin by painting your bottle caps white. It will take about three or four coats to entirely cover the surface and leave it looking smooth. Once the caps are dry, cut a piece of narrow ribbon about two inches longer than the length of the three stacked caps. Dab the back of each cap with hot glue and attach the ribbon. At the top of the bottle caps, fold the excess ribbon over to create a loop and adhere with a dab of hot glue. Once all of the glue is completely dry, use a fine tipped paint brush and orange paint to draw a carrot-shaped nose. Then use a Sharpie marker to draw eyes, a mouth, and buttons.
Cardboard Rolls (from paper towel/toilet paper rolls)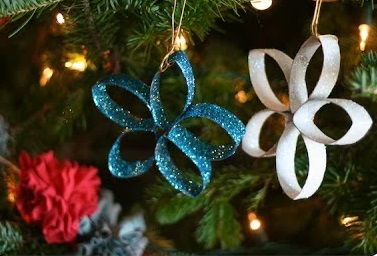 Save up your empty cardboard toilet paper or paper towel tubes. Cut them into strips (that will automatically become rings). Fasten the rings together with a bit of tape or glue. There are several design options you can choose for arrangement. I prefer to glue the rolls side-by-side to form a star.
Button Wreath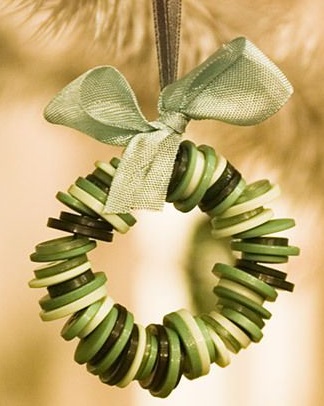 Here's an idea for putting those loose buttons to use! Don't worry about having the right colors; adding other colors will make it more unique. Using pliers, make a small loop at one end of a piece of wire. Thread buttons onto the wire until you have enough to form the size of the wreath you want. The example here is about two and a half inches in diameter. Using the pliers again, bend the plain end of the wire around the looped end. This will form the wreath. Use a satin ribbon to make a loop for hanging the wreath and a bow at the seam binding for decoration.
Upcycled Glass Bulb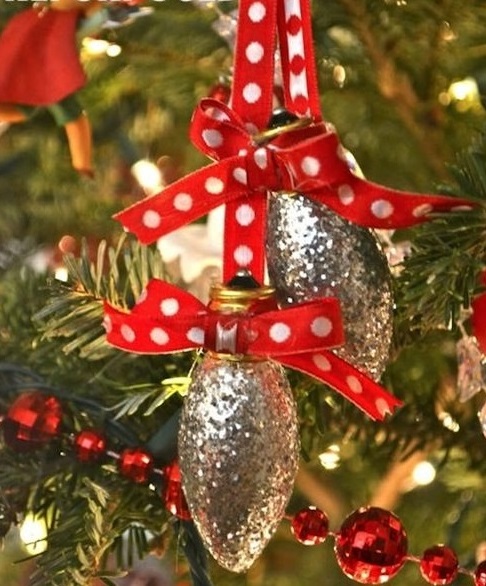 All you need to turn any old, burned out light bulb into a decorative ornament is mod podge, glitter, and a bit of ribbon. Cover the bulb in mod podge and glitter. Be warned: glitter will be glitter and will likely cover most of your workspace by the time you are done. There is no containing this sparkly wonder. Tie a piece of ribbon on each of the light bulbs and then use another piece to connect the two.
Puzzled Snowflake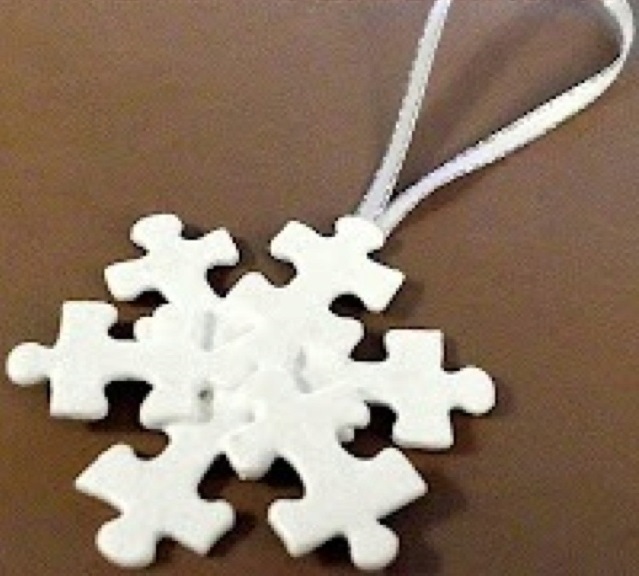 Use puzzle pieces from a 1000-piece puzzle to make adorable snowflake ornaments. Glue three puzzle pieces evenly spaced from one another onto a circular piece of cardboard. On top, add another three puzzle pieces centered between those on the bottom row. Paint the snowflake white and add glitter glue (optional). Attach a ribbon hanger, and you are finished!
I hope you enjoy decorating your tree with these recycled Christmas crafts. These crafts and many other upcycled décor projects are posted on our Everblue Pinterest Page on the "Eco-Friendly Winter Holiday Ideas" board.
If you're interested in sustainability beyond the casual hobby or craft, take a moment to review our course catalog. We offer short courses on corporate sustainability, green building, home energy auditing, and solar energy.
From all of us at Everblue, we hope you have the merriest of Christmases and the happiest of holidays!