In the report, Ernst & Young claims that policy uncertainties and financial incentives remain to be a substantial factor for renewables investors in many countries. Although countries like Morocco, France, India, Egypt, and Argentina have all begun projects in 2013, it is still widely agreed that governmental policy shapes the amount of renewable projects in a country. Here are the top five countries on the CAI scale for strong renewable energy investments.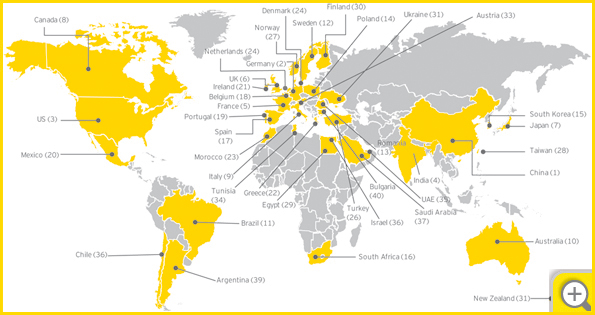 China – Once again, China retains its lead at the top of the index with its announcement that they intend to install at least 49GW of new renewables capacity in 2013. According to the announcement around 21 GW will come from hydropower, 28GW from wind power, and 10GW from solar power. Other than this established target for China, they have begun outward investment in international markets to broaden the country's manufacturing base outside of their borders which will help the market value of its own renewable sector.
Germany – Germany has also maintained its same spot in the CAI index this report. Its government continues to be proactive in expanding and updating their grid infrastructure. Also, Germany experienced another record breaking year in the solar sector with a high level of installations along with approved legislation to support the countries offshore sector.
The U.S – The eleventh-hour extension of the production tax credit and multiple offshore developments have given the U.S's wind sector the much needed boost, keeping their market value third in the rankings. Although the report warns against the pullback that the U.S may experience because of the "fiscal cliff," the Bureau of Ocean Energy Management recently confirmed the first-ever competitive tenders for wind energy on the outer continental shelf in which they estimated a capacity of 4 GW of potential energy production.
India – In fourth place, India is just beating France in the CAI rankings due to its flourishing solar sector. In December, the government released a draft policy that set out its target to install 9GW of solar power by 2017.The policy also outline plans for direct governmental grants that would cover as much as 40% of the upfront costs of building projects.
France – Rounding out the top five is France. In November, France began a six-month long energy related debate to specify their direction in the decades ahead. This roadmap will intend to focus heavily on renewable energy to try to hit the 2020 target of having 23% of all energy come from a renewable energy source. France's government has also announced the intention of launching two offshore wind projects that will total for 1 GW of energy. Many of these countries have remained in the top spots on the CAI scale due to their policies and governmental incentives that have been established. However, as the Ernst & Young report indicated, many of these countries renewable sectors have slowed in growth, with the exception of China that is.
With the global economic crisis continuing to effect global markets, it is the policy uncertainty that continues to leave investors looking for answers and places to worldwide to put their renewable energy investments.
If you want to get in on the sustainability industry and help to drive climate action, check out our course catalog.