The U.S. Green Building Council (USGBC) recently distributed its findings from a highly anticipated Market Survey Report, which asked respondents to provide feedback on their educational interests. While the USGBC's Leadership in Energy and Environmental Design (LEED) rating system was recorded as the most poplar green building rating system utilized by respondents, many indicated an interest in learning about other rating systems and standards as well. The next desired rating system after LEED was ENERGY STAR.
ENERGY STAR is a voluntary program developed by the U.S. Environmental Protection Agency (EPA) that helps businesses and individuals save money and protect our climate through superior energy efficiency. The ENERGY STAR program was established in 1992, under the authority of the Clean Air Act Section 103(g).
I found it interesting that many of the survey respondents wanted to learn more about ENERGY STAR Certification. Many of us are already familiar with the light blue ENERGY STAR sticker commonly found on products. But did you know that there are three kinds of ENERGY STAR Certification?
Yes, ENERGY STAR Certification can apply to products, new homes, or commercial buildings. Given the landscape of USGBC's report, it can be assumed that the ENERGY STAR Certification desired by survey respondents is likely the certification for commercial buildings. But, in case you were not aware, here's a quick recap of the three types of ENERGY STAR Certification.
---
ENERGY STAR Certification for Products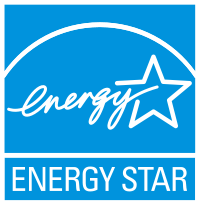 This is the certification that most people are familiar with. When shopping for appliances and electronics, consumers often see a blue sticker signifying ENERGY STAR approval. This sticker demonstrates that the product has been verified to save more energy than traditional models.
ENERGY STAR products are independently certified to save energy without sacrificing features or functionality. Consumers look for the blue ENERGY STAR label to save money on their energy bills and to help protect the environment.
Certification Eligibility Requirements
Products can earn the ENERGY STAR label by meeting the energy efficiency requirements set form in ENERGY STAR product specifications. The U.S. Environmental Protection Agency (EPA) requires all ENERGY STAR products to be third-party certified. Products are tested in an EPA-recognized laboratory and reviewed by an EPA-recognized certification body before they can carry the label.
Learn more about ENERGY STAR Certification for Products.
---
ENERGY STAR Certification for New Homes (Residential)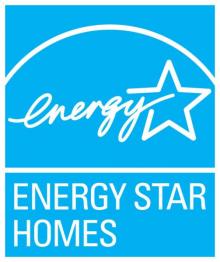 New homes that earn ENERGY STAR Certification deliver up to 30% greater energy savings than a typical new home. ENERGY STAR-certified homes have undergone a process of inspections, testing, and verification to meet strict requirements set by the EPA, delivering better quality, better comfort, and better durability.
Certification Eligibility Requirements
To earn the ENERGY STAR Homes Certification, a home must be certified under Version 3 of the program requirements, unless it is located in California, Delaware, District of Columbia, Florida, Guam, Hawaii, Illinois, Iowa, Maryland, Massachusetts, Minnesota, Nevada, Northern Mariana Islands, Oregon, Puerto Rico, Rhode Island, Texas, Vermont, or Washington. A home in these locations must be certified using Regional Specifications.
Working with a Home Energy Rater (certified HERS Rater), builders select the core energy efficiency measures for their home and verify that the resulting HERS Score meets or exceeds the ENERGY STAR HERS Index Target. See the National Program Requirements here.
Certification also requires the completion of the following:
Rater Design Review Checklist and Rater Field Checklist (PDF)
HVAC Design Report (PDF)
HVAC Commissioning Checklist (PDF)
Water Management System Builder Requirements (PDF)
An ENERGY STAR home label and certificate be mailed to builder
Label should be affixed to circuit breaker box of the home
Certificate should be distributed to homeowners
---
ENERGY STAR Certification for Commercial Buildings
Commercial buildings that earn EPA's ENERGY STAR Certification perform in the top 25% of similar buildings nationwide, as verified by a Professional Engineer or a Registered Architect.
Certification Eligibility Requirements
The following criteria must be met for a property to be eligible for ENERGY STAR certification:
Meet the definition of an eligible property type
Receive an ENERGY STAR score of 75 or higher on EPA's 1-100 scale, which compares a property's energy performance to other properties of that type and accounts for differences in key physical and operational details
Be located in the United States, U.S. Territories, or owned by the U.S. Government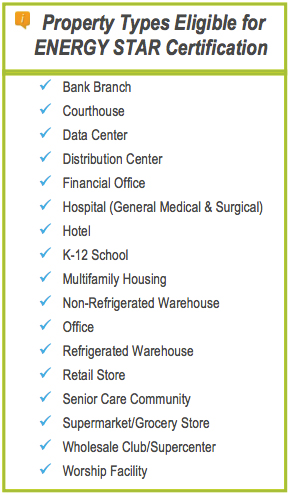 Certification Process Overview
1. Benchmark property in Portfolio Manager software and achieve an ENERGY STAR score of 75 or higher
2. Begin the online application in Portfolio Manager
3. Have a PE or Registered Architect conduct a site visit, verifying the information in the application
4. Complete the online application in Portfolio Manager, upload a scanned copy of the signed application, and submit the application electronically to EPA
5. Respond to questions from EPA, if necessary
6. Receive notification of the application's status
Learn more about ENERGY STAR Certification for Commercial Buildings.
Approximately 45% of USGBC survey respondents showed an interest in ENERGY STAR Certification for commercial buildings. Only about 30% of respondents are currently using the ENERGY STAR rating system, so there is room to grow.