The Leadership in Energy and Environmental Design (LEED) standards are predominantly meant for the construction industry. However, construction encompasses a wide variety of occupations and sub-industries, from sustainable product sourcing, waste removal, marketing/sales, HVAC to the actual builders, architects, and engineers. LEED certified professionals can come from a variety of backgrounds (and honestly, they're not called "certified" – in the LEED world, people become "accredited").
Therefore, if you're interested in LEED, you have to be cognizant of the fact that LEED is a holistic system for environmental design. That means it takes into account all the moving parts that go into the design, construction, and operations of buildings – and not just one type of building, but all types of buildings (new construction, existing, retail, schools, healthcare, etc.)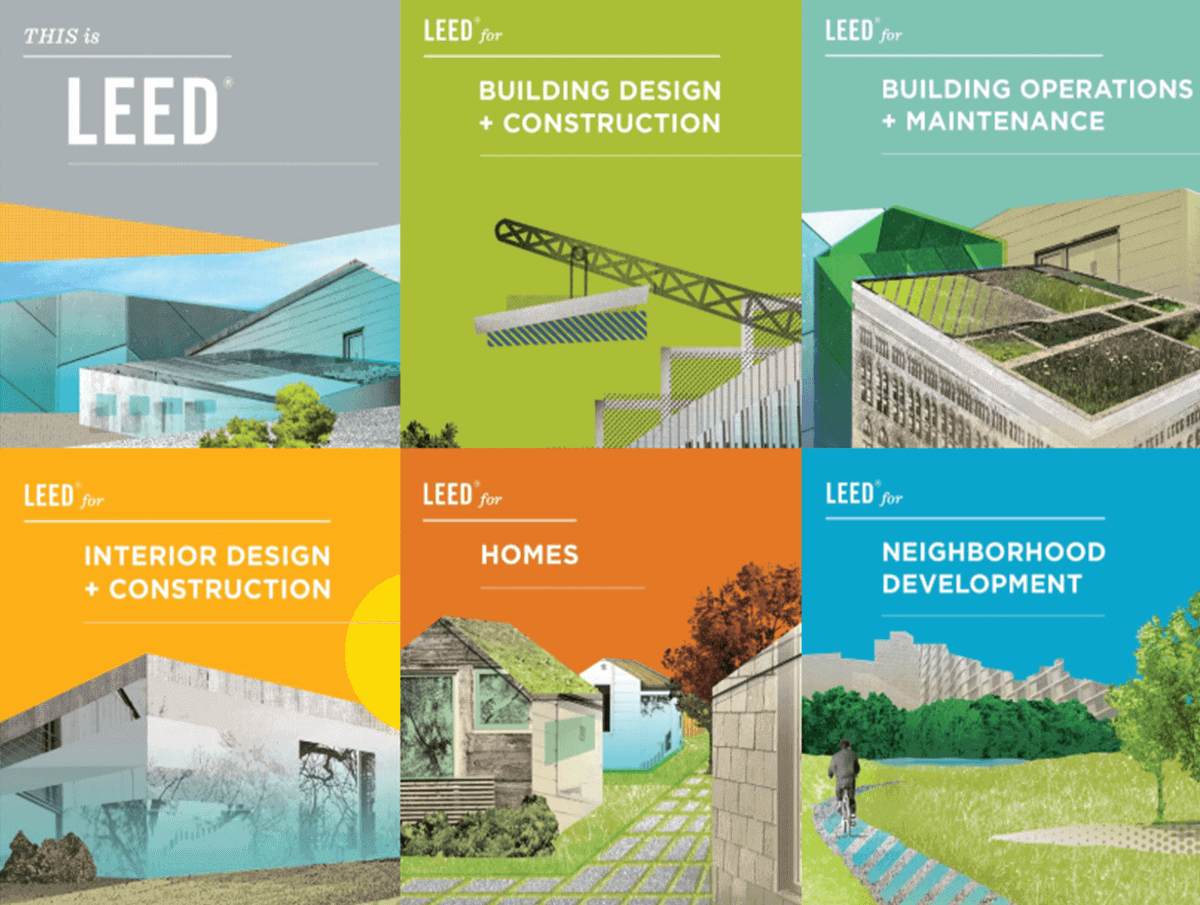 Once you've recognized that LEED will teach you the A to Z characteristics of green building, then you can focus in on your specific niche. This is where the LEED credit categories come into play.
LEED Credit Categories
As we mentioned above, LEED refers to a spectrum of strategies related to sustainability and green building. The spectrum is literally outlined in the LEED Rating System and is known as a LEED Credit.
There are 9 LEED credit categories. They are:
Integrative Process
Location & Transportation
Sustainable Sites
Water Efficiency
Energy & Atmosphere
Materials & Resources
Indoor Environmental Quality
Innovation
Regional Priority
As you can see, there may be a credit that applies more to your specific industry/occupation than another.
In order to become well-versed in LEED (and especially if you want to earn a LEED credential), you will have to be proficient in all LEED credit categories. However, depending on your role in an organization or building project, it may be perfectly appropriate for you to hone in on a specific category.
For example, if you work for a commercial cleaning company, you will definitely want to spend time reviewing the Materials & Resources and Indoor Environmental Quality credit categories because that's where most of the information about green cleaning comes into play.
Which LEED Credential is Right for You?
The answer to this question is an easy one, and it doesn't matter what your occupation is, your work experience, or your educational background.
The first step for ALL candidates interested in LEED is the LEED Green Associate credential. This is the entry-level credential that introduces the LEED Rating System and LEED credit categories. It's during the process of studying for the LEED Green Associate exam that you become more familiar with the requirements, and intentions behind, each of the LEED credit categories.
After you've passed the LEED Green Associate exam, you'll have a much better understanding of how LEED works as well as how you can apply LEED concepts to your specific job role.
Your Job is NOT a LEED Specialty
LEED certified professionals, as you may still be tempted to call them, regularly work on green building projects in a supervisory role as what's called a LEED AP with a Specialty. This specialty means that you are focusing your efforts on a specific track of green building. Note here that specialty does not refer to your occupation/industry. If you decide to upgrade to a LEED AP with a Specialty, you will have to choose from the five specialties offered by the U.S. Green Building Council (the creators of LEED).
The 5 LEED AP Specialty credentials that exist are:
Building Design + Construction (new construction & major retrofits)
Operations + Maintenance (existing buildings)
Interior Design + Construction
Neighborhood Development
Homes
You'll see that each specialty refers more to a building type than an industry, per se. Remember, after all, that LEED is a green building rating system for buildings. So when you choose to become a LEED AP, you are choosing to specialize in a specific type of green building projects.
Now if you don't work on green building projects regularly and/or just need to have a basic understanding of how LEED works, then the LEED Green Associate credential would be sufficient.
But the fact remains, all candidates have to start at the LEED Green Associate level. After you've educated yourself on LEED during the Green Associate phase, you'll have a much better understanding of where to go from there.
Start today with LEED Green Associate Exam Prep training to get the LEED fundamental principles out of the way. You'll learn all the proper terminology, including why "LEED certified professionals" is not technically correct. You'll also gain insight into 100+ areas of green building!