We get asked all the time what career or business opportunities are involved once a person achieves LEED AP Certification. This is an interesting question. We could answer by posting the following chart that I came across this evening. It is the supposed LEED AP salary that you might expect to earn after getting accredited: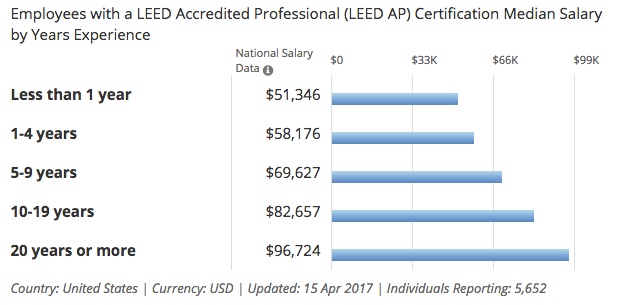 Well, as neat as the above chart is, it kind of misses the point because those aren't the ONLY LEED AP jobs available. Those are traditional construction design jobs! Granted we are seeing many construction projects that now require all sub-contractors to have a LEED AP on staff so that they understand the sustainability requirements. The traditional construction industry jobs will definitely be very important in the future, but to say that they are the only ones that need LEED Certification misses the point.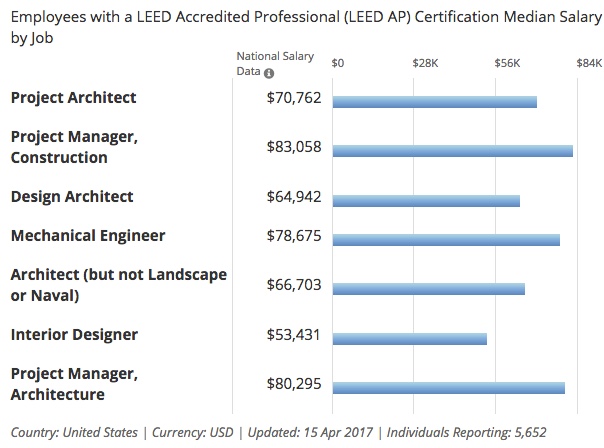 We've trained concrete contractors that now realize that their waste wood form work is part of what makes the current construction standards unsustainable. So now I know a company that's advertising as a LEED Concrete company by offering to use Forest Certified Plywood and Lumber on form-work, by recycling as much wood as possible from project to project, by utilizing central wood cutting areas, by utilizing high recycled concrete, etc. At the end of the day, that company has created a niche because they are reducing waste and utilizing resources more efficiently.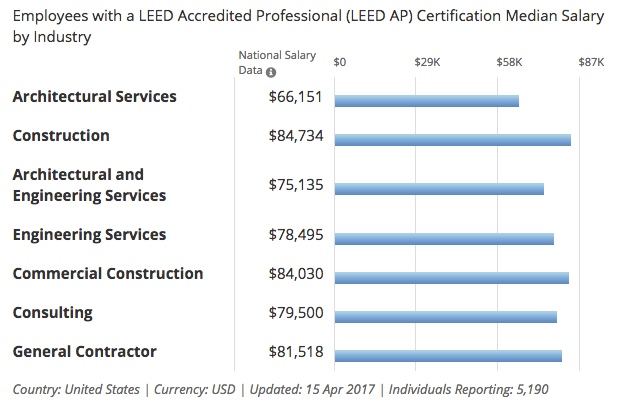 We've trained construction demolition companies that now specialize in recycling or reusing job site materials to reduce landfill waste and to help other job sites achieve material reuse credits.
We've trained all sorts of people that now understand the concept of Heat Islands, Ventilation, Day-lighting, Thermal Control, Waterless Urinals, Rainwater Harvesting.
LEED Offers Monetary & Intangible Value
LEED is an all encompassing sustainability standard that offers many niches for individuals to create VALUE by offering a more resource-efficient product or service. It's about more than just a LEED AP salary; it should be about your passion for sustainability and doing what's right for the triple bottom line – people, planet, and profits.
But, for the sake of argument, let's still look at what opportunities does getting LEED Certification provide. What we believe is that sustainable, resource-efficient development (think energy, water, and air quality) represents the future of this country. Sustainability is fast becoming a required design criteria for all sorts of products, not just the building industry. Whether you have construction industry experience or not, LEED certification is a starting point for understanding the opportunities available as the green industry takes off.
To learn more about becoming a LEED AP, consider taking one of our Everblue LEED Exam Prep Courses.