The Solar Energy Industries Association has announced that along with their members and allies in the solar industry, they have set a goal that 20% of all U.S electricity will be generated by solar energy by 2030.
How Everblue's Solar Training Helps The Cause
A strong, growing solar economy and an ever-increasing opportunity to land a job in the solar field. Our classes can help prepare and train candidates looking to enter the solar industry.
In order to reach this goal, sustainable energy industries must collaborate and work together to shape the future of energy systems in America. Each year, an average of 39 gigawatts must be installed to meet the growth rate of 18% necessary to reach this goal.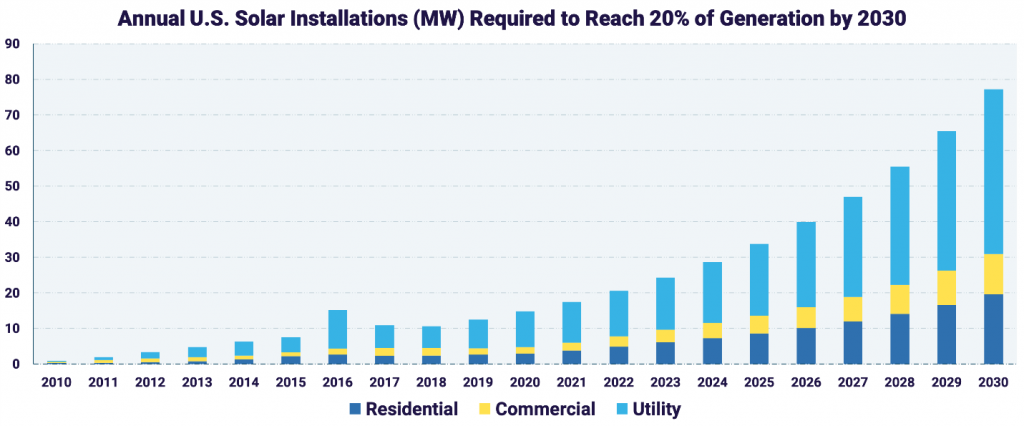 Solar+ Represents Huge Opportunity
Generating 39 gigawatts of solar energy will create hundreds of thousands of new U.S. based solar jobs. These jobs will be in manufacturing, distribution, sales, design, and solar installer positions. Project managers, supervisors, and more will offer professional growth opportunities. And how many people will be inspired to start a new solar businesses?
The Coming Solar Paradigm Shift
"The Solar+ Decade represents opportunity and a paradigm shift as we transform energy use in America," said Abigail Ross Hopper, president and CEO of SEIA."When we hit this goal, by 2030 we will more than double our workforce and add $345 billion in private investment, all while offsetting electricity sector emissions by 35%. But we can't get there on momentum alone. We'll need policies, alliances, and action from every member of the industry to make these goals a reality," she continued.
Ultimately, with the ambitions and aggressive goals set for the next decade, we can reduce carbon emissions by hundreds of millions of tons and replace more than 150 polluting power plants. This will create economic opportunity for so many Americans as well as clean energy for our communities.
Learn more about this ambitious goal on the SEIA website.
Won't you join us and help make this goal a reality?