Here at Everblue, we try not to harp too much on the relationship between politics and renewable energy. But you can't talk about Texas wind energy without looking at the political forces behind the scenes.
If you didn't know, Texas has a huge wind energy presence. If it were its own country, Texas would be the fourth largest wind-producing country in the world (according to 2017 research).
And much of its success can be credited to former Governor Rick Perry.
Described by Mayor Dale Ross as a "visionary," Gov. Perry played a large role in growing the renewable energy industry in Texas.
"I don't think anyone would call Rick Perry an environmentalist, including Rick Perry. … But the guy knows how to sniff out a dollar.
Here's a guy from West Texas who saw that you can make money off of the wind blowing. Like, that's a no brainer,"
– Jay Root, reporter for The Texas Tribune
In addition to political advocacy, Texas was already the perfect storm of market, infrastructural, and technological forces for wind energy, with unique advantages such as:
A Self-Contained Power Grid
Continental America is divided into three electrical grids: East, West, and Texas. Since the Texas grid is self-contained, wind energy doesn't cross state lines and isn't subject to as many federal regulations. It's the only state in the nation that operates its power grid without federal oversight. That allowed transmission projects needed to bring power from remote wind farms to population centers to move ahead without going through the federal permitting process, opening markets for wind energy developers (more info below).
The Strong Winds of West Texas
While best known for its oil and gas industry, the state has vaulted to the top of wind power by not only exploiting the strong winds of West Texas, but also by building the transmission to move the electricity from remote regions to the state's population areas.
Minimal Legislation
State, county, and local governments have no regulatory power over where a wind project is located – that is up the landowner and developer – which in turn speeds siting.
There is no state permitting process, so developers only have to apply for the Federal Aviation Association (FAA) permits.
Texas wind farms do not have to consider wildlife laws.
Despite these obvious benefits, writers at the Texas Monthly summarize Texas's renewable energy pursuits as a triumphant saga. They wrote, "if Texas wind power is a success story, it's a success story built upon failure after failure after failure. And the sum of those heroic failures has turned out to be something transformative: an industry that may change the way people look at green power—and at Texas."
Let's review some of Texas's greatest successes in the renewable energy industry…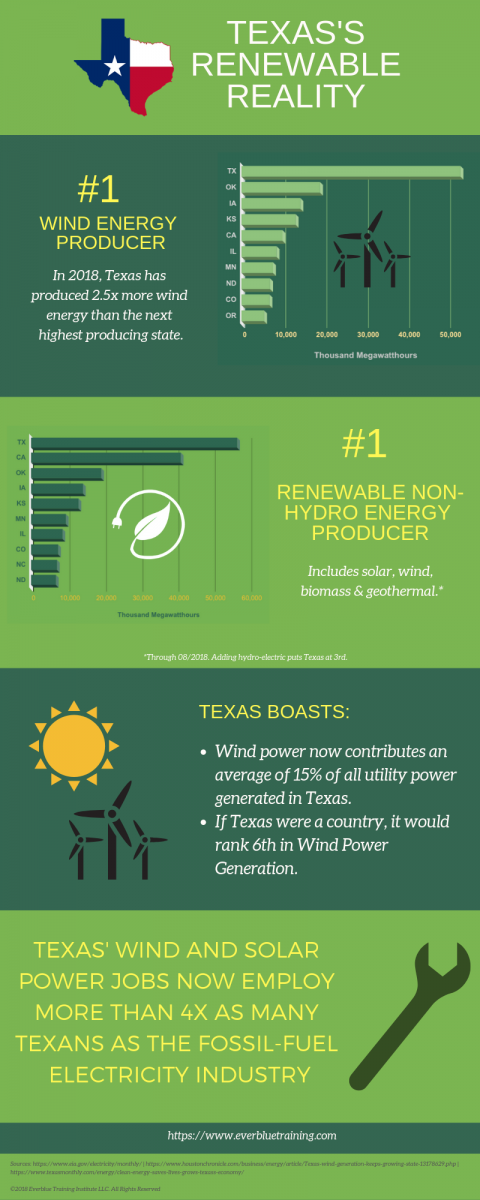 What to share this infographic on your website? Just copy and paste the embed code below!
Timeline of Renewable Energy Policies in Texas
How did we get here?
1974
Recognition of West Texas Wind. Academics Vaughn Nelson and Earl Gilmore wrote Texas's first-ever report on wind potential and said, "the region of greatest wind energy potential in the U.S. is located mainly in the Panhandle of Texas."
1977
Alternative Energy Institute. A Panhandle lawmaker wrangled a line item into the state budget to start the Alternative Energy Institute at West Texas State (now West Texas A&M).
1992
1995
First Wind Farm. Texas implements its first big wind farm on a treeless ridge in the Delaware Mountains of Culberson County, a place so remote that for the opening ceremony, three counties had to be scoured to find enough nice linen for tablecloths.
1999
Renewable Portfolio Standards (RPS). The TX Legislature established it as the first renewable energy policy in TX with almost unanimous support. Ernest E. Smith and Becky H. Diffen comment that the most effective aspect of RPS are RECs.
Renewable Energy Credits (RECs). Texas created RECs to act as a currency of sorts: "for every MW hour (MWh) of electricity generated from an eligible renewable generation source, an REC is also created. Utilities can then [use] those RECs…in order to meet their required level of renewable generation prescribed by RPS." Texas only has 1,620 MW of solar installed despite two RECs counting for each MWh of renewable energy other than wind, meaning Texas met RPS goals mostly with wind energy. Texas also met RPS targets by imposing substantial penalties when companies do not comply with RPS.
Deregulation of TX Electricity Market. Six days after declaring he was a candidate for president, Gov. George W. Bush signed Senate Bill 7 into law, propelling the TX wind industry past CA and every other state in the country. Deregulation was the main agenda item. Factories in Europe suddenly found themselves cranking out wind turbines and shipping them to West Texas as fast as they could.
2001
Problems with Wind Energy Transmission. McCamey, TX, declared by the Texas Legislature as the "Wind Capitol of Texas in 2001," brought to light the problem of transmission, when the area produced so much energy that the Electric Reliability Council of Texas (ERCOT) had to stop production. ERCOT's demand resulted in developers breaching contracts because they could not provide promised power amounts, while others could not sell what they generated.
2005
$7 Billion for Transmission Lines. Gov. Rick Perry signed a law (Senate Bill 20) to build transmission lines, creating what's called Competitive Renewable Energy Zones. It was a $7 billion investment with the capacity to move 18,500 megawatts of power to wholesale power markets. The lines connected the windy plains to population centers like Houston, Austin, Dallas, and San Antonio. And Perry made every Texas citizen pay for it in their energy bills. On average, power bills went up several dollars a month. The project resulted in 3,600 miles of new transmission lines, decreasing wind energy transmission curtailment from 17% to 0.5%. The transmission network has lured other types of renewable energy – such as solar power – to Texas, where companies find developing projects easier with existing transmission lines.
2017
100% Renewable City. Georgetown, TX became the first Texas city to run entirely off wind and solar electricity. Georgetown is a conservative town in a conservative state. So it may come as something of a surprise that it's one of the first cities in America to be entirely powered by renewable energy. Mayor Dale Ross, a staunch Republican who attended President Trump's inauguration, says that decision came down to a love of green energy and "green rectangles" — cash. When Georgetown's old power contract was up in 2012, city managers looked at all their options. They realized wind and solar power are more predictable; the prices don't fluctuate like oil and gas. So, a municipality can sign a contract today and know what the bill is going to be for the next 25 years. That's especially appealing in a place like Georgetown, where a lot of retirees live on fixed incomes.
Military Protection. Senate Bill 277/House Bill 445 prohibited tax incentives to owners of wind farms located within 30 nautical miles of military aviation facilities. The bill states its intention to protect and preserve "military aviation facilities" and operations or training from "unintended consequences occurring" from the construction or installation of nearby wind-powered energy devices. The term "consequences" refers to wind turbine blades negatively interfering with radar signals intended for military aviation.
Abundant wind, a self-contained electrical grid, and renewable friendly subsidies led Texas to become the national leader in wind energy.
For more information about Texas wind energy, check out these awesome resources:
How New Transmission Lines Are Bringing More Power to Texas Cities from NPR – State Impact
Texas Passes Bill Restricting Tax Incentives for Wind Farms Near Military Aviation Faciltiies from Husch Blackwell
Texas Governor Signs Tax Exemption Bill for Wind Near Military Airfields from North American Wind Power
Wind Power in Texas from Wikipedia