Last week, investors, business leaders, environmentalists, and sustainability professionals came together in San Francisco for the annual Coalition for Environmentally Responsible Economies (Ceres) conference. Ceres is an advocacy group focused on building a healthy global economy by accelerating the adoption of sustainable business practices through investor and business leadership. Everblue was proud to participate in two days of educational sessions and interactive discussions centered on the question: "How do we achieve a balance between prosperity and the protection of natural and human resources?"
 About Ceres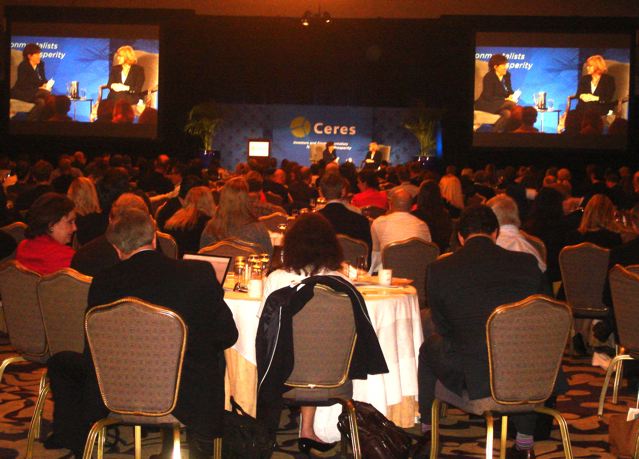 Since its formation in 1989, in response to the Exxon-Valdez oil spill, Ceres has continuously advocated for strong clean energy and climate policies. In addition to offering an annual Ceres Conference, the organization launched the Global Reporting Initiative (GRI), an international standard used by companies for corporate reporting on environmental, social, and economic performance. Ceres has also collaborated with companies to develop policies and programs to reduce waste, conserve resources, and clean up supply chains. Within capital markets, Ceres has been instrumental in increasing requirements for climate change-related disclosure.
 Sustainable Business = Smart Business
 Phil Angelides of the Blue Green Alliance was presented with the Joan Bavaria Award for his work in transforming capital markets into a system that balances economic prosperity with social and economic concerns. Upon accepting his award, Angelides made a simple statement that summed up a common theme throughout the conference, "You can't have a strong, enduring economy on a planet that is destroying itself." Such a statement is the basis of the business case for sustainability, which was supported by several business leaders from corporations such as Sprint, IBM, Bank of America, Google, and Ford. Representatives from each shared stories of success stemming from supply chain evaluation, innovation, renewable energy, resource conservation, and sustainable investing.
Bob Willard of IBM said this about combating climate change: "It is not a 'Save the World' decision; it is a business decision." Willard described the "global sustainability megaforces" such as climate destabilization, water scarcity, and deforestation that will impact business through price volatility, new regulations, weather changes, resource constraints, and changes in consumer preference. Willard pointed out that along with the risks come unprecedented opportunities to increase profits by documenting, avoiding, and managing risks.
Human Capital
Employee engagement in sustainability efforts is also an emerging trend helping to move companies forward. Companies at the conference acknowledged that when employees were empowered to address issues that mattered to them, grassroots efforts were successful in innovating and finding efficiencies. Programs were scaled up by involving top-level management, training, and recruiting talent that supports the "people, planet, profit" mindset.
The recent building collapse in Bangladesh was top of mind during the interactive discussions of global supply chains. Leaders from the apparel industry and technology sectors shared their insight into gathering data, monitoring, and reporting the performance of their manufacturing operations including greenhouse gas emissions and human rights for the workforce.
Redefining Corporate Value
Several panels touched on the influence of capital markets. Do shareholders and investors have the information they need to evaluate the company's environmental and social performance as well as financial performance? How can investors implement strategies that support the move to a clean energy economy? One proposed solution is a more advanced rating system to allow for a transparent evaluation of company performance based on environmental, social and governance issues. Ceres announced the Global Initiative for Sustainability Ratings (GISR) in an effort to establish a new ratings standard that will help markets and investors to place more value on sustainability.
Banks also play a role in influencing markets. Catherine Bessant of Bank of America described how leadership at the bank takes commitment to sustainability into account when evaluating projects and deciding what to finance. Selecting clients with a balanced approach allows banks to encourage client transitions to a lower carbon business model.
Progress
The Everblue team came away from the Ceres Conference with a renewed sense of purpose and a deeper understanding of the critical role that businesses, investors, and education will play in the shift to a sustainable economy. Resources are scarce, pollution is costly, and information is abundant, making businesses and investors ideal drivers of change. Although there is much work to be done, the spirit of collaboration and innovation that is inherent in the pursuit of sustainable practices is encouraging. To learn more about business leadership in the green economy, check out Everblue's course catalog.