Those working in the residential and commercial building industries know that codes and standards are as good as gold. Building codes are put into place to provide guidance and standardization. When a state "adopts" a particular version of the building code, builders and contractors working in the state must adhere to the requirements listed therein. In addition, the building code covers a range of topics and building types; what we're going to focus on here is the energy code.
If you're looking to gain blower door and duct leakage skills to be compliant with your local code, please visit our Get Certified in Blower Door Testing page or call us at (800) 460-2575 to discuss how a blower door training course will help you achieve that goal.
Though based on best practices for building, safety, and energy efficiency, building codes get reviewed and updated every three years in order to reflect changes in technology, materials, and processes. States can choose to adopt the newest version of the building code and/or make modifications that best serve their geographic and climate needs.
What is Your State Building Code?
The best resource for finding your state's building code is the www.energycodes.gov website maintained by the U.S. Department of Energy. Note the tabs for Commercial and Residential. From this site, you can filter by state and see what the current code is for commercial and building projects in your area. You can also see a colorful map that shows how your state code compares to other states.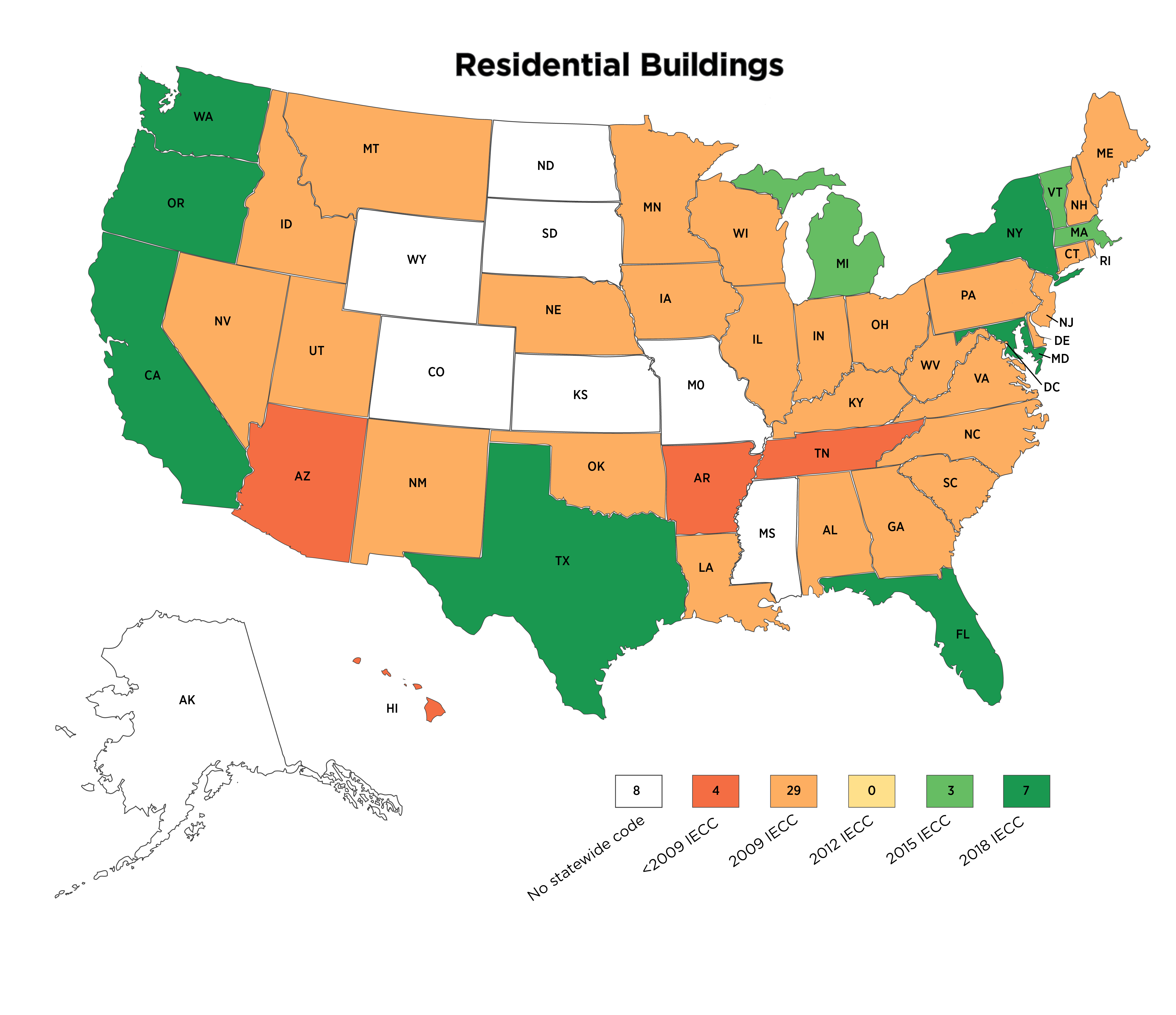 At Everblue Training, we refer to this map every time we talk to someone interested in blower door and duct leakage testing because 9 times out 10, they want to add these skills to meet their local building code requirement.
Blower door and duct leakage testing largely refers to measuring air leakage in homes. Professionals with this skill set are able to advise homeowners and builders on ways to improve a home design or the appliances therein to save energy and lower energy-related expenses.
The energy efficiency portion of the building code is called the International Energy Conservation Code, or IECC. The colorful map on the Department of Energy website reveals which version of the IECC has been adopted in each state.
More Gray Areas, Despite the Colorful Map
We recently noticed that the map went through several changes:
No timestamp on the map image (to know when it was last updated)
New colors and categories listed in the legend of the chart
Return of the timestamp
It's helpful to have the timestamp on the map to know that you're looking at up-to-date information, but during the time that it was missing, I was able to filter by State Adoption to see exactly when the code was adopted and implemented for a specific state.
What intrigues me are the new colors and categories in the legend of the chart. By legend, I mean the information below the map that explains what each of the colors means.
Several years ago, the categories were fairly simple – No statewide code, 2009 IECC, or 2012 IECC. Now, the colorful building code map takes into account the fact that states can modify and amend the building code version that they adopt.
Therefore, the map now categorizes states as follows:
No statewide code or home rule
Less energy efficient than 2009 IECC
2009 IECC or equivalent
Between 2009 and 2012/2015 IECC
2012/2015 IECC or equivalent
More energy efficient than 2012/2015 IECC
We can now get a sense of how states are moving toward energy-efficient housing. Perhaps a one-size-fits-all building code isn't the best option. Maybe it's better that these states see the value in improving energy efficiency but also want to respect their natural climate needs. Homes in Massachusetts and Arizona would certainly have different needs and considerations.
The Sunshine State has a Gray Energy Code
Florida, also known as the Sunshine Shine, is actually a perfect example of a "gray" state on the energy code map. The state is not literally shaded gray on the map, but it embodies components from 2012 IECC and 2015 IECC due to its amendments.
Officially, the Florida energy code is more energy efficient than the 2012 IECC, but it's not quite equivalent to 2015 IECC. The state added approximately 15 amendments to their version of the code. Those amendments include items like: no air handlers in attics, sizing limitations on heating and cooling equipment, ventilation must meet ASHRAE 62 provisions, and duct sealing and tightness must be equivalent to the commercial code and RESNET standards.
Despite the fact that some states are listed in between IECC code versions, the Department of Energy website provides thorough information on what exactly is required by state as well as contact information for state code adoption in case there are questions. We also recommend that home energy professionals reach out to their local code official to see if they can gain guidance on their municipality's needs.
If you've researched your state energy code and know that you need blower door and duct leakage training, call us at (800) 460-2575 and we'll help you find a training course near you.