Welcome! Here at Everblue, we offer solar technician training that cover the fundamentals of solar installation, design, and sales. Head on over to our Solar Course Catalog to see our full list of offerings.
Here, I'm going to explain exactly what solar technician training is. To do so, we first have to get on the same page about what a solar technician is.
What is a Solar Technician?
By definition, a technician is a person employed to look after technical equipment or do practical work. A solar technician, then, is a person who is skilled with wires, circuits, solar panels, inverters, and similar technical equipment.
Oftentimes, the word "solar technician" is used interchangeably with "solar installer," but it's reasonable to equate other professions in the solar workforce to a technician, such as solar salespeople, solar PV system designers, and solar project managers. At the end of the day, each of these occupations requires a proficient level of ability to handle the solar equipment and practically apply solar energy principles to make it all work together.
Types of Solar Technician Training
First you'll want to understand all the different career pathways in the solar workforce to see if you can narrow in on a specific skillset or role. Otherwise, saying that you want solar technician training can actually be a bit vague – what exact position are you aiming for?
The solar industry began with solar technicians that I'd describe as a "jack of all trades." In other words, the early adopters of solar really had to understand all the different aspects of a solar PV system because there were few others who knew enough to help with the project. It was a one-man job.
As the solar industry has grown, the workforce has expanded to accommodate many more careers. You're less likely to find a job that requires a solar technician who does all the work by himself from start to finish (unless you work for a small startup company). Nowadays, you're more likely to join a team of solar professionals who each specialize in their own part of the project.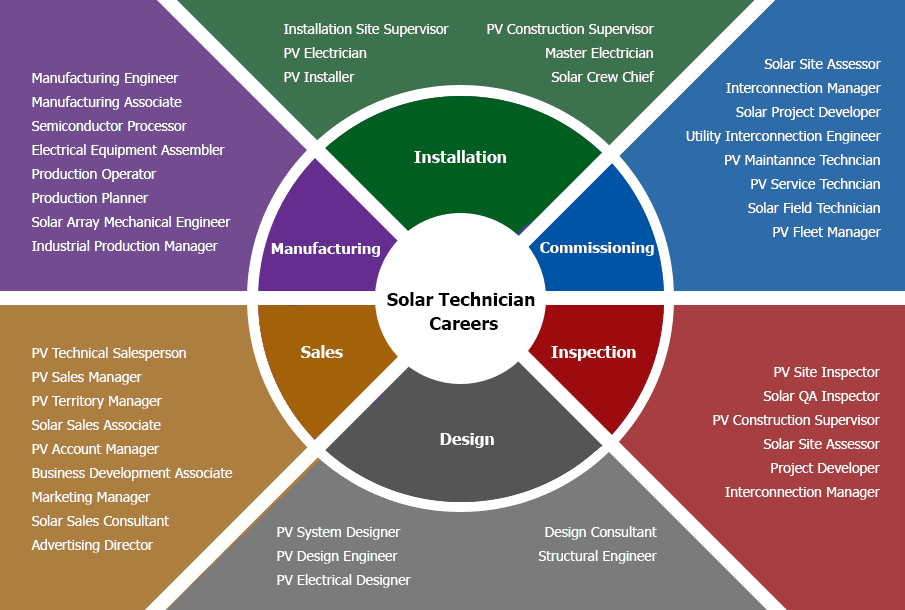 So let's think a little more specific than "solar technician training." What exactly do you want to do?
Solar Course Options
Our IREC-accredited solar technician training courses prepare you for a specific role in the solar workforce.
If you're brand new to solar – we recommend that you start with our PV101 Solar PV Associate course, where you'll learn about DC to AC power conversions, PV system sizing, PV system components, and safety.
To take a deeper dive into the solar job of your dreams, you'll then want to consider one (or more) of our advanced solar technician training classes. These courses are labeled PV2XX to show that they are a second-level course.
PV201 Solar Installer – this course covers grid-tied and off-grid installation technique, including grounding, wiring, mounting, labeling, commissioning, and troubleshooting
PV202 Solar Design – this course covers the strategy behind a successful solar installation, including customer expectations, project criteria, mechanical & electrical design, system monitoring, project documentation, permits, and approvals
PV203 Solar Sales – this course covers more of the business side of solar, including customer motivations, client energy analysis, tax incentives, solar renewable energy credits, grants, net metering, return on investment, and common customer questions
If you want to be a real rockstar in the solar workforce, or are that lone wolf at your small solar startup, you might be best-served with bundling these courses together for a master solar technician training experience. You can bundle any of these solar courses and get 5% off each course! No coupon code required. You'll automatically see savings in your shopping cart when you bundle.
If you have any questions about solar technician training, you're in the right spot! Here at Everblue, we've been helping people like you join the solar workforce and improve their skills for over 10 years. Give us a call at (800) 460-2575 if you have any questions about solar training.