We're often asked whether we offer online solar energy training courses. We do! All of our Solar Training Courses are available as self-paced online webinars. Students gain instant access to the online materials and can log in to participate any time 24/7 for 6 months.
But depending on your experience and learning style, it might be better for you to take an in-person solar installation course.
You don't want to be this guy, right?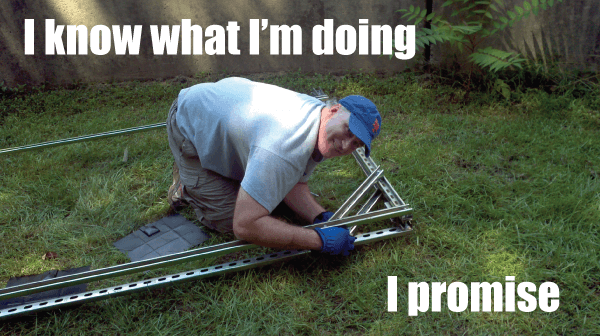 At Everblue, we strongly believe in quality education. Our training is designed to help professionals advance in their careers and/or help job-changers transition into a growing workforce with real-world technical skills.
You'll find that we offer our PV201 Solar Installation course in an online format with an optional live training add-on. That way, if you feel more comfortable getting your hands on the equipment and practicing the solar installation technique, we'll have you covered!
Our solar instructors are experienced solar panel installers with the NABCEP PV Installation Professional Certification.
It's beneficial for our participants to interact with this type of professional in a training environment and to get instant feedback on their installation techniques before they go out and apply for jobs. We're happy to provide this kind of service – in fact, we prefer it.
We are not just a training factory. Everblue was founded with the purpose of educating professionals on real environmental topics and giving them the skills to go out and make a difference. We call this intense green jobs training.
As our student Rob Blake said, "It was clear that the staff cared about our success and matched our efforts in achieving it. If you want to learn, you need to interact and ask questions. EverBlue creates that environment." Stephanie Sowers echoed those sentiments when she said that her instructor, Bobby, really cared about the participants as individuals and wanted them to succeed.

Adding solar to your skills doesn't have to be difficult or costly.
We've intentionally designed our NABCEP PV Installation Professional training program the way we have for two distinct reasons:
1. Meet the training requirement to sit for the NABCEP PV Installation Professional exam
IREC Accredited curriculum
Includes 58 hours of education
40 of those hours are approved as Advanced Training
2. Make qualifying for the NABCEP exam and gaining real-world solar skills EASY
One educational program to take you from beginner to technician
Includes self-paced online training AND live hands-on solar panel installation training
One-time payment of $1,899
The NABCEP PV Installation Professional training program provides a fundamental range of knowledge regardless of whether you want to pursue NABCEP Certification. With this training, you'll be able to start working as a solar panel installer or incorporate the knowledge into your advertising, business development, and sales strategies.
To begin your journey with solar energy training courses, give us a call at (800) 460-2575.