If you're thinking about changing careers and working in the growing solar industry, it's best to research the steps and major milestones along the way. Solar career planning will save you time and money and will also help set expectations on how long it'll take to get started.
Here are my top 5 solar career planning tips:
Read about all the different jobs and career pathways in the solar industry
Research employers and expected salary for your desired solar career
Research state solar licensing and certification requirements
Make a list of your short-and long-term goals
Make a list of actionable steps you can take to achieve your goals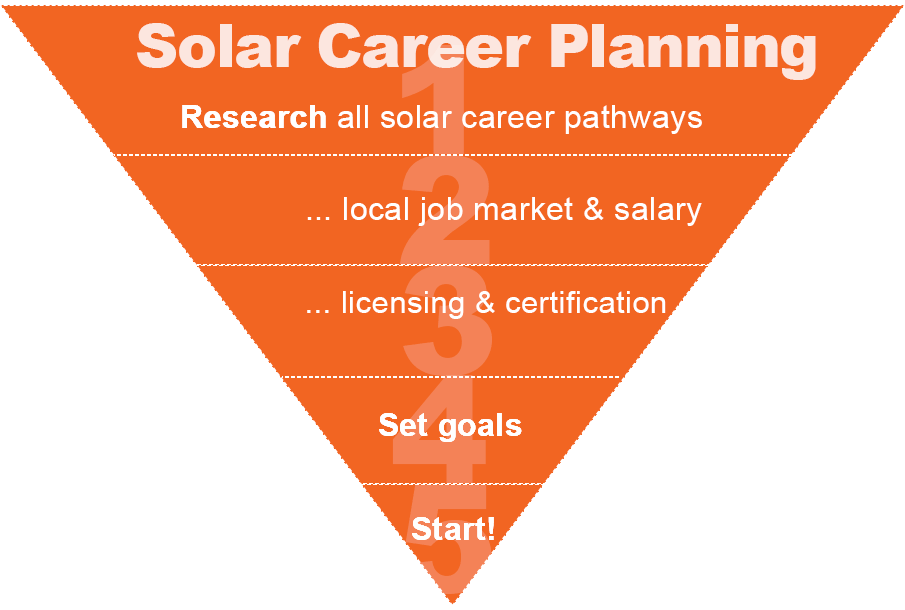 I'll go into more detail about these solar career planning tips now…
#1 Learn about all of the Solar Career Pathways
At this stage, it's important to keep an open mind. Solar is more than just installation.
There was a time when the solar industry was so small that being a solar panel installer typically meant being a one-man-show who had to know how to do every aspect of the job. But now, the solar industry is so large that there's enough work to go around; there are clearly established job roles for all the different aspects that contribute to a successful solar installation.
Aside from solar installation, there are opportunities in manufacturing, system design, project development, operations, inspections, and sales.
The leading resource for solar career planning is the IREC Solar Career Map, which specifically highlights career tracks in manufacturing, system design, project development, and installation/operations. Within those four tracks, the map includes milestones that represent entry-level careers, mid-level careers, and advanced careers.
There are so many different solar careers to analyze. To best focus your efforts, think about which track is more appealing to you and begin reading about the different careers in that track.
#2 Research employers and salary expectations
Once you zero in on the type of solar career you'd like to have, you should start to think about whether it's practical and realistic for you to have that job. Are there solar companies locally who are hiring for that type of position? Will you be able to maintain your current quality of life with the expected salary from that position?
As part of this solar career planning step, you should browse the Occupational Outlook Handbook from the U.S. Bureau of Labor Statistics. There you'll find information on the job outlook over the next 10 years, the number of jobs available, an idea of median pay, and and overview of the education and work experience requirements needed to earn your desired job.
To supplement the salary information found on OOH, you might also look at job posting sites such as Indeed, OwlGuru, Payscale, and Recruiter.com. In addition to viewing actual job postings with expected salary figures, these sites often compile the information into research papers and aggregate a summary of what you can expect if you get a job as X occupation. For those of you who are interested in becoming a solar panel installer, we've done this part for you. See our post on Solar Installer Salary.
While we're at it, you might be wondering how to find a solar job in general. Are the job posting sites listed above enough? Sure, but there are also job sites specifically related to solar. You might as well spend time browsing those sites as well, since they focus directly on solar jobs.
Now that you're armed with some high-level information on where you want your career in solar to go, you need to see what it'll take to make this dream a reality. This is when we get to solar licensing and certification.
#3 Do you need to be licensed or certified?
Because solar projects can impact the health and safety of your clients, oftentimes those working in the industry have a legal responsibility to be licensed or certified.
There's no hard and fast rule about this, however. Since solar is still a relatively new occupation, states are playing catch-up and are slowly rolling out formal requirements. That means that some states have no licensing and certification requirements, others only have a solar licensing requirement, and others may require both a license and a certification. You need to find out what's required in your state. There's typically a state contractor licensing board that will make this decision. Simply google your state and "contractor licensing board" and see if you dig further into what's required near you.
I know, it's confusing. License… certification… how are these terms different? See our related post on getting a solar license to learn more.
Put simply, licensure is mandated by the state to legally perform work, whereas certification is (typically) a voluntary achievement that highlights trade-specific knowledge by way of passing a technical exam. Because licensure is tied to your state, it may not be reciprocated (or recognized) by other states if you move. Certification, however, is generally nationally (or internationally) recognized because the certification itself creates a standard for all professionals regardless of where they live and work.
In the solar industry, NABCEP Certification is the most respected and most well-known program. NABCEP, or the North American Board of Certified Energy Practitioners, offers several different designations that align with specific job roles in solar. It can take 3-6 months and between $800-$2000 of an upfront time and money investment in solar training to be qualified to sit for a NABCEP Certification exam.
Researching licensing and certification is a crucial step in your solar career planning because it can literally be the difference between you legally working in solar and not.
#4 List out your short- and long-term goals
Do you need to get a solar job fast, or can you afford to take your solar career planning to the next level by focusing on a long-term career?
Here's the difference:
Short-term – get a job fast. Given everything you've learned about the solar industry thus far, you might decide that it makes the most sense for you to start with the PV101 Solar PV Associate training ($599, 40 hours). This online training is relatively inexpensive and may only take a few weeks to complete. It'll introduce you to how solar energy works, different types of solar energy systems, how to convert DC and AC electricity, and more – all the information you need to speak intelligently about solar and land an entry-level job in a non-technical role.
Long-term – get certified to install solar panels and/or own a solar business. The keyword here is "get certified." At this point in your solar career planning journey, you should start thinking about NABCEP Certification – which credential you want and how you will qualify for it. For this specific long-term goal, the NABCEP PV Installation Professional package is most appropriate because it'll teach you about solar energy principles, installation, design, commissioning, operations, and troubleshooting. With this comprehensive range of skills, you'll be well suited to own a solar business. However, to qualify for this exam, you'll need a combination of solar installation work experience and education / training (including the aforementioned PV101 training). So if this is your ultimate goal, it makes more sense to go straight to the NABCEP PV Installation Professional training package ($1899, 58 hours) than to start with just PV101 because the NABCEP PV Installation Professional package includes the PV101 training content and more. Save yourself time and money by going straight for your long-term goal.
Here's a real-life example. I spoke with a guy yesterday who wants to install solar panels in Rhode Island. He didn't have any electrical background and didn't have a contractor's license. Rhode Island has a solar PV contractor license called the Renewable Energy Professional (REP), which is meant for solar professionals who have no electrical experience (like my guy yesterday). To earn the REP license, he can take Everblue's NABCEP PV Installation Professional training. The state of Rhode Island literally lists our course as a prerequisite for the state license. But, naturally, as someone new to the industry, he was sort of hoping to dip his toes in the water with the fast and inexpensive option of PV101 training. Sure, PV101 is a great place to start. It will give you immediate job opportunities. But looking at the big picture, as his goal was to get certified as a solar installer and own a business, the NABCEP PV Installation Professional makes more sense. It's more of an upfront time and money investment, but it'll get you to your long-term goal less painfully (aka piecemealing multiple courses together over time). So… as part of your solar career planning, you need to decide whether you want to prioritize your short-term goal or your long-term goal. That answer directly affects your next steps.
#5 Next Steps
You've researched the industry. You've identified local opportunities. You know what's required in your state to legally work in your desired profession. And you should have an idea of what you want out of this whole solar career planning exercise. Now how are you going to get there?
You will very likely need to start with solar training. Here at Everblue, we offer IREC-accredited and NABCEP-approved courses that focus on solar skills and prepare candidates for NABCEP Certification.
Among our 10 solar training packages, we have a solution that will meet your short- and long-term needs.
Still want to talk through your career goals before making a time and money investment? No problem! Call us at (800) 460-2575 and we'll guide you to the most appropriate training package.
Changing careers can be overwhelming, but if you follow these 5 solar career planning steps, you'll be much closer to your end goal. Start broad and slowly narrow in on the parts that will most impact you.
We're here to help! We want you to be successful – before, during, and after your solar training. Contact us if you have any questions along the way.