Are you interested in sustainability? Have you stumbled upon the USGBC acronym and thought, "What is the USGBC?" Let us help you navigate this industry! There are two common paths for those interested in sustainability:
Earning a LEED professional credential (called LEED Accreditation)
Working on a LEED green building project (called LEED Certification)
LEED stands for Leadership in Energy and Environmental Design and is a rating system for high-performance "green" buildings. Professionals in the industry earn a LEED credential to demonstrate their understanding of the LEED rating system and to reap the benefits of having acquired the marketable designation. Some use their accreditation to supplement their existing job responsibilities, while others go on to work on building projects (both new construction and existing buildings) to emulate the goals of the LEED rating system.
Numerous studies have shown the impact of acquiring LEED – both from a professional credentialing standpoint and a building certification standpoint. The results range from increased employment opportunities and salary expectations (for professional LEED accreditation) to lowered operating costs and increased employee retention (among LEED-certified building projects).
What is the USGBC?
At the center of the LEED green building industry is yet another acronym: USGBC. USGBC stands for United States Green Building Council. Three key members of the green building community established the USGBC in April 1993 simply to help promote sustainability in the building and construction industry.
What is a Green Building Council?
It started when representatives from approximately 60 firms and a few nonprofit organizations met in the boardroom of the American Institute of Architects for a founding meeting. The participants in that meeting shared the same vision of a sustainable built environment for all persons within the next generation. From there, the conversation expanded to evaluate just how the USGBC could transform the building landscape. They came up with several focus areas:
Advocacy – providing policymakers with the tools, strategies, and resources to inspire action toward a sustainable built environment
Green Building Programs – a wide variety of seminars for professionals from all sectors of the building industry to understand how sustainability affects them
The LEED Rating System – a set of guidelines that recommend and reward buildings that implement sustainable, energy-saving features
LEED Accreditation – promoting wide scale support of sustainability by arming its proponents with knowledge of the LEED rating system
USGBC Chapters and Branches – further sharing the knowledge and resources across the country and making these tools available to everyone
The USGBC now boasts 76 chapters, over 13,000 member companies and organizations, and more than 181,000 professionals who hold LEED credentials.
Green Building Councils Around the World
The concept of LEED spread like wildfire around the world. Countries soon developed their own green building councils. These national Council representatives occasionally met to review global activities and to offer support for each other's efforts.
This led to the founding meeting of the WorldGBC in November 1999 in California. There were eight countries in attendance: Australia, Canada, Japan, Spain, Russia, United Arab Emirates, United Kingdom, and United States. Formal incorporation of the WorldGBC followed in 2002 with its primary role being to formalize international communications, help industry leaders access emerging markets, and provide an international voice for green building initiatives. The WorldGBC now works with nearly 100 different countries all around the world.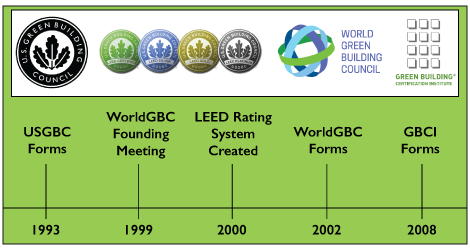 How You Can Expect to Interact With Your Green Building Council
So you know that each of these green building councils has a multitude of goals to help facilitate the growth of the green building industry, but how will you get involved?
A basic first step is to become a member of your local USGBC chapter or branch. You do not necessarily have to be working on a LEED project or boast LEED credentials to become a member. Simply locate your nearest chapter and find out what you have to do to become a member. Becoming a member of your local USGBC chapter means that you support the USGBC's mission for a sustainable built environment and grants you access to a variety of green building programs and opportunities.
When you want to expand upon your green building knowledge, you can work toward a LEED credential. Some USGBC chapters offer their own LEED exam prep courses, while others partner with professional LEED training companies like Everblue to deliver this service. Everblue provides LEED training to individuals all over the world via live classroom training, live webinars, and on-demand webinars. We invite professionals from all backgrounds to participate, as LEED exam preparation is not limited to USGBC chapter members. There are no prerequisites, so everyone has the opportunity to earn a LEED credential.
Regardless of how you prepare for your LEED exam, you will need to pay an exam fee directly to the U.S. Green Building Council. How does this work if you do not live in the United States? Great question.
Introducing…the Green Business Certification Institute
Formerly known as the Green Building Certification Institute, GBCI is a sister organization to the USGBC. From 1993 to 2008, there was only the USGBC. In 2009, the USGBC made a series of changes to the LEED rating system and LEED credentialing process. When this happened, the USGBC more or less split into two organizations, each with different responsibilities. It was understood that USGBC would continue to support overall growth of green building, while GBCI was formed to support LEED accreditation for professionals and LEED certification for buildings.
People commonly confuse the USGBC and GBCI. The two organizations are still very closely related. In 2015, the GBCI rebranded itself to Green Business Certification Institute to allow for expansion into new sectors of sustainability.
One key distinguishing feature of the GBCI remains: It is the only body within the green building and sustainability industry to exclusively administer project certifications and professional credentials for LEED.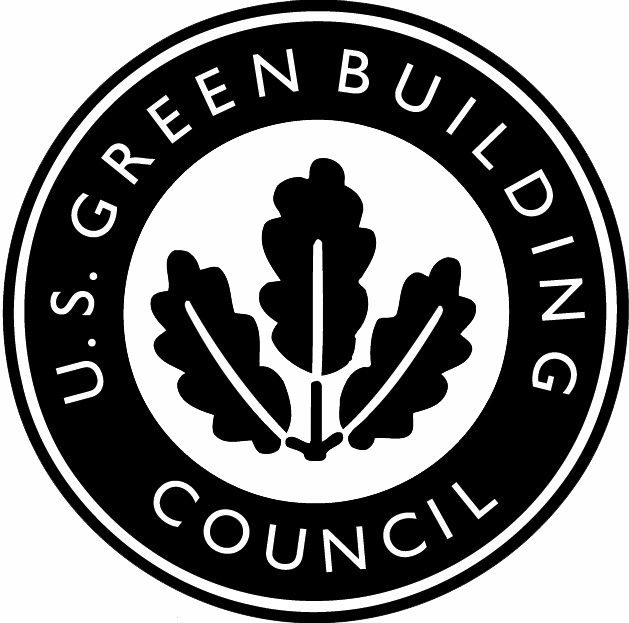 Because GBCI is the offspring of USGBC, all LEED candidates around the world will interact with USGBC/GBCI regardless of which green building council they regularly affiliate with. When a candidate is ready to take the LEED exam, he/she will visit www.usgbc.org/credentials to pay their exam fee. They will then visit the Prometric website to schedule their exam appointment.
This process is the same for all individuals because, as the Canada Green Building Council states, the councils themselves "do not administer the exams, collect any exam fees, or have influence over the credentialing process." All candidates must go back to where it all started, with the USGBC, to complete their LEED accreditation. There are translation aids available in Chinese, Spanish, Portuguese, Arabic, and French.
Despite going through the U.S. Green Building Council, all candidates who earn a LEED credential will have that designation recognized internationally for up to two years. LEED accredited professionals must earn continuing education every two years to maintain their credential.
Questions? Give us a call at (800) 460-2575.