If you're new to the home performance industry, you might consider earning a RESNET HERS Rater Certification to demonstrate your knowledge of energy-efficient new homes.
RESNET HERS Raters are essentially home energy auditors, who perform a series of diagnostic tests to identify energy-saving opportunities in homes. This distinction not only highlights your knowledge of air infiltration and energy loss using blower door and duct leakage testing, but can also qualify you to work on energy-efficent homes seeking ENERGY STAR Certification.
Let's take a moment to strip away the complications and get a base understanding of what role RESNET Certification plays in the home energy efficiency industry and what all the associated terms represent.
The Certification Program & Process
RESNET = Residential Energy Services Network
created home energy efficiency standards
HERS = Home Energy Rating System
a range of numbers from 0-100
the numbers are used to represent the energy efficiency of a home
100 represents the energy use of a standard home
0 represents a home that uses no net purchased energy
the lower the number, the better
the HERS Index visually shows this range so you can compare two homes
Home Energy Rating = a score (based on the HERS Index)
computer software generates this number based on submitted home criteria
represents the energy use of a particular home
generally applies to new home construction or major remodeling
may qualify a home for the ENERGY STAR Homes Designation
is a target for builders who want to meet state energy code
Home Energy Audit = an internal and external inspection of a home
auditor performs a series of diagnostic tests on the home's systems
includes blower door and duct leakage testing, indoor air quality, and combustion safety
auditor offers a prioritized list of improvements and projected cost/benefits to client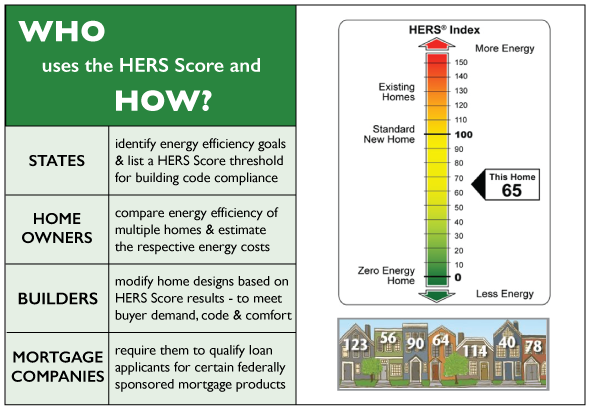 The People / Professional Titles
Rater Candidate = person who has passed the RESNET Core Rater Exam, CAZ Written & Simulation Exams, and Practical Simulation Exam
Certified Rater = person who has completed 5 approved field ratings and passed all exams within one year
all certified Raters must work through an approved Quality Assurance Provider
Quality Assurance (QA) Provider = a third party business that provides on-going support to Raters
assists Rater Candidates with earning the required field ratings
approves the field ratings and ultimately certifies the Rater Candidate
ensures Rater's on-going compliance with RESNET standards
checks 10% of a Rater's energy modeling files
performs an on-site QA review of 1% of a Rater's rated homes each year
reports results of all rating and on-site QA activity to RESNET annually
maintains an accurate database of a Rater's energy modeling files
Quality Assurance Designee (QAD) = person responsible for quality assurance within a QA Provider organization
is a certified HERS Rater
has passed the QAD exam
has met the requirements of section 905 in the RESNET standards
For more information on this career path, visit our RESNET HERS Rater Certification page.