This past weekend, my family and I took a trip to the Great Wolf Lodge in Concord, North Carolina. In case you aren't familiar with it, Great Wolf Lodge is a national chain of indoor/outdoor waterpark resorts. Great Wolf Lodge features rustic, themed décor, along with a wide range of amenities that can include spacious and functional suites, an interactive Northern Lights arcade room, and diverse resort activities. We were visiting the waterpark to celebrate my sister's 13th birthday, and I did not expect to find anything worth blogging about (with the exception of a few thrilling water slides)! However, I was pleasantly surprised by the abundance of sustainable features of the park and the communication materials used to educate visitors on environmental sustainability.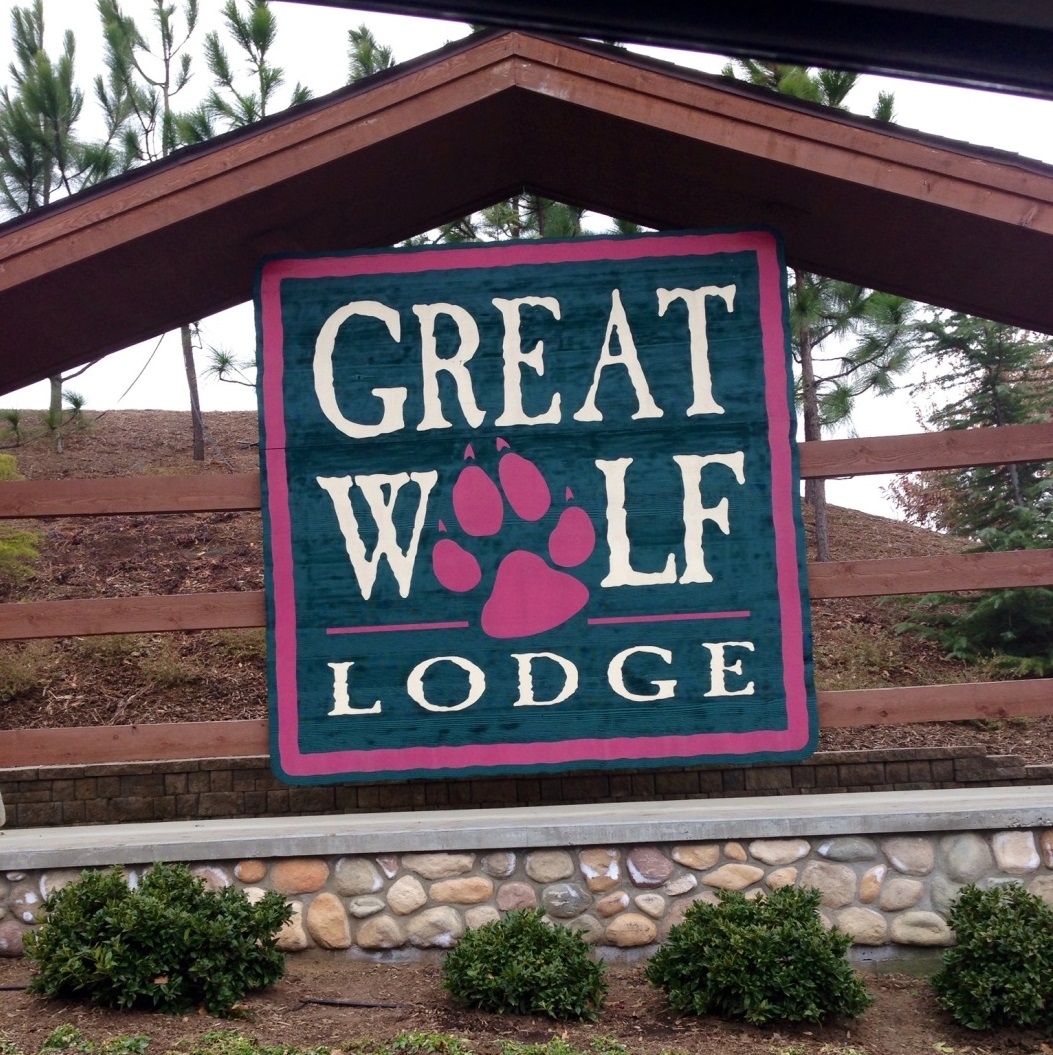 From the time we entered our guest suite, I immediately noticed a placard on the dresser reminding guests to conserve water by using towels more than once and notifying guests who were staying more than one night that their linens would only be laundered every three days. The plaque mentioned that the suggestions were a part of a larger sustainability campaign at Great Wolf Lodge known as "Project Green Wolf." This sparked my curiosity and got me looking for other signs related to their Project Green Wolf efforts. Another feature that caught my attention was a green bin under the sink by the trash can. Having a recycling bin in every guest room, makes it easy and convenient for guests to recycle. There were instructions printed on the side of the bin outlining which materials could be recycled. An additional sign was located on the sliding glass door. This sign informed guests that the HVAC unit would automatically shut off if the door was left open. What a great way to prevent wasting energy on heating and cooling!
The guest rooms weren't the only places in the resort where I observed signs related to the Project Green Wolf campaign. The Northern Lights arcade had adopted a system where instead of using coins for the arcade machines, you load money on a refillable card. This means that in place of inserting coins into a machine, you swipe a card, and the money is deducted from there. In that same way, after playing a game, the tickets won are loaded onto the card. The best thing about these electronic tickets is that they are paperless! As an added bonus, my family and I didn't have to worry about carrying tickets around and keeping up with all of them because all of the ticket information was conveniently loaded onto that one card.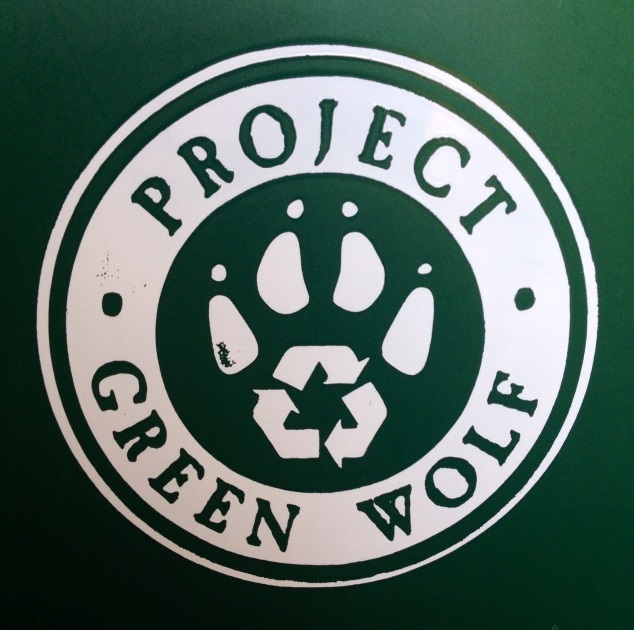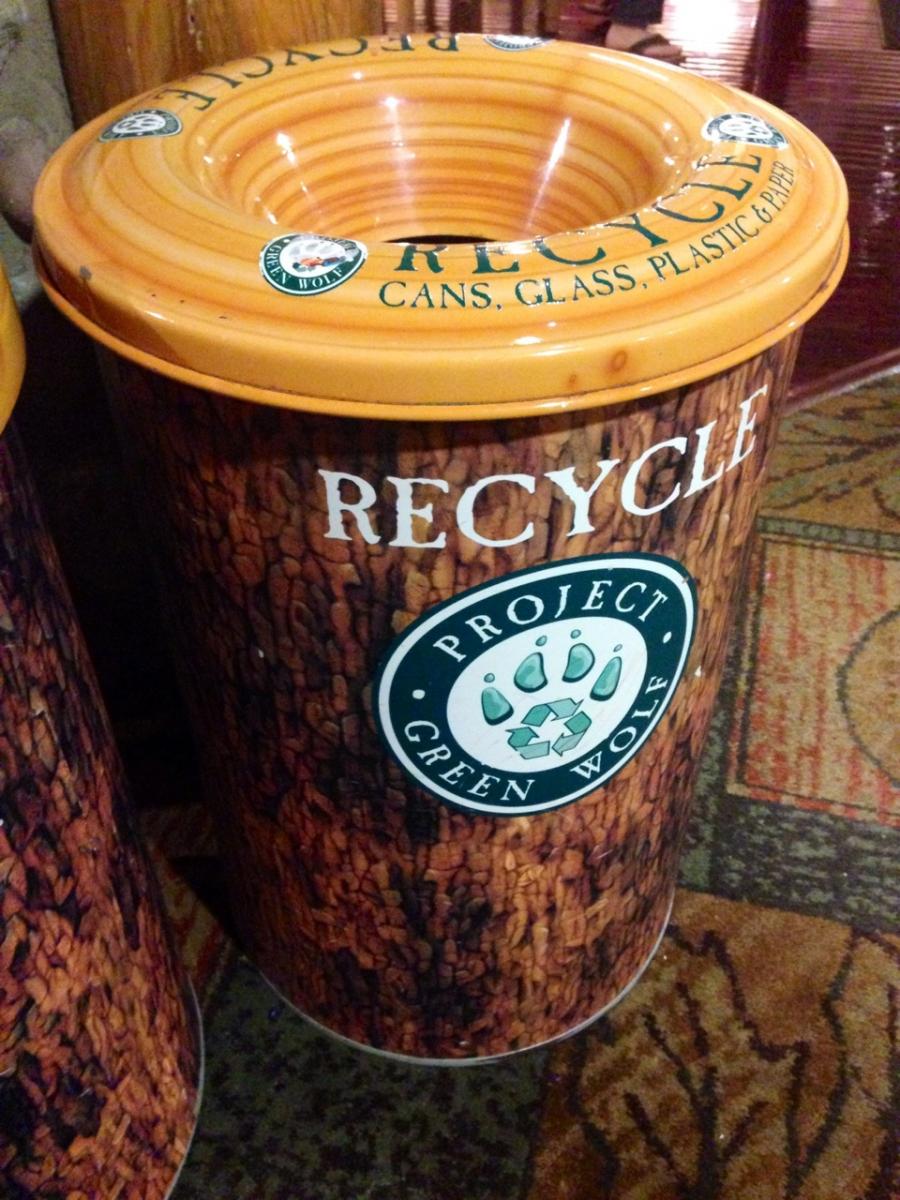 Most of our time wasn't spent in the guest room or the arcade. It was in the waterpark! And yes, you guessed it, there were signs there too! While waiting in line for the River Canyon Run, there are two signs for guests to observe, both showcasing a variety of recycling tips and facts. One of the facts stated the following: "During the time it takes you to read this sentence, 50,000 12 oz. cans are made." The boards were full of facts like these. Its placement was perfect for being read while waiting in line. You have nothing to do but wait, so why not fill that time with something useful—advocating and informing guests about recycling!
After returning from my visit this weekend, I did further research about the Great Wolf Lodge's sustainability practices. I found out that they were the first and only national hotel chain to have all properties achieve Green SealTM Certification – Silver. Green Seal is an independent, non-profit organization that uses science-based programs to create a more sustainable world. Great Wolf Resorts created its Project Green Wolf program as an umbrella for all the eco-friendly initiatives at its resorts. Project Green Wolf's mission is to play a leading role in conserving the planet for future generations by educating and establishing green traditions for both Great Wolf's guests and pack members.
As a guest at Great Wolf Lodge, it was refreshing to see a company taking steps to conserve energy and educate others on sustainability. It made me feel better about where my dollars were being spent when my family and I purchased items and paid for our stay at Great Wolf. If you would like to learn more about how your company can become a corporate sustainability leader through LEED certification or online sustainability training, give us a call today at (800) 460-2575! Sign up for an Everblue training course and allow us to help you set your business apart from the competition.