A look at some of the companies who have been successful at integrating sustainability into their long-term objectives and business goals reveals that many added a measure of creativity to their efforts. Named programs, or initiatives coupled with clever mantras, create a unique identity within the corporate culture. Caesar's Entertainment, known for its casino resorts in Las Vegas, calls its program Code Green. Popular sportswear company Nike saw great success with its Just Do It motto and recently committed to its new sustainability program with this slogan: Nike Better World – Making the World Better Through Sport.
There are multiple ways in which slogans, mantras, and taglines contribute to the successful implementation of a corporate sustainability program. An effective slogan must align with an organization's overall strategy, motivate employees, and inspire an infectious call to action.
Integration & Guiding Principles
A slogan is generally a short, concise statement that underscores some sort of mission. If the phrase is easy to remember and repeat, it marries into the corporate lexicon and helps to keep the overall goals top of mind. It facilitates ongoing promotion of sustainability efforts.
Patagonia's Common Threads Initiative is a good example of a mantra that was successfully integrated into corporate culture. The retailer, which produces outdoor clothing and gear, supports several environmental movements and hopes to make a greater impression with its Common Threads solution. Through the initiative, Patagonia pledges to "build useful things that last, repair what breaks, and recycle what comes to the end of its useful life." Customers can send damaged Patagonia clothing back for repair at little or no cost, and buy and sell used clothing through Patagonia's clothing exchange. The retailer encourages customers to recycle worn out Patagonia purchases so the material can be converted into new fabric or repurposed. Patagonia infuses the Common Threads mantra of Reduce, Reuse, Repair, Reuse, Recycle throughout Patagonia's corporate culture and uses the tagline as a guide for decision-making from the top down.
The Process & Employee Engagement
For any company serious about integrating sustainability into the culture, engaging employees is key. A Brighter Planet study found that "organizations with a method for employees to share ideas were more than six times as likely to have a very effective program."
The process of developing a slogan is a great opportunity to bring a team together and get the creative juices flowing around the sustainability theme. Creating a slogan is the first step toward team building and ongoing engagement; employees use the slogan as a common starting point for collaboration and as a compass pointing to the most sustainable outcome of a project. It is through this focused process that employees become invested. The process requires critical thinking about the goals of the program and empowers employees to consider some important questions. What is the initiative all about? Why are we doing this? What do we hope to achieve? Why is it important? Who and what will the program impact? How will we achieve our goals?
A Lasting Call to Action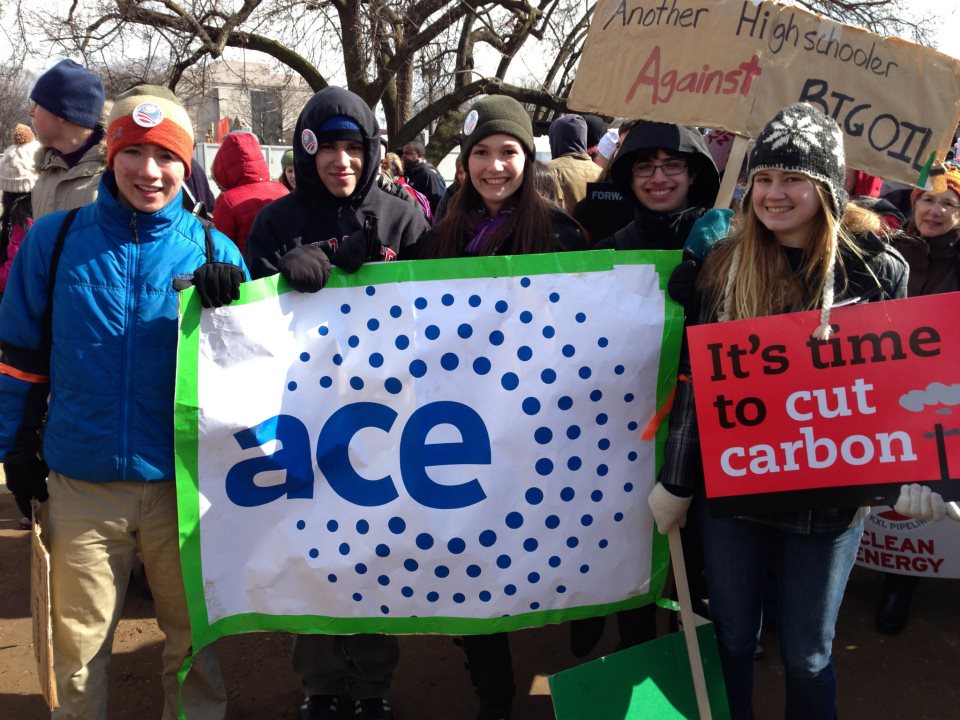 A slogan may serve as a call to action that, when repeated, can have ongoing impacts. An effective example of this comes from a non-profit called Alliance for Climate Education (ACE). ACE conducts assemblies at high schools across the country to empower students to initiate change in their communities. The message to students is simple: climate change is a serious problem, and you have the power to make a difference. I had the pleasure of attending one such assembly a couple of years ago during which ACE challenged the students to "do one thing (DOT)" to help the environment and cool the planet. This charge had a deep impact on the students because shortly thereafter, behaviors began to change. Students were asking one another, "What's your DOT?" They pledged to unplug electronics, take shorter showers, start composting programs on campus, and donate extra school supplies found in locker clean-outs. The "do one thing" message became a mantra that students could relate to, continue talking about, and build initiatives around, long after the presentation was over. The DOT slogan became a way to engage students in an ongoing commitment to conservation.
Live Positively with the Coca-Cola Company. Understand why Kohl's Cares about the environment. Let Dell help you Do More with your technology. Take advantage of the Eco Options at The Home Depot. Enjoy a Healthy Future with Johnson & Johnson.
These clever phrases exist for a reason – they work! The key to implementing sustainability, and making it stick within corporate culture, rests in employee collaboration to create a catchy theme that represents an organization's goals, and challenges everyone to continue the momentum. Help familiarize your employees with sustainability principles during an ISSP Sustainability Associate course.