Infrared thermography is one of the best tools available for identifying energy losses in both building and process applications. Since the first portable infrared system was constructed in Sweden back in the early 1970s, it was determined that infrared could detect a sum of conditions that contribute to the waste of energy in heating and cooling in both residential and commercial building envelopes.
What is Infrared Thermography?
Infrared thermography inspection testing is essentially a non-invasive, non-destructive inspection process that uses temperature sensing scanners. These infrared devices gather temperature signatures that lie beyond the range of visible light. Analysis of this data will help you detect a wide range of problems in building systems and structures, including moisture intrusion, missing or damaged insulation, overloaded circuits, faulty wiring, loose electrical connections, construction defects and storm damage.
Why Get an Infrared Electrical-Mechanical Systems Survey?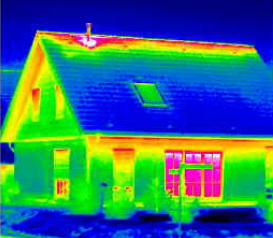 An Infrared Electrical-Mechanical Systems Survey is typically done as part of an annual preventive maintenance program. It locates hot spots and other discrepancies in the electrical-mechanical equipment which, if left unattended, can lead to unscheduled outages, equipment damage, or a fire. The Infrared Electrical-Mechanical Systems Survey allows for inspection of a large amount of equipment in a short time, and locates faulty items not generally found during a physical inspection.
Infrared thermography can identify all of the following:
-Missing insulation
-Damaged insulation
-Wet insulation
-Air infiltration
-Air exfiltration
-Excessive thermal bridging
-Leakage in hot water heating systems
Benefits of an Infrared Building Envelope Performance Survey
An Infrared Building Envelope Performance Survey locates and documents thermal anomalies at the building envelope caused by missing insulation, air infiltration/exfiltration, and wet construction materials. With the help of infrared thermography, one can detect the areas suffering from loss of energy. This technique saves heating and cooling costs. It also helps detect moisture build-up and prevents it from causing decay to the building. By finding leaks in the piping systems and scanning the electrical panels for potential outages, technicians can correct issues before they lead to system failure, inconvenient downtime, and costly repairs.
The National Fire Protection Association (NFPA) recommends that an infrared thermography survey be conducted every year for commercial and industrial buildings.