The International Society of Sustainability Professionals (ISSP) has announced the names of the individuals who passed the second round of beta testing for the new ISSP Sustainability Associate Certification. With this update, the number of ISSP certified professionals continues to grow!
This list of 109 individuals now brings the total number of ISSP certified professionals to 244, spanning both the entry level ISSP Sustainability Associate (ISSP-SA) level and the advanced ISSP Certified Sustainability Professional (ISSP-CSP) level.
All candidates are required to pass the ISSP Sustainability Associate exam before proceeding to the ISSP Certified Sustainability Professional exam. Like with the LEED program, candidates may replace their ISSP-SA with the ISSP-CSP designation once they have earned it. That being said, of the 244 credential holders, 53 have went on to pass the ISSP-CSP exam.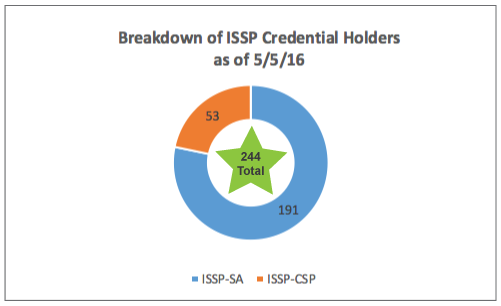 The list of names below identifies the credential holders from the second beta exam for ISSP-SA. There will not be a second beta exam for ISSP-CSP. If these newly appointed ISSP-SA credential holders choose to upgrade to ISSP-CSP, they will have to wait until the official launch of the ISSP certification program. This launch is slated for the 4th quarter of 2016.
Next Steps
Currently, ISSP is working on launching its ISSP Education Partners program as well as an ISSP study guide. Once these items have been resolved, there will be a clearer path toward the official launch of the certification program. Everblue staff have been working with the ISSP team, contributing test questions and guidance. We look forward to joining the ISSP Education Partners program and launching an ISSP Exam Prep in a few months. The goal, of course, will be to make this training available around the same time that the ISSP exams become available.
Without further adieu, let's honor those who passed the second beta of the ISSP Sustainability Associate exam. I'm very excited to see some former Everblue students among this list as well as an administrator from my alma mater at Elon University!
This will be our last posting of ISSP credential holders, as we expect this list to grow exponentially when the certification program officially launches! Click here to see our post on 1st round ISSP-SA credential holders and also click here for ISSP-CSP credential holders.
| | | |
| --- | --- | --- |
| Name | Company | Country |
| Kurt Ahrens | Environmental Advisory Council | USA |
| Oluwashina Akinsanmi | Environmental Accord | Nigeria |
| Eliot Allen | Criterion Planners, Inc | USA |
| Allison Ashcroft | City of Victoria, Canada | Canada |
| Cristian Barcan | The Vinyl Institute | USA |
| Francois Bardinet | | France |
| Dean Barone | Barone International | Philippines |
| Jacqueline Bauer | City of Bloomington | USA |
| Nate Belke | Sustainable Solutions Corporation | USA |
| Annie Bevan | GreenCircle Certified LLC | USA |
| Jessica Bilecki | Elon University | USA |
| Nic Bishop | Fonterra | NZ |
| Anna Blitz | CSM Bakery Solutions | USA |
| Kristin Bloser | Comerica Bank | USA |
| Andrea Maria Boltz | | USA |
| Dean Boulding | | Canada |
| Roger Bowman | Gulfstream Aerospace | USA |
| Romilly Cavanaugh | Optyva | Canada |
| Shuk Ching Chan | CBRE | HK |
| Victor Cheng | Esquel | China |
| Carrie Christopher | Carrie Christopher LLC | USA |
| Sara Cifani | | Germany |
| Chad Colman | Ross Environmental Services Inc | USA |
| Hope Connolly | Gap Inc | USA |
| Melanie Crepin | Perrigo Australia | Australia |
| Tara Cristobal-Rivera | Optyva SPC | USA |
| Laura Cuccaro | Walt Disney Imagineering R&D | USA |
| Phil Cumming | Koru Sustainability Ltd | UK |
| Sharon Darby | Cascade Engineering | USA |
| Sarah Dehler | Siemens Canada | Canada |
| Tanya Dierolf | Capital Region Water | USA |
| Gavin Dillingham | Houston Advanced Research Center | USA |
| Shree Dorestant | NYC Dept of Environmental Protection | USA |
| Erica Dudas | Penn State University and Angler Environmental | USA |
| Jon Dyer | | USA |
| Scott Edmondson | Sustainability 2030 Institute | USA |
| Ann Erhardt | Michigan State University | USA |
| Stephen Evanko | Capital One | USA |
| Veronica Flores | RBB Architects Inc. | USA |
| Chi Kwan Fong | California State Polytechnic University | USA |
| Jude Frates | Frates Consulting | USA |
| James French | US Postal Service | USA |
| Mark Frieden | Crossbow Strategies | USA |
| Elizabeth Futch | Next Shift | USA |
| Bob Fynan | La Trobe University | Australia |
| Louwie Gan | City Government of Makati, Philippines | Philippines |
| Chryssa Gardner | Optyva SPC | USA |
| Jenna Giandoni | Illinois Institute of Technology | USA |
| Delphine Gibassier | Toulouse Business School | France |
| Lisa Greenwood | SUNY College of Environmental Science & Forestry | USA |
| Allison Gruber | Antea Group | USA |
| Ben Gruitt | Corn Refiners Association | USA |
| Phil Grupe | CLEAResult | USA |
| Jami Haaning | CLEAResult | USA |
| John Hurlbert | LoJack SCI | USA |
| Yasuyo Ide | IBM | USA |
| Andree Iffrig | DIRTT Environmental Solutions | Canada |
| Lisa Isaacs | | USA |
| Elizabeth Keysar | Concurrent Technologies Corp | USA |
| Angeline Kong | Columbia University | USA |
| Kathryn Lancaster | Humboldt State University | USA |
| Jeff Leinaweaver | Global Zen Sustainability | USA |
| Mary Londquist | Oneida Total Integrated Enterprises | USA |
| Gina MacIlwraith | Pinchot University | USA |
| Ali Masoudi | Yale University | USA |
| Gina Mathias | City of Takoma Park | USA |
| K.J. McCorry | Eco-Offiency LLC | USA |
| Jerry McFarlane | Energy Management Systems Inc | USA |
| Kathy McGuire | 3 Pillar Solutions | USA |
| Mike Medvik | ShurTech Brands LLC and Shurtape | USA |
| Morgan Mickelson | Mercy Housing | USA |
| Chris Millson | Kesho Africa | S. Africa |
| Julie Mitchell | Palm Beach County Dept of Env Resources Mgmt | USA |
| Ranjit Nair | KUFPEC | Kuwait |
| Katherine O'Neill | Roanoke College | USA |
| Elvis Oben | Sithe Global Sustainable Oils Cameroon Ltd | Cameroon |
| Adeola Odunayo-Akinlaja | Sterling Bank | Nigeria |
| Brian Oehler | IHS | USA |
| Ayodele Ogundipe | Procter & Gamble Ltd | Nigeria |
| Francis Olabampe | Golden Carbon Ltd | Nigeria |
| Ife Olabampe | Golden Carbon Ltd | Nigeria |
| Gonzalo Perez | Agora Gestion y Consultoria S.L. | Spain |
| Kalen Pilkington | MacEwan University | Canada |
| Ines Pina | Accenture | Portugal |
| Catherine Potter | Johnson Controls | USA |
| Janne J. Salovaara | Aalto University Creative Sustainability | Finland |
| Jenelle Sams | Kawneer | USA |
| Rosalinda Sanquiche | Ethical Markets Media | USA |
| Jordan Schanda | Missouri State University | USA |
| Melissa Schifman | Sustology | USA |
| Kathleen Shaver | Cisco | USA |
| Eric Sheffer | Smith Seckman Reid Inc | USA |
| Dmitriy Shvets | Palm Beach County Dept of Env Resources Mgmt | USA |
| Jay Smith | Algonquin College | Canada |
| Azeez Sogbanmu | Telsyenergy Consulting | Nigeria |
| Benjamin St. John | USAA | USA |
| Nicola Stockton | Jones Lang LaSalle | UK |
| Elizabeth Storn | University of Florida Office of Sustainability | USA |
| Alice Sung | Greenbank Associates | USA |
| Elisabetta Valotti | Independent Consultant | Italy |
| Rakesh Vazirani | TUV Rheinland | India |
| Rene Vidales | County of San Diego | USA |
| Ramsey Wahba | Sustainable Development Systems | Egypt |
| Kayla Walker | BEF | USA |
| Natalie Walker | GreenCircle Certified LLC | USA |
| Yarazeth Watson Colon | Univ of S FL Patel College of Global Sustainability | USA |
| Craig Wilson | Sustology | USA |
| Elias Wyber | | NZ |
| Natasha Zellerbach | Zellerbach Associates | USA |