In 2010, the Building Performance Institute (BPI) offered a specialized contractor program called BPI Accreditation. This program was meant for companies that provided home performance services. In order to become a BPI Accredited contractor, an individual had to earn the BPI Building Analyst Certification as well as one specialty designation.
BPI Accreditation rose to popularity at a time when the U.S. Senate was reviewing energy efficiency legislation. The bill, known as Home Star, would have provided $5 billion in funding for residential energy retrofits. Home Star specifically listed BPI Accreditation as a requirement for all contractors performing such work. Because of Home Star, many federal, state, and local programs and utilities started naming BPI Accreditation as a prerequisite to participate in their energy-related programs. Unfortunately, Home Star never came to fruition, and the BPI Accreditation program faded into the background.
How the BPI Accreditation Program Has Evolved
Despite the loss of Home Star, the home performance industry still saw value in educating and training contractors on the "whole-house" approach to energy efficiency. Instead of going to a house with a single trade, the home performance contractors referenced in Home Star would approach their work with a holistic viewpoint that would take into perspective insulation, air sealing, duct testing, and more. This viewpoint would demonstrate enhanced effectiveness in home improvement recommendations.
Due to this demand and passion for comprehensive home energy assessments, BPI launched a brand new program that picked up where Home Star and the BPI Accreditation program left off. The guidelines first promoted in these programs evolved into a much better system, called the BPI GoldStar Contractor program.
What is the BPI GoldStar Contractor Program?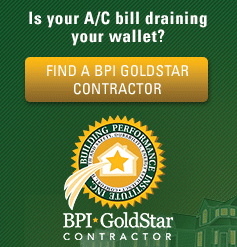 Similar to BPI Accreditation (which BPI no longer offers), the BPI GoldStar Contractor program is accessible to individuals who have earned their BPI Building Analyst Certification. Unlike the accreditation program, there is no requirement to pursue an advanced BPI certification. Given that BPI updated the Building Analyst technical standards in February 2014 to provide a more robust range of knowledge, it seems this certification alone is sufficient for demonstrating expertise in the whole-house approach. Individuals who have earned the new HEP Energy Auditor Certification (an advanced version of BPI BA) are also eligible for the GoldStar program.
How the BPI GoldStar Contractor Program Benefits You
In addition to the marketable designation, BPI provides a series of benefits to its GoldStar contractors. These benefits include:
Free priority placement on BPI's contractor search locator tool at www.bpi.org
Marketing support: BPI GoldStar Contractor Google AdWords search engine and display advertising campaign
Access to BPI's QMS microsite – a storehouse of practical templates, sample policies and spreadsheets, videos, articles, and other tools contractors use to incorporate quality processes into day-to-day operations
Access to attractive leasing and financing services for business development and expansion
Co-branded marketing materials (printable)
House-as-a-System brochures for kitchen table discussion, home show selling guide (printable)
Sample Customer Dispute Resolution Policy Template
Direct access to BPI Client Relations Representative and BPI Ask the Expert Library
How to Become a BPI GoldStar Contractor
As noted before, a contractor can become eligible for this program by earning a BPI Building Analyst Certification or HEP Energy Auditor Certification. GoldStar Contractors must pay a $1,200 membership fee, either in monthly chunks through PayPal or an annual fee paid at the time of application.
A contractor must agree to adhere to BPI's policies and procedures, including having a documented Customer Dispute Resolution Plan and documented sign-off checklist on completed work. Other obligations include implementing a standardized data collection system (paper or electronic), maintaining records about diagnostic equipment calibration, demonstrating proof of licensing and/or insurance, and submitted BPI-specific job information electronically if needed for quality assurance.
This level of commitment is described as Tier I, or Standard. Tier I contractors progress to Tier II when they demonstrate training attendance and successful completion of a survey test on subject matter addressed in their process improvement plan. View the full requirements and benefits of Tier I, II, and II on the BPI GoldStar Contractors page. The higher the tier, the greater the benefits!