If you missed the NASEO Energy Policy Outlook Conference that occurred in early February in DC, we've got a summary for you! This year's conference was particularly interesting, as many participants specifically sought more information about the new home energy rebate programs that are anticipated to launch from the Inflation Reduction Act.
Here were the major themes and takeaways from the event:
Combining Federal Funds
State energy offices expressed interest in stacking/braiding rebates, tax credits, and other funding programs created by the Infrastructure Investment and Jobs Act (IIJA) and the Inflation Reduction Act (IRA) to ensure households can receive comprehensive energy upgrades that might not be feasible under one single program.
States asked the U.S. Department of Energy (DOE) to focus on aligning the rules of these programs with each other (e.g. by hiring dedicated staff to resolve programmatic differences, meeting with the various implementation agencies to coordinate and plan strategically, etc.). DOE will need to provide state energy offices with clarity on how the below programs can be layered:
Requests for Flexibility in DOE's Forthcoming Home Energy Rebates Program Guidelines
States and NASEO (National Association of State Energy Officials) strongly urged DOE to provide as much flexibility as possible to state energy offices in the design and implementation of their Home Energy Rebate programs. For example:
Allowing states to use other tools and methods besides BPI 2400 for calculating energy savings
Involving states in the development of DOE tools and resources
Providing states with the flexibility to decide for themselves whether to use any template offerings DOE may provide
Allowing states to determine which documentation is necessary for determining participant eligibility for rebates
Soliciting ideas for DOE technical assistance directly from states before executing any DOE plan or agreement
Deferring to states on how often to require program implementors to evaluate program performance
Allowing flexibility for determining "first time purchase" of appliances funded through DOE's Home Electrification Program. For example, electric heat pumps that are replacing older electric resistance heating units (which are extremely prevalent in the Southern U.S.) should count as first-time purchases of appliances
NASEO Recommendations for DOE Home Energy Rebates Program
NASEO shared three program-specific recommendations:
Confirm that DOE Home Electrification and Home Efficiency Programs can be used in the same home.
Affirm that rebates should not be issued for purchases completed before the launch of a state's rebate programs.
Allow for non-electric supplemental systems (e.g. dual-fuel heat pumps), as homes in certain parts of the country require additional back-up systems for resilience.
DOE Updated Timeline (Tentative) for $8.8B Home Energy Rebates Program
DOE plans to follow a phased guidance and funding approach. In the first phase, DOE will release an Administrative and Legal Requirements Document (ALRD) in April 2023 with DOE's guidelines for state energy offices' program plans. States will then submit their applications in May 2023 in order to access their administrative and planning funds (essentially to help cover the work required to develop their program plan). DOE expects to distribute administrative funds as early as June '23.
DOE expects ALRD #2 to be posted in July '23. States would then provide a more detailed program design submission for DOE's review and approval. The soonest that any states would start receiving the rest of their formula allocation would be September '23.
DOE plans to offer 3 "waves" of funding for states based on their readiness to deploy their rebate programs:
Wave 1: November '23
Wave 2: December '23- January '24
Wave 3: February- March '24
Several states at the NASEO conference asked DOE if they can "raise their hand" to preemptively elect which wave they will fall into.
Responses to DOE Request for Information (RFI) are due March 3, 2023.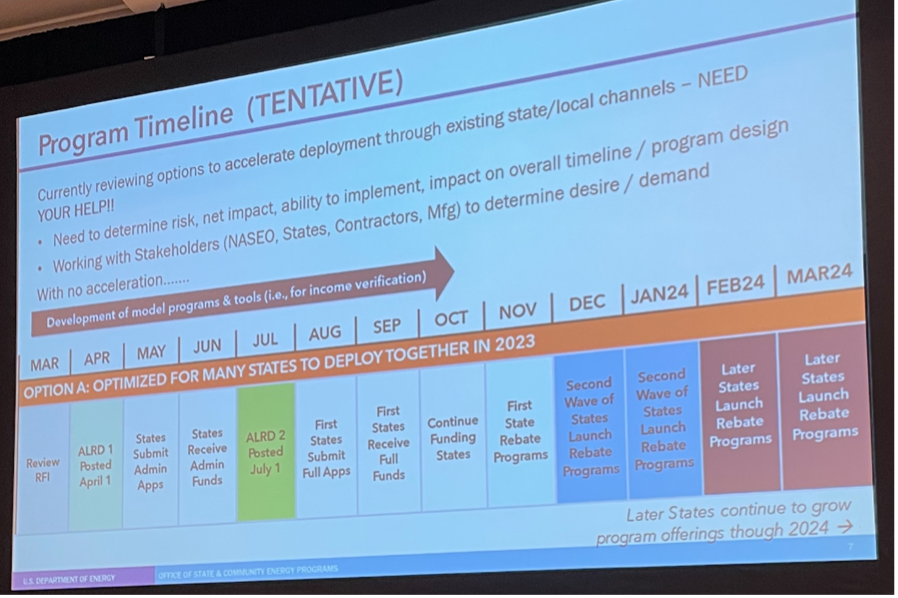 As always, we are intensely following the news about the DOE Home Energy Rebates so stay tuned for more information as it becomes available!
---