The NABCEP PV Technical Sales JTA, or Job Task Analysis, explains the tasks and knowledge areas that are expected of certified solar sales professionals. NABCEP recently reviewed the JTA and updated the information to reflect this fast-growing industry.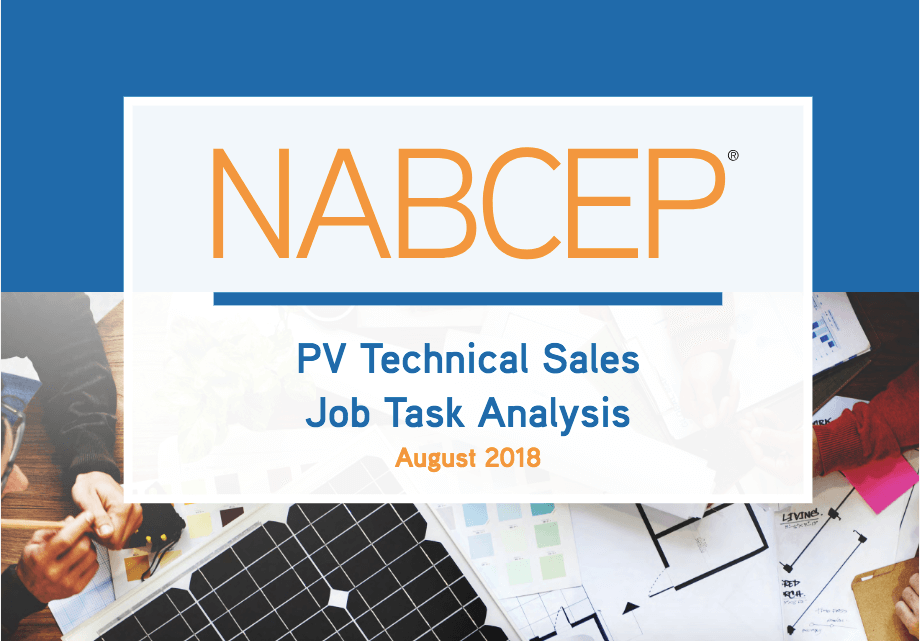 The previous version of the NABCEP Sales Certification JTA has been in effect since 2013, so you can only imagine how much has changed in the last five years.
This is also important because the JTA serves as the basis for the NABCEP PV Technical Sales Certification exam. NABCEP recently announced the update to the JTA but will not implement the changes until April 2019.
So what will change?
The major differences between the 2018 JTA and the 2013 JTA are as follows:
2018 consolidates the Financial Costs, Incentives, Savings, and Returns into one section instead of 3
Therefore, percentages have increased in each of the testable categories
2018 consolidates "tasks" and "knowledge areas" in each category and considers them the same thing
2018 Site Analysis adds "visual inspection and site walkthrough" and "review site analysis with appropriate stakeholders to establish buy-in and consensus"
2018 Conceptual Design adds "potential sites for energy storage systems" and considers "roof obstructions" and "vent pipe or vent stack rerouting"
2018 replaced "geometry" and "computer skills" with "design software"
2018 Performance Analysis considers "environmental issues" and "monitoring systems"
2018 Financial category offers more tariff options: time-of-use, tiered-rate-structure, flat-rate, and value-of-solar (but less info about government tax credits, rebates, and exemptions)
2018 Financial category adds "job creation benefits, benefits from building sustainable communities, and marketing/PR benefits" to non-financial benefits
Arguably the two biggest changes refer to energy storage systems and tariff options, likely because both were less prevalent in 2013.
A more detailed breakdown of the 2018 vs. 2013 JTA categories is shown below:

This update comes on the heels of another NABCEP change regarding continuing education requirements. Although the two announcements are not related, it's clear that NABCEP is keeping an eye on the industry, listening to the feedback they're receiving, and acting quickly to maintain their position as the top organization for solar certification.
If you're interested in joining the solar workforce and earning a NABCEP Certification, give us a call at (800) 460-2575. Everblue is an approved NABCEP Training Provider with IREC-Accredited curriculum. We will not only teach you the solar skills that you need to get a job, but we can also help you qualify for NABCEP Certification. Contact us today!