The solar certification exams developed by the North American Board of Certified Energy Practitioners (NABCEP) assess a candidate's knowledge, skills, and abilities. This testable information is available on NABCEP's Job Task Analysis (JTA) document, which outlines a wide variety of responsibilities that solar system installation professionals have. Concepts from the 2017 NEC code will soon join that outline.
It is expected that all individuals who achieve the advanced NABCEP PV Installation Professional Certification be familiar with and capable of executing all the tasks described in the NABCEP Job Task Analysis document.
If you're new to solar, take a moment to browse our Solar Overview series to get an understanding of how you can add solar to your resume and your business.
Once you decide that NABCEP Certification is the right move for you, you should begin acquainting yourself with the various NABCEP designations available and the corresponding JTA documents.
About the NABCEP Job Task Analysis
According to NABCEP, the JTA documents "form the blueprint" for all NABCEP certification exams.
The NABCEP JTAs are updated every 3 years to incorporate changes made to the National Electric Code (NEC). The most recent iteration of the NABCEP PV Installation JTA covered the 2014 NEC. Starting January 3, 2018, the NABCEP PV Installation JTA (and thus, the certification exam) will cover 2017 NEC code concepts.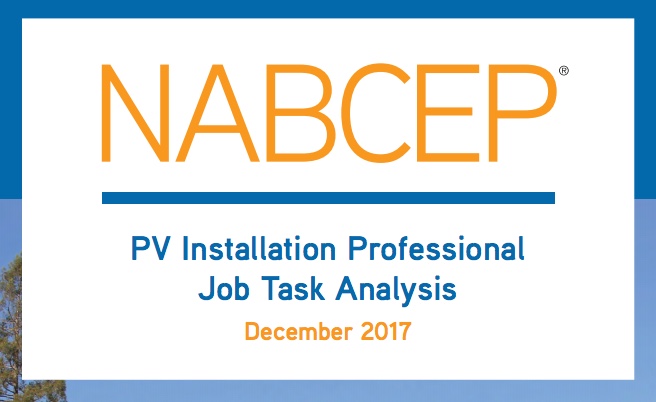 Qualifying for the NABCEP Certification Exams
As you research NABCEP Certification, you'll find that there are a number of eligibility pathways and qualifying requirements. It's important to review the NABCEP Certification Handbook to get a sense of which qualifying category best fits your education and experience.
Oftentimes, candidates for the NABCEP PV Installation Professional exam will need:
58 hours of training (where 40 hours cover advanced solar installation/design concepts)
passing score on the NABCEP PV Associate exam
an OSHA 10 card or equivalent
work experience totaling at least 6 Project Credits
Since the NABCEP PV Installation JTA for the 2018 certification exams is already updated and published, it's important to pursue solar training that covers the 2017 NEC code.
How to Learn the 2017 NEC Code
At Everblue, we're pleased to announce that we have updated our solar training program to reflect the 2017 NEC code changes so that NABCEP candidates have access to the most up-to-date information.
Specifically, our NABCEP PV Installation Professional Exam Prep has been designed to align with the eligibility requirements for the NABCEP certification exams. With over 100 hours of solar training concepts covered, the NABCEP PV Installer program is the gold standard for convenience; we offer training in live and online formats. As soon as you enroll, you gain instant access to the online training so you can begin learning right away!
Give us a call at (800) 460-2575 to learn how you can work toward a NABCEP solar certification.