Studies show that professional certification leads to more pay, and the same is true about a NABCEP installer's salary.
We previously researched solar installer pay, and asked the question, "How much do solar installers make?"
After looking through at least eight different salary-related websites, we determined that the average solar installer pay is between $30,000 – $40,000 each year.
Now let's see what happens when you add the internationally-recognized NABCEP Certification to a solar installer's resume…
Watch Your Pay Double with NABCEP Certification
Salary websites PayScale.com and SimpyHired.com both identified a NABCEP installer's salary as being closer to the range of $70,000 – $80,000 each year.
To get a better idea of how NABCEP Certification may impact your current solar installer salary, think about this: New research from the North American Board of Certified Energy Practitioners (NABCEP) shares that the NABCEP installer salary is typically $11,000 more than the regular non-certified solar installer.

So no matter what, you win with NABCEP Certification.
Why Do NABCEP Certified Installers Make More Money?
Unlike other certification programs that simply require candidates to pass a test, NABCEP requires education and work experience prerequisites before you even get to take the NABCEP exam!
They have taken SOLAR TRAINING.
To earn the highly sought after NABCEP PV Installation Professional Certification, a candidate must meet the following education requirements:
Complete 58 total hours of education, where
18 of those hours focus on general solar photovoltaic knowledge
40 of those hours focus on advanced solar PV installation/design concepts
And they must complete 10 hours of OSHA construction safety training
Their training comes from an ACCREDITED EDUCATION PROVIDER.
You can learn a lot of things from YouTube, but unfortunately YouTube videos about solar concepts will not count toward NABCEP's education requirements. And being that this is your career, and it involves electricity and safety, would you really trust solar electric training from a non-accredited institution?
All training must have a teacher-learner structure. Web-based training counts, but the institution must be able to provide feedback to the student and monitor his/her progress through the course.
The 40 hours of advanced training must come from an education provider that is accredited by the federal Department of Education, Department of Labor Registered Apprenticeship Training Programs, Department of Veteran Affairs, Interstate Renewable Energy Council (IREC), or equivalent as listed in the NABCEP Certification Handbook
They took UP-TO-DATE TRAINING within the decade.
The solar industry is rapidly changing, from year to year. Congratulations to those trailblazers who learned about solar energy in the 1980s, but unfortunately you need to get up-to-date information to qualify for NABCEP Certification.
All training must have been completed within the last 5 years.
They have solar WORK EXPERIENCE from the last 2 years.
To sit for the NABCEP PV Installation Professional exam, a candidate must document completion of permitted solar installations equaling at least 6 "project credits" as defined by:
System size of 1 – 999 kW = 2 project credits
System size of 1 MW and up = 3 project credits
They have held a LEADERSHIP role on a solar PV installation.
A candidate must be able to show that he/she held a decision-making role on a solar installation project. This may include being employed as a:
Lead installer
System designer
Project manager
Site manager
Foreman
Electrician
System engineer
Quality assurance / commissioning agent
As you can see, solar installers who take the time to participate in an approved NABCEP training program and "put in the work" on the job inherently gain more knowledge and life experience than someone who just sits for a test.
As a result, companies benefit from hiring NABCEP-certified installers.
Why Companies Pay More for NABCEP Certified Installers
When companies hire a NABCEP-certified installer, they benefit from the individual's advanced skill level.
Even though business owners will pay more to hire a NABCEP installer, they know they'll benefit from:
Greater client satisfaction
Fewer customer call-backs
Increased brand loyalty
Enhanced credibility
More word-of-mouth referrals
In addition, there are some solar rebate programs that actually require someone on staff to possess a NABCEP Certification. So for a business owner, the advantage there is being able to qualify for government and utility incentive programs (ie, getting more business that they wouldn't have been eligible for otherwise).
Because a NABCEP certified installer has greater education and work experience than others, he/she knows how to handle all kinds of situations that arise on the job – so they're worth it, and so is NABCEP Certification.
When Should I Get NABCEP Certified?
Given the education and work experience requirements to qualify for NABCEP Certification, you might think that the designation is only meant for installers who have been working in the industry for decades. But that's not quite true.
PayScale.com revealed that its survey respondents were mostly in the "Mid Career" range, followed by "Early Career" and then "Experienced."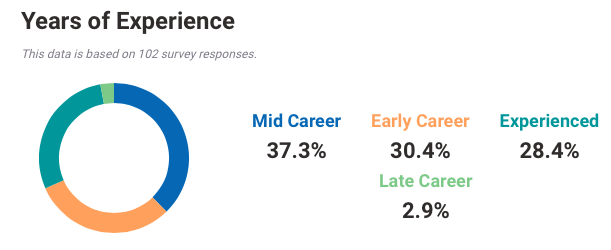 Now what exactly do those career ranges translate to in terms of years on the job? I'm not sure.
But I think a definite takeaway is the ability to qualify for NABCEP Certification at ANY point in your career, provided that you knock out the education and work experience requirements.
Realistically, the sooner you can satisfy the NABCEP Certification requirements, the better. Don't you want to make $11,000 more each year? Yeah, I'd want to do that ASAP.
Let Us Help You Earn a NABCEP Installer Salary
Whether you're fairly new to the solar industry or have worked in solar for years, you now know what you need to do to start making more money!
Here at Everblue, we offer a NABCEP PV Installation Professional package that meets the education / training requirement perfectly.
Our NABCEP PVIP package offers 58 hours of training and includes OSHA 10 training.
The 40 hours of advanced solar PV installation/design training is IREC Accredited.
Our web-based program allows us the ability to provide feedback and monitor student progress.
All you have to do is START!
If you have questions about the NABCEP Certification process, give us a call at 800-460-2575. We're here to answer your questions and help you succeed in your career!