Here are Everblue, we provide solar training courses that help qualify professionals for the internationally-recognized certification exams offered by the North American Board of Certified Energy Practitioners (NABCEP). Though the NABCEP certifications are designed for the individual specifically, many people ask us whether they can get their company certified too. And the answer is yes! It's called NABCEP Company Accreditation.

In fact, NABCEP Company Accreditation is a fantastic way to help your company stand out from other solar companies – both in your local market and nationally.
What is NABCEP Company Accreditation?
NABCEP highlights company accreditation as the most prestigious accreditation that a PV installation company can earn in the renewable energy industry.
Though that sounds biased coming from NABCEP, it is actually fair to say that company accreditation is the real deal and not for the faint of heart. It's reserved for extremely organized, knowledgeable, and successful solar businesses.
Get this:
To qualify, a company must adhere to a laundry list of requirements, ranging from staff qualifications to company policies. (summary at the end of the post)
Because of the very high bar that's been set, only 10 companies nationwide are listed on NABCEP's website as having the accreditation.
Benefits of NABCEP Company Accreditation
NABCEP again lists some of the typical benefits you'd expect to see from a company that has earned accreditation.
NABCEP Company Accreditation is an official stamp of approval that represents that a company is committed to:
High-quality installation standards
Hiring fully trained and qualified staff
Safe work practices
Accountability to the customer
Those are all valid benefits, but I'm more interested in the benefits concerning marketability and opportunism.
Opportunity for YOUR Solar Company
As I mentioned above, only 10 companies are listed on the NABCEP website, each categorized by state. There are only 6 states listed:
California
Florida
Maine
Maryland
Massachusetts
North Carolina
To me, this means that there are extraordinary opportunities for solar installation companies operating in the other 44 states!
Be that one company in your state to boast of NABCEP Company Accreditation! When a customer asks how your company is different from another local company, you can proudly share that your company is the only one in the state with this nationally-recognized accreditation, and you can go on to explain the high standards and high bar that your organization has met by earning the accreditation. Credibility? Check.
Standing Out from Your Competition
Even in states where there are other accredited companies, like California, there's still a marketing opportunity.
California
In 2018, the commissioners of the California Energy Commission voted unanimously to require that nearly all new homes in the state be built with solar panels.
We also know that solar contractors must have a C-46 license in California to operate legally.
Between the California renewable energy policies and its state licensing requirement, we know there is interest and demand for solar energy in the state. Yet there are only 3 companies that appear to have the NABCEP Company Accreditation.
Given that California spans a good portion of the West Coast (nearly 900 miles of coastline), methinks there are opportunities for other solar installation companies in the state. All of the CA solar companies are on an even playing field with the C-46 license, so the NABCEP Company Accreditation is just one way that your company can quickly stand out from the rest.
Florida
Similar to the California situation, I also find it interesting that none of the solar companies listed under Florida are from the Miami area.
Our 2017 blog post on Miami solar legislation highlighted the fact that solar panels are now required on all new single-family residences, townhouses, and multi-story buildings.
So solar companies in the area should be busy with installations, but they should also be combatting the common question of "How are you different from your competitors?" Once again, NABCEP Company Accreditation would a special cherry on top for underscoring your organization's commitment to quality and safety.
Is NABCEP Company Accreditation only for the big guys?
At this point, I'm sure you're saying to yourself, "Well, I bet the 10 companies listed on NABCEP's website are huge. They're probably not small mom-and-pop shops…"
I also had that suspicion, especially when I looked through the NABCEP Company Accreditation Handbook and reviewed all of the requirements. For example, the parts that jumped out to me included:
Sales Manager must have the NABCEP PV Technical Sales Certification.
At least 20% of all company sales personnel must have the NABCEP PV Associate credential.
All company sales personnel must complete NABCEP PV Associate training, and
At least one Construction Supervisor must be have the NABCEP PV Installation Certification.*
*The handbook shows a publication date of 2013 in the footer, but the web address says 2018, so when the handbook says NABCEP PV Installation Certification, I'm not sure if they are referring to the "gold standard" NABCEP PV Installation Professional or the newer NABCEP PV Installer Specialist Certification.
Anyway, I wondered if a one-man-show could claim to be all of those positions – sales, installer, and supervisor.
Out of curiosity, I turned to LinkedIn and looked up the 10 companies that have NABCEP Company Accreditation to get a sense of their size.
Here's what I found:
Renova Energy: 51-200 employees
Sullivan Solar Power: 51-200
Advance Solar: 51-200
PV Squared: 11-50
Bob Heinmiller: 11-50
Yes Solar Solutions: 11-50
Insource Renewables: 2-10
Araybeam: 2-10
Solar-Ray Inc: 2-10 (but 12 employees on LinkedIn?)
Synergy Solar: couldn't find the right company page on LinkedIn
Well, look at that! It comes out to a 3-way split. One-third of NABCEP Accredited Companies are the big guys, with over 51 employees. Another third are mid-sized, with 11-50 employees. And the final third are smaller companies, with fewer than 10 employees.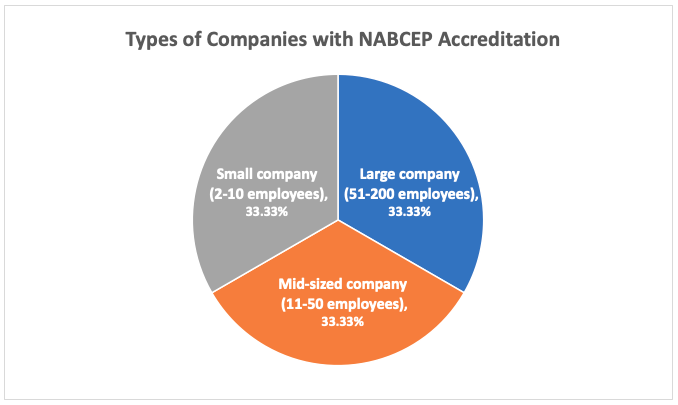 So regardless of your company's size, you can earn the NABCEP Company Accreditation, provided that you adhere to the long list of requirements.
How to Qualify for NABCEP Company Accreditation
I'll do my best to summarize the requirements below. For full details, be sure to read the NABCEP Company Accreditation Handbook.
In order to be eligible for NABCEP Company Accreditation, an applicant company must:
Provide appropriate proof that the firm has been operating as a residential PV installation business for at least one year
Maintain written customer care standards, service escalation procedures, dispute resolution procedures, warranty terms, and termination of operations procedures
Maintain policies on company administrative procedures, employee code of conduct, health and safety, community involvement, and an environmental policy
Currently employ staff with the following qualifications and/or training: (1) Sales Manager must have the NABCEP PV Technical Sales Certification. (2) At least 20% of all company sales personnel must have the NABCEP PV Associate credential, (3) All company sales personnel must complete NABCEP PV Associate training, (4) At least one Construction Supervisor must be a NABCEP Certified Solar PV Installer in good standing, etc.
Maintain programs for Quality Assurance, Employee Training, and Installation Site Training
Adhere to Design Review and Site Assessment requests
Maintain current and appropriate business insurances
Confirm that all required governmental tax filings have been completed and submitted to the appropriate tax agencies
Maintain an OSHA total case incident rate of 5.00 or less
Maintain appropriate customer records
Accept sample field audits of the company's PV installation work
Is Your Solar Company Up for the Challenge?
Honestly, I'd say that many of these requests listed above are reasonable and representative of a quality business, in general.
As a training company, I was a little surprised to see how many of the requirements are related to employee training AND certification.
Thankfully, we can help with that part! If you're interested in pursuing NABCEP Company Accreditation and need to satisfy the employee training requirements, we offer the NABCEP PV Associate training as well as the NABCEP PV Installation Professional training.
Since the requirement states that multiple employees need to be trained and certified, we can work with you on group rates. Simply give us a call at (800) 460-2575 to get started!