Within the home performance community, 2018 marks the exciting introduction of the newest residential energy code – the 2018 International Energy Conservation Code (IECC). Like a celebrity, the 2018 IECC is something to admire but may seem out of reach for many contractors.
Why the 2018 IECC Matters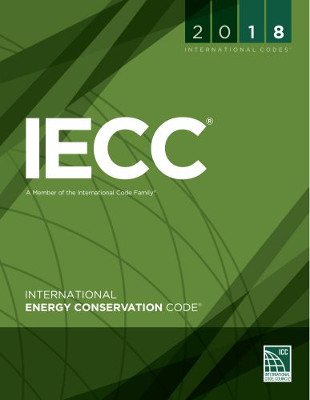 You see, states and municipalities can choose to adopt the latest and greatest IECC code every 3 years – or not. Residential contractors use the building code as their guidebook, performing work in accordance with the code every day.
Environmentally-progressive contractors want to see increased energy efficiency requirements in their state code as a way of mandating that all home performance is done to the same high-quality standards and focuses on energy-saving techniques.
The reality, however, is that the majority of states are still functioning under the 2009 and 2012 IECC codes.
Here we are in 2018, and fewer than 10 states have adopted the 2015 IECC. They include Hawaii, Maryland, New Jersey, Texas, and Vermont. Granted, the code adoption process can take some time, but it's good to know that these states have made energy efficiency a priority. Of course, there are also state-specific codes with regional amendments (Michigan, Florida) that are comparable to 2015 IECC, as well as individual municipalities that have adopted the 2015 code requirements themselves.
For the most part, the energy efficiency provisions in the building code get better with each 3-year update. For example, 2009 IECC brought to light the importance of blower door testing and duct leakage testing. The 2012 IECC sought to require blower door and duct leakage testing to be performed by a certified third party. The 2015 IECC introduced a new Energy Rating Index (ERI) compliance path, which offers homebuilders greater flexibility with their products and strategies. For more information about existing building code requirements, see our post on the 2015 IECC Code: A Look at Builders' Options.
What to Expect From the 2018 IECC Code
According to the Midwest Energy Efficiency Alliance, some of the key changes that we can anticipate in the 2018 IECC residential code include:
Better U-factor on windows
More air-sealing measures
Better insulation on heated slabs
More realistic ERI scores
These changes are not only intended to make a home more energy-efficient and healthy for homeowners but also intended to make the ERI compliance path a more attractive option to builders. When builders work toward code compliance using the ERI pathway, they generally rely on the consultation and guidance of a certified RESNET HERS Rater.
HERS Raters have demonstrated proficiency in the technical requirements of the RESNET Home Energy Rating System (HERS) Index, which is what the ERI Index was largely based on. In fact, in 2017, the ANSI/RESNET/ICC standards 301 and 380 were incorporated into the 2018 IECC code verbiage. Specifically, 301 is the official basis for the ERI calculation. 380 is a referenced standard for building envelope testing.
In other words, states that adopt the 2015 or 2018 IECC code versions will be strong hiring grounds for HERS Raters. They'll be able to lend their expertise of home energy rating scores to builders in need of code compliance. For more information about RESNET HERS, visit our New to RESNET? Start Here! section.
Which States Will Adopt 2018 IECC?
You might think that the states that were early adopters of the 2015 IECC would likewise be quick to adopt the 2018 IECC. In some cases, this might be true – based on the process that some states have in place to adopt the newest code every 3 years.
However, the folks at REScheck actually see the 2018 IECC as an opportunity for states that have not taken a stance on energy codes in the past to make a bold move toward the future. Instead of adopting an almost decade-old code like 2009 IECC, several states would certainly benefit from adopting the most up-to-date code.
A recent blog from REScheck shared the following insight:
"Through our polling of building officials, lobbyists, and energy code compliance legislators we found the following states most likely to consider the updated IECC 2018 code: Tennessee, Missouri, Kansas, South Dakota, and North Dakota. This follows closely with our hypothesis that the states with the least energy compliance could be looking to catapult towards the front of the pack with adoption of the IECC 2018 codes."
In states that do adopt the 2018 IECC, homeowners can expect to live in a well-made, safe, durable, energy-efficient, and healthy home. On the employment side, HERS Raters can expect to gain new business and partnerships with homebuilders in need of a third-party, certified energy efficiency professional.
Over the next 6-18 months, we look forward to following this topic and seeing which states will demonstrate energy efficiency leadership. The Urban Land Institute Philadelphia chapter already plans to host an information session at the end of January to discuss 2015/2018 IECC code changes. Pennsylvania appears to be one of those states on 2009 IECC but also has a process in place for "automatic adoption" of code every 3 years, so we'll see if they make a big step this year!
If you work in a residential trade and want to get in on energy efficiency-related work, consider becoming a RESNET HERS Rater. At Everblue, we provide specialized job training to home inspectors, energy auditors, and other specialty contractors looking to earn an energy efficiency certification like the RESNET HERS Rater. With our all-online HERS Rater training program, you can become a certified home energy rater in no time! Get started today – call us at (800) 460-2575 or learn more on our RESNET HERS Rater Training course page.