What is LEED Certification?
As the gold standard in the construction industry, LEED Certification refers to buildings that have been designed, built, and maintained using green building and energy efficiency best practices.
Keep reading to learn how LEED applies to people, companies, and products.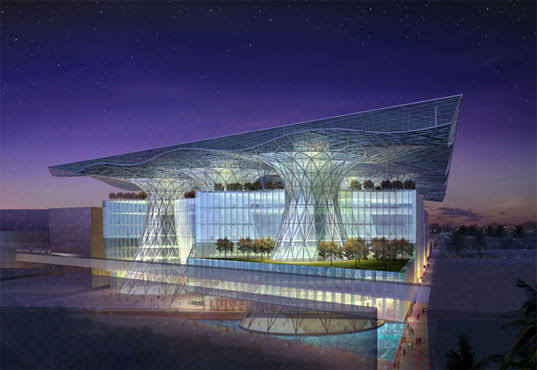 What is LEED?
LEED = Leadership in Energy and Environmental Design
LEED is one of the most popular green building certification programs.
Created by the U.S. Green Building Council (USGBC)
Examines 100+ areas of green building
Recognized internationally
The LEED principles can be relevant to a range of stakeholders.
People often come to us seeking information about:
LEED Certification for Buildings
LEED Certification for People
LEED Certification for Companies
LEED Certification for Products and Services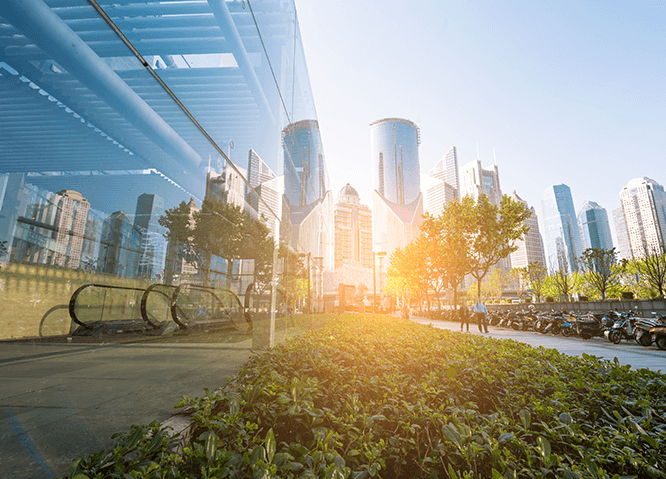 LEED Certification Overview
What Can Get LEED Certified?
Each of these stakeholders CAN play a role, but not all can earn a "LEED Certification."
WHAT IS LEED CERTIFICATION?
LEED Certification for Buildings
LEED Certification refers to buildings that have been designed, built, and maintained using best practices for green building.
LEED applies to all buildings everywhere, regardless of where they are in their life cycle.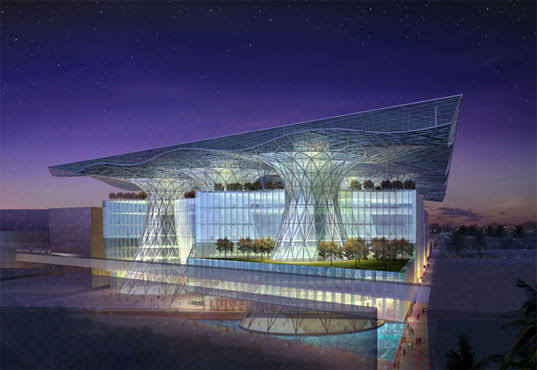 The benefits of LEED Certification include:
Reduced energy and water usage
Lower operating costs
Less construction waste
Reduced liability
More durable buildings
Supports the local economy
Greater resale value
Improved indoor air quality
Increased employee productivity
Better public image
LEED Statistics
LEED Certification is Global
LEED is the most widely adopted benchmark because its standards apply to buildings at the global, regional, and local levels.
That means that LEED works no matter where you live — from Seattle, Washington to Taipei, Taiwan.
LEED CERTIFICATION TERMS
How LEED Certification Works
LEED applies to all buildings everywhere, regardless of where they are in their life cycle.
To understand LEED, you first have to recognize that the information is organized in different sections.
The sections start broad and then funnel down to specific details.
Rating Systems categorize your building project.
Credit Categories target systems in the building.
Credits are the actual strategies to improve your building.
Points are earned when you correctly implement a strategy.
When you work on a LEED certification project, you'll choose relevant credits that help you optimize building performance.
Some credits offer a point range, giving you additional flexibility in terms of how sustainable you want to be.
The more points earned, the more sustainable the building is.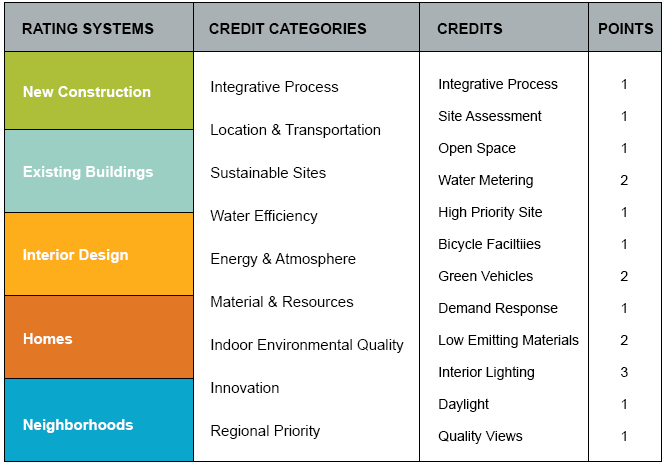 UNDERSTANDING LEED POINTS
LEED Certification Levels
Depending on the number of points received, the project can earn certification on one of the following levels:
What is LEED Accreditation?
LEED Certification for People
LEED Certification would be hard to accomplish without the passionate work of LEED accredited professionals.
LEED Accreditation is the term used to describe people who have passed a professional exam on LEED concepts.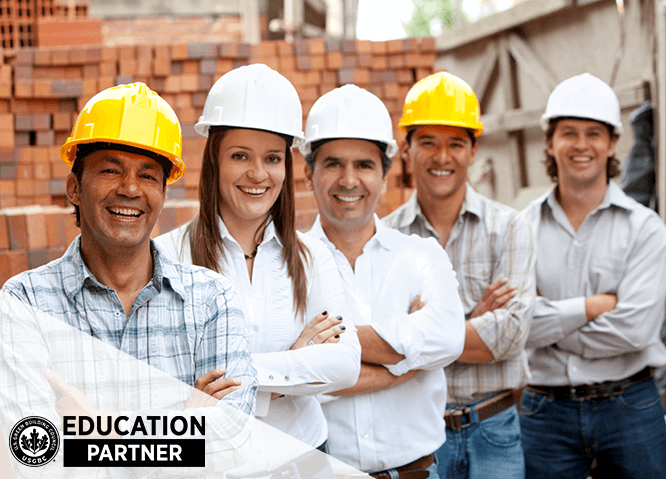 The benefits of LEED Accreditation include:
Adding an internationally recognized credential to your resume
Improved marketability when looking for jobs
Competitive advantage over jobseekers in your industry
Third-party recognition of your knowledge
More likely to qualify for a salary increase or promotion
Better suited for a leadership role
Capable of taking on more responsibility
Stronger eligibility to work on green projects
Expanded business services & client reach
Becoming a stronger asset to your company
Serving as a credible green building advocate
LEED Exam Process
How to Get LEED Accredited
Pursuing a LEED credential is a simple three-step process.
LEED CREDENTIAL PROCESS
Which LEED Credential Should I Get?
There are three tiers for LEED Accreditation.
All candidates are required to start at the LEED Green Associate level.
Tier 1: LEED Green Associate
Start here and learn the basic structure of the LEED Rating System

Tier 2: LEED AP with Specialty
Next, choose to specialize in a specific area of green building.

Tier 3: LEED Fellow
This honorary title is for LEED APs with 10+ years of experience.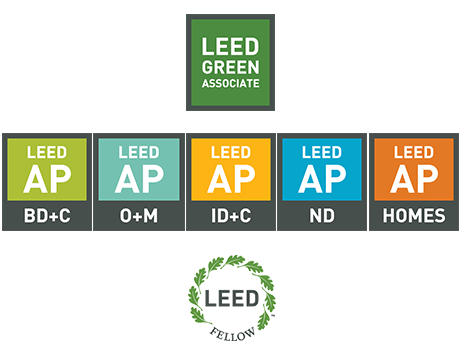 Get Started
Earn Your LEED Credential Today
USGBC Membership
LEED Certification for Companies
The LEED Accreditation title is tied to the person, not the company.
Instead, companies become USGBC Members.
USGBC membership benefits companies in the following ways:
Companies can use the USGBC logo in their advertising
Full-time employees can get discounts on the LEED Exam
Companies can get listed in the USGBC Member Directory
Membership is offered at four levels:
Organizational
Silver
Gold
Platinum
Note - USGBC membership does not represent understanding of LEED. It is merely a fee paid to show support of USGBC's mission.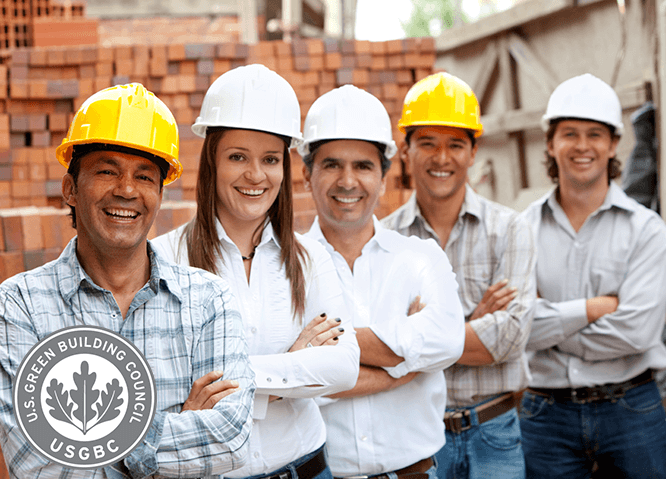 Membership Levels
All organizations can use the USGBC logo in their advertising regardless of which level they belong to.
The benefits increase with each level of USGBC membership.
ECO LABELS
LEED Certification for Products
The USGBC does not certify, promote, or endorse products.
However, products and services can play a role in the LEED Certification process, by helping project teams earn points.
The products themselves do not earn points; rather, they contribute to meeting LEED credit requirements.
For example, a steel roofing company could advertise that their product contributes…
1 point to SS Credit – Site Development
2 points to SS Credit – Heat Island Reduction
3 points to EA Credit – Renewable Energy Production
2 points to MR Credit – Building Life Cycle Impact Reduction
It is the manufacturer's responsibility to provide transparent information that shows how their product satisfies the LEED credit.
Take the first step of understanding LEED requirements by joining our LEED Green Associate training!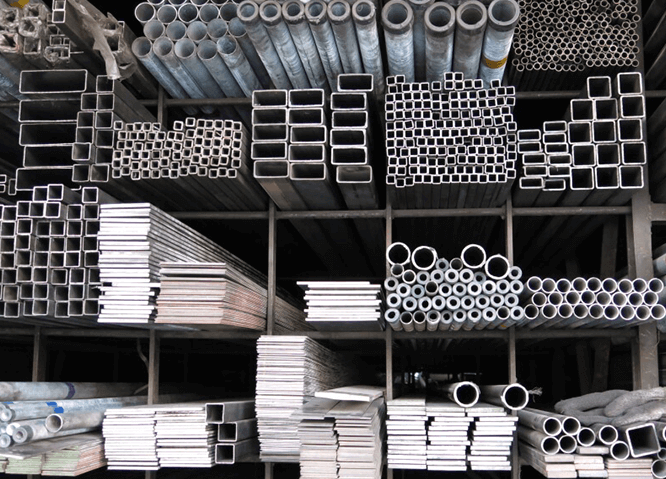 NEXT STEPS
Sign Up for LEED Training
Now that you have a basic understanding of how LEED works, it's time to dive into the LEED credits and show true proficiency.
Still have questions about LEED? Check out our
LEED FAQs
page.