Aaron, construction project estimator, was debating whether to study for the LEED Green Associate exam. He asked me, "Is LEED still worth it?"
Is LEED Still Worth It? Your View vs. Your Boss's View
A job recruiter recommended that Aaron get a LEED credential, as it will make him more valuable. The value is not just the knowledge he gains by studying, but the credential itself is a signal to employers that he is the type of person who pursues professional development opportunities.
However, Aaron's boss didn't think it was worth it. The boss's primary concern was that his company was too busy to allow Aaron to take time off for studying or professional development.
I asked Aaron if his boss had any recommendations for professional development. He said "not really." Unfortunately, this is very common. Some people worry that if their employees gain a new skill or certification that they might want more money or find new employment.
Aaron did volunteer that the company was very busy, but should that stop him from bettering himself?
I asked Aaron a few questions about his company and his career goals. He said that they were a non-union general construction company in the New York area. Their work is mostly with private developers who build and then sell their buildings.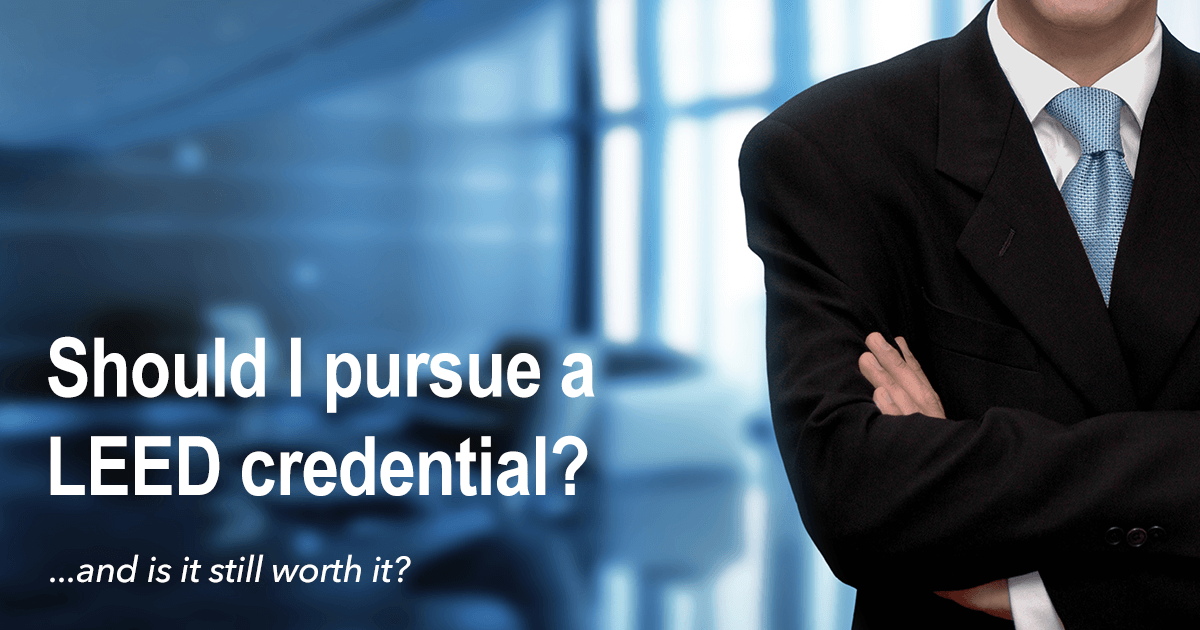 With that information as background, here are my thoughts:
LEED Matters if You Care About Sustainability
First, I asked him if he cared about the environment and the quality of their projects. Does he have professional pride? Yes about the environment and yes about professional pride. LEED training is not just about passing the Green Associate or Accredited Professional exams. It's about new ways of thinking. It's about becoming a voice for sustainability. It's about doing your part to make our world a better place. My hope for any of my students in the LEED classes is that they leave inspired to go and implement what they learn on their project teams!
LEED Matters if You Work in Any Kind of Building Construction Role
Second, LEED is not just for contractors. LEED is for literally everyone in the building construction process. From manufacturers to estimators to architects, engineers, and contractors. Everyone can benefit from learning about the LEED principles. And ALL OF US benefit when we build buildings that are healthier and more sustainable.
LEED Matters to Building Occupants
Third, LEED is absolutely still relevant with anyone that builds and then operates a building. Government, Higher Ed, and Corporations all build LEED buildings because they build and then occupy the same building. They have a vested interest in looking at the entire lifecycle of their building. They don't care about saving money on construction costs if it means spending way more money on utility bills or lost employee productive or higher maintenance costs. Unfortunately, that is not the case for a typical private sector developer who sells the building after construction. In that case the developer optimizes for minimum construction costs even if that means the future owner is less productive or has higher operating costs. That's just the way our free market works.
Earning a LEED Credential Shows Your Openness to Growth
Fourth, the LEED credentials speak to a person's commitment to personal growth and career development. This is true of any credential or advanced training. "Is LEED still worth it?" Why, yes, LEED happens to be a widely recognized standard, so it works great on a resume or on LinkedIn. It shows that someone cared enough about their career to take the time and spend the money for advanced training. That alone speaks volumes. Personally, having reviewed thousands of resumes and having hired hundreds of people, I like growth candidates.
Is LEED Still Worth It? Yes!
If you're concerned about the future of our planet, now more than ever, we need to advocate for more sustainability. Not less!
So if you're still asking, "Is LEED still worth it?" hopefully we've calmed your concerns and shown you why it's important. And if you're ready to get started, join us for LEED Green Associate Exam Prep – which can be taken in a live, instructor-led format or in an online (self-paced) format.
If you work in the building industry, there's no excuse for not being aware of LEED and knowledgeable about its guiding principles. Start today!