Want to understand what to expect with LEED Online Exam Proctoring? The U.S. Green Building Council has now announced that in addition to their regular testing format, they are now offering LEED exams online. USGBC has long used Prometric testing centers to administer their exams, but they now have added exam proctoring through the service ProProctor to accommodate those seeking their credential during this time.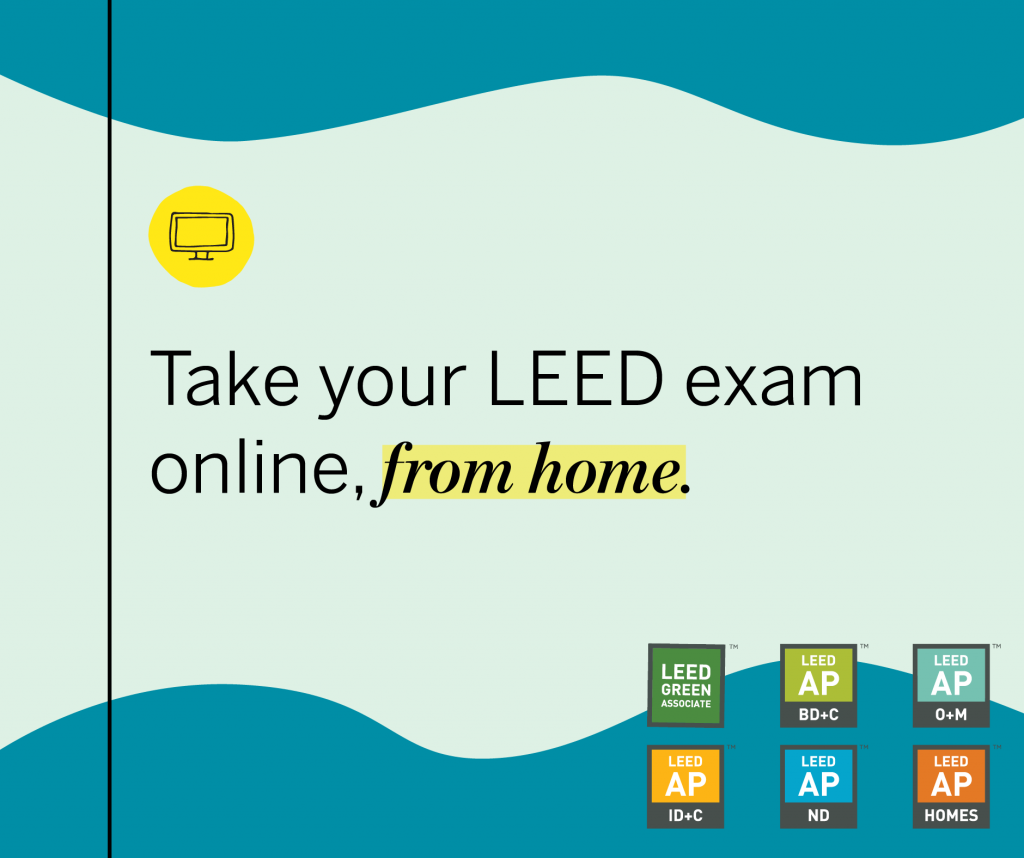 Due to the outbreak of Covid-19, many organizations are migrating their professional exams to online platforms. Online exam proctoring provides an alternative to having to travel to a testing center to abide by current recommendations to reduce potential risks of exposure to the novel coronavirus.
If you have already scheduled your live exam at a Prometric test center and want to change the format to the online exam, you need to cancel your original appointment by visiting Prometric and then schedule your online exam according to the steps below.
Format of the Exam
The format of the exam will stay the same. The Green Associate exam evaluates general knowledge of green building practices and how to be a support figure for those working on LEED projects. It is ideal for those new to green building and is a prerequisite for the AP, or Accredited Professional exams.
As always, we recommend to spend some time reviewing our course materials and practice questions before taking the exam. The official exam is two hours long and contains 100 multiple-choice questions.
Once you earn your credential, you must earn 15 continuing education hours within two years of passing your exam. Learn more about our LEED Green Associate CMP, which contain all of the hours you need in one place!
Steps for Taking the LEED Green Associate Exam Online:
Register for your exam on USGBC and create a user account. You will then select, register for an exam. You will need to pay for the exam before scheduling it.
From there, you will be redirected to Prometric
Search GBCI professional exams.
Select the exam you are seeking to take and choose 'Online'.
You'll have to make sure your computer meets all of the requirements for ProProctor and then you should be good to go! Check out Prometric's ProProctor User Guide, which offers a systems readiness check and includes their testing environment requirements for successful online exam proctoring.
What to Expect
The USGBC will be taking LEED online exam proctoring very seriously, which is important because it will continue to protect and uphold the integrity of the exam and the value of the credential. When preparing to take the online exam, be prepared to:
Share the location in which you plan to test. You will need to show on camera the area around where you plan to test.
Empty your pockets and desk of all materials. The proctor will want to ensure that you have no materials available to help you on the exam.
Repeating the questions out loud will not be permitted. Ensure your environment is quiet and you will not be interrupted.
We don't know how long USGBC will be allowing online exams, so if you've been sitting on your goal of pursuing a LEED credential, don't wait any longer! Start today with our LEED Green Associate Exam Prep!