There are a number of certifications exist to pursue and verify green building and design. Two of the more popular green home building programs are the U.S. Green Building Council's (USGBC) LEED for Homes Program and the National Association of Home Builders' (NAHB) National Green Building Certification. Both programs require third-party verification from a LEED Green Rater or NAHB Green Verifier.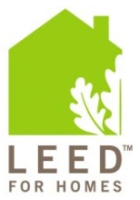 LEED Green Raters are the only raters qualified to work with the LEED for Homes Program, an initiative launched in 2007 by the USGBC to promote the design and construction of high-performance green homes. Qualifications for Green Raters include at least three years of experience in residential construction, the completion of the LEED for Homes Program Review Series and Green Rater training, and the passing of the LEED for Homes Green Rater Exam. Green Rater responsibilities include serving as a liaison between the USGBC and a project's design team, overseeing all project verification services, and ensuring that Project Submittal Packages are complete.
NAHB Green Verifiers are responsible for ensuring that residential buildings and land developments comply with the National Green Building Standard, a definition of sustainable building practices created in 2007 by the NAHB. The standard defines green building for single and multifamily homes, residential remodels, and site developments. Green Verifiers are responsible for performing site inspections and document reviews and must have previous residential construction experience, green building knowledge, and specific training in the National Green Building Standard. Green Verifiers must also pass an accreditation test and are certified by the NAHB Research Center, the sole certifier for the national NAHB Green Program.

Both the LEED and NAHB green home building programs encourage contractors to use sustainable building techniques in the design and construction of homes. They also rely on formal rating systems and similar criteria for evaluating projects. Under NAHB's National Green Building Standard, projects may collect as many points as necessary without restriction in order to achieve a level of certification. In contrast, the LEED for Homes Program mandates specific requirements that must be met in order to achieve LEED for Homes certification. In addition, LEED is largely recognized as the national benchmark for green commercial building, while NAHB is better known as a trade association that helps to promote policies that make housing a national priority.
While both LEED for Homes and the National Green Building Standard guide green building with similar processes, understanding different building standards will help homebuilders and their clients to capitalize on new opportunities emerging from the ever-expanding green market.