As you research the LEED Credentials, you'll notice that there are multiple levels of LEED accreditation. All candidates are required to start at the LEED Green Associate level. You may choose to remain a LEED Green Associate (GA) or upgrade to the advanced LEED AP with Specialty level. If you currently work in the green building industry, you might be asking yourself, "What's really the difference in difficulty level of LEED GA vs. LEED AP?" Let's dig into it.
LEED Green Associate Knowledge
The LEED Green Associate credential is designed for professionals working in non-technical fields of practice who need to understand the basic framework of the LEED Rating System.
This includes knowing the proper terminology and understanding the difference between concepts like LEED points, LEED credits, and LEED prerequisites.
In short, the LEED Green Associate exam tests a candidate's knowledge of high-level concepts and requires basic recall of definitions, mission statements, and naming of concepts that are part of the LEED Rating System.
To learn more about this level, visit our LEED Green Associate Exam Prep training page.
LEED AP Knowledge
Those who pursue the LEED AP credential, however, typically work on LEED green building projects regularly, in a leadership role, and therefore need to understand more intricate details about how LEED certification works.
This includes:
understanding exactly what strategies will earn LEED points (and how many points to anticipate)
how to plan for a specific level of LEED Certification on a building project
how to document all activities related to the building's pursuit of LEED Certification
If LEED is a regular part of your job, then you should definitely work toward becoming a LEED AP.
Moreover, LEED AP not only takes a deeper dive into the LEED credit requirements in general; this level literally focuses on a specific type of building. When you pursue LEED AP, you also commit to having specialized knowledge on a certain type of building project.
There are five LEED AP specialties available:
Building Design + Construction
Operations + Maintenance
Interior Design + Construction
Neighborhood Development
Homes
So if you were to choose the LEED AP Building Design + Construction specialty, you would be committing to learning everything there is to know about LEED for new construction building projects, where the focus is on the design and construction phases. You can learn more about this specialty by visiting our LEED AP BD+C exam prep training page.
We also offer a LEED AP O+M exam prep course to help you learn about LEED for existing buildings.
LEED AP BD+C and LEED AP O+M are among the more popular specialty designations.
LEED GA vs. LEED AP Exam Difficulty
The reason why the U.S. Green Building Council requires candidates to first pass the LEED Green Associate exam is because the LEED AP exams build from the foundation presented in LEED GA.
For example, the LEED Green Associate exam might ask, "Which of the following is the name of a credit in the Energy & Atmosphere category?" In this case, you would just have to be familiar with the names of the 11 credits that make up the EA category.
The LEED AP BD+C exam might then ask, "Which of following building strategies would contribute to earning 1 point in the EA category under the Optimize Energy Performance credit?" Here, we've narrowed in on the Optimize Energy Performance credit. So you know which of the 11 credits are being asked about from the EA category. Now you have to dive deeper into this specific credit and think about the strategies that can increase energy performance in a building and thus be categorized under this credit.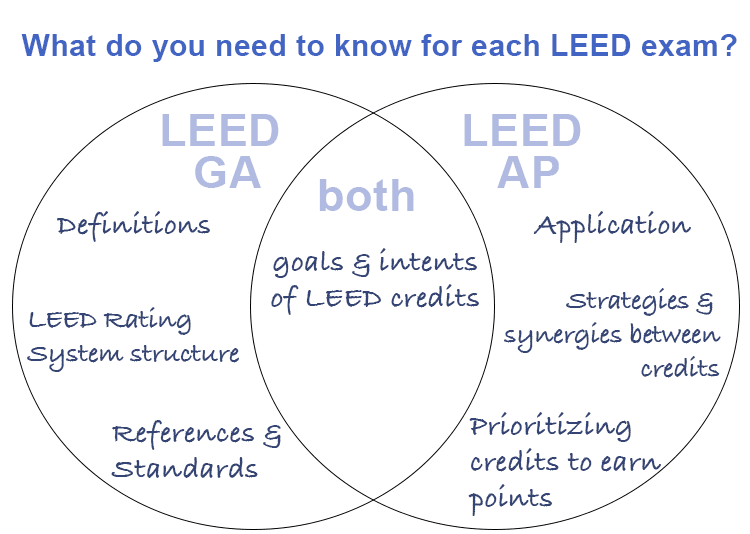 Regardless of whether you take the LEED GA or LEED AP exam, you will be asked about the LEED credit categories. The number of questions per category may change, as well as the depth of the content. We wrote more about this in our other post on the LEED Exam Outline. There you can better compare LEED GA vs. LEED AP in terms of how many questions are asked on each exam about each LEED credit category.
In summary, the LEED Green Associate exam will test your high-level knowledge and ability to recall basic facts about the LEED Rating System structure. The LEED AP exams, on the other hand, will require more technical understanding of how to earn points on a LEED building project. At the LEED AP level, you are asked to apply the basic principles from LEED GA to theoretical projects.
If you have any questions about getting started with LEED, give us a call at (800) 460-2575.