If you're brand new to LEED and have thought about earning a LEED credential, then you are in the right place! Here at Everblue, we offer LEED Certification Webinar Training.
For those who already know what LEED is and how to get started, visit our LEED Green Associate Exam Prep course page to look at our upcoming training schedule.
For a brief overview of what you can expect while you attend LEED Certification Webinar Training, keep reading!
Who should take a LEED Certification Webinar Training?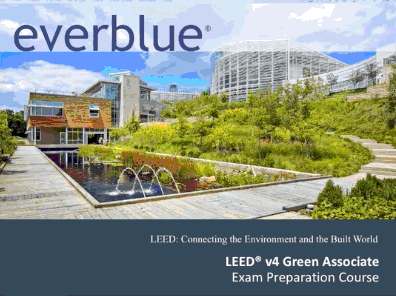 Anyone interested in learning about the Leadership in Energy and Environmental Design (LEED) green building standards!
Some people look at the LEED Certification Webinar Training as "exam prep." After you've learned the fundamentals concepts, you can go on to take the LEED professional exams and earn a LEED Green Associate accreditation.
But LEED Certification Webinar Training is more than just exam prep. If you work in the building industry and want a strong understanding of effective sustainability principles, this course will teach you actionable strategies and tasks that you can immediately apply to your job.
What topics will be covered?
At its core, LEED Certification Webinar Training is designed to go over every detail of the LEED Rating System. We offer an introduction to these concepts on our What is LEED Certification? page but in short, the training will highlight building strategies and considerations in the following knowledge areas:
Water efficiency
Indoor air quality
Building materials
Construction waste management
Site selection
Transportation & walkability
Regional adaptations
These topics can be applied to new construction buildings, existing buildings, interior design, homes, neighborhoods, and even cities and communities! LEED was designed to be flexible and accommodate all types of building structures.
Are study aids included with the LEED Certification Webinar Training?
Yes! Whether you choose to go on and take the LEED Green Associate exam or simply want to dive deeper into the LEED concepts, we include a series of LEED certification study materials with the training program.
After you register for a session, you'll receive immediate access to our online training portal, where you'll be able to find pre-course reading materials, discussion boards, pre-recorded webinar videos, and LEED practice questions.
In addition to the online portal, we will also mail you full-color, printed course materials prior to the start of the LEED Certification Webinar Training. That way, you can follow along with the instructor and the digital presentation on your computer screen while also taking notes on the associated printed materials.
Is the LEED exam included with the LEED Certification Webinar Training?
Unfortunately, no. LEED exam registration is a separate process managed by the U.S. Green Building Council (the creators of LEED).
When you're ready to take the LEED exam, you will create a free account on the USGBC website and then purchase your LEED exam directly from them. Afterwards, you will choose the exact day and time of your 2-hour testing appointment. The exams are proctored through a third-party company called Prometric, who offers live online proctoring and in-person proctoring at its test centers (located internationally). Choose whichever proctoring format works best for you!
How does the LEED Certification Webinar Training work?
The webinar is an online-based training session that you can attend in real-time. This means that you will log in at a predetermined day and time and that you'll be able to ask questions and get answers immediately from the instructor, as if you were attending a live classroom course.
This image below gives you an idea of what the webinar interface would look like. (This is not a functional video).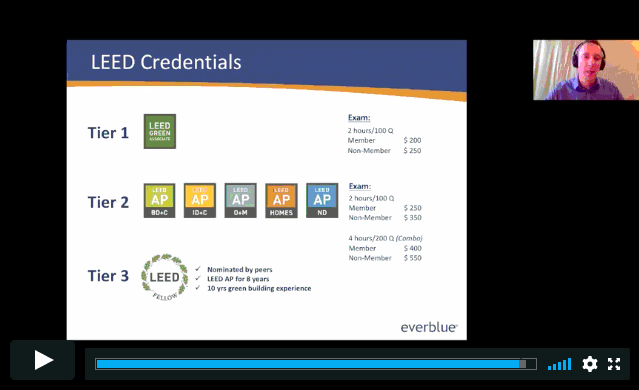 There are many names for the webinar training – live online, live webinar, broadcast, stream, etc. We choose to formally call it a Virtual Classroom because that is the most straightforward name to represent the experience. Attending this program is exactly like attending a live classroom course – only it's virtual!
We offer the LEED Certification Webinar Training at various dates and times, to offer as much accessibility and convenience as possible. When you visit our LEED Green Associate Exam Prep course page, you'll primarily see two date/time formats for our virtual classroom sessions:
4 dates with 3 hours/day or
2 dates with 8 hours/day
The 4-date session is scheduled much like your typical LEED Certification Webinar Training. It's very easy to block off a few hours during the day to participate in a training course. You just pop in for a few hours and then digest the information overnight.
The 2-date session is actually scheduled to align with our 2-day live classroom offerings. If you live in a location where we do not offer a 2-day live classroom course, you can jump onto a virtual classroom and follow along with everyone else! There's really nothing else like this option. Just be sure to block off your entire work day, as if you were actually attending a live workshop in person.
Regardless of whether you choose the 4-date option or the 2-date option, you'll still receive all course materials and study aids, including 6 months of access to the online learning portal.
How can I register for LEED Certification Webinar Training?
You can register online or over the phone.
Online – Visit our LEED Green Associate Exam Prep training page. To fast-track to the registration section, click on the orange button that says View Course Options. This will take you to a section that features our different training formats. The LEED Certification Webinar Training dates will be categorized under the Live Training block. Choose the "location" and date that works best for you. After you click the Purchase button, you'll be taken to our shopping cart page, where you can review your selection. Then you'll Proceed to Checkout, where you will provide your billing information and pay for your course. After you pay, you'll be automatically enrolled and will gain instant access to the online learning portal!
Phone – Call (800) 460-2575 and choose our New Customer – LEED pathway. You'll be connected with our friendly and helpful customer service representatives who can place the order for you. We'll just need your name, email, billing information, and the dates/times of your preferred LEED Certification Webinar Training session. If you have any questions, you can certainly ask us while you're on the phone!
LEED Certification Webinar Training is the best way to familiarize yourself with LEED concepts.