You may have heard the term LEED AP before, though you might not be aware of the layers that live within this title. Paired with LEED AP, you might have heard the terms Legacy LEED AP or LEED AP Without Specialty. All of these terms mean the same thing and unfortunately, they're all outdated.
To find out how you can become a LEED AP, visit our LEED Credentialing Process page.
First of all, what is a LEED AP?
For some background, when the Leadership in Energy and Environmental Design (LEED) Rating System was established in 1993, it was determined that an individual who passed the LEED Exam would earn the title of a LEED AP, or LEED Accredited Professional.
LEED Version 3's arrival in June 2009 brought a number of changes and enhancements with it, including a new tiered credentialing system. No longer would a successful exam candidate become simply a LEED AP. LEED v3 introduced new titles called LEED Green Associate, LEED AP (with Specialty), and LEED Fellow.
So what did this mean for the so-called Legacy LEED APs, and what does this mean now?
2009-2013: To Opt In or Not to Opt In
When LEED v3 debuted, the Green Business Certification Inc. (GBCI) invited the Legacy LEED APs to upgrade their accreditation by declaring a specialty and then completing a 30-hour credential maintenance program before fall 2011. The other option was to simply re-take the LEED Exam.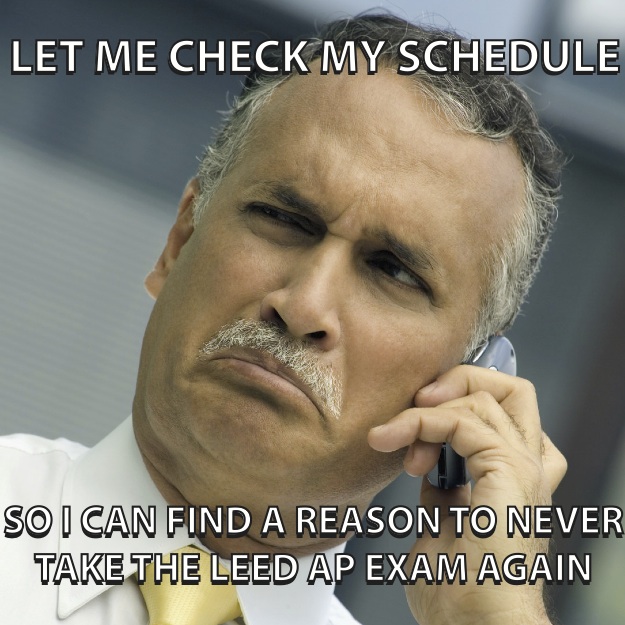 In November 2012, the GBCI offered another route for remaining Legacy LEED APs to earn a specialty, which was to complete a "Principles of LEED" program, which was comprised of six online modules and corresponding quizzes. In order to upgrade to the v3 credential, a Legacy LEED AP had to agree to the USGBC Disciplinary Policy, agree to complete continuing education requirements, and pay the biennial maintenance fee.
At the end of the day, Legacy LEED APs could carry their credential to their grave, if they had wanted. The GBCI indicated that LEED APs who did not want to opt into the new requirements could stay a LEED AP and remain in the GBCI database. In addition, LEED APs could work on LEED v3 projects and earn a point in the Innovation in Design category for being a LEED AP. (In 2013, it was announced that LEED APs without Specialty would no longer earn the Innovation point. In fact, LEED APs with Specialty who want to earn the extra point now have to be working on a LEED project related to their specialty.)
What would you have done?
2014 and Beyond
The "Legacy LEED AP" title has now been replaced by the "LEED AP without Specialty" title for this group of professionals. Ok, to be fair, the official name has been LEED AP without Specialty for a few years. Many adopted the "Legacy LEED AP" title as somewhat of a slang name. We should, and will, use LEED AP without Specialty going forward.
In a discussion on the USGBC LinkedIn Group page, a LEED AP without Specialty recently noted that his listing on the GBCI directory was no longer visible. This led many LEED APs without Specialty to believe that they were being permanently omitted due to not opting into a newer system of LEED.
Quite a debate ensued, with some LEED APs arguing that they felt pressure to upgrade simply as a means of being included publicly among their esteemed peers in the industry. For them, the omission from the GBCI directory would add a layer of complication for times when they needed to assure a client that they have, in fact, earned a LEED designation. It would also mean having to retain their official certificates and keeping their GBCI numbers on file in case they needed to show proof of their accreditation.
Others argued that it wasn't appropriate to recognize the LEED APs without Specialty to the same degree as the newer professionals who have made a point to stay abreast of the current developments in green building through continuing education. Many LEED APs without Specialty, they said, might have passed the exam half a decade ago but since remained inactive and disconnected to the green building world of today. 
Thankfully, a representative from the USGBC commented on the discussion and noted that some individuals' listings were not set to "Viewable." She recommended that LEED APs without Specialty log into their accounts, complete their profiles, and make sure that the profile is set to Viewable. In short, LEED APs without Specialty are still included in the GBCI directory. You just need to check your profile settings. And remember, a LEED AP without Specialty is a LEED AP for life!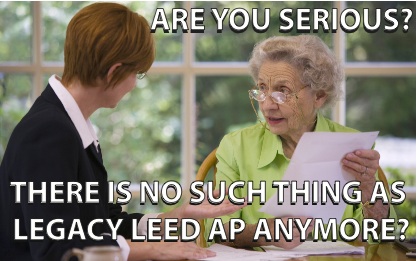 Keep checking in with us for the latest news regarding LEED Accreditation. Visit our LEED Training page to view a full listing of our green building courses.