Hello, my name is Joan Mahon, and I teach the LEED training courses for Everblue. I recently visited the United Kingdom to teach a course and wanted to share some stories about my travels. Specifically, I enjoyed discussing the LEED and BREEAM standards with the students in my class. 
I flew to London Heathrow and boarded the express train to Paddington Station, a train station built in the Victorian Era. The beautiful grille work is reminiscent of the Crystal Palace, and the station itself is the "home" of the Paddington Bear, a beloved children's book. From Euston station I took a train north toward Glasgow and spent Halloween weekend in Lymm with my brother-in-law, Mark Tavelli. Mark works for URS and is the Deputy Engineering Director at Sellafield Ltd. This is a nuclear site in the Lake District of the UK on the Irish Sea. They are doing the important work of safely decommissioning the site. Previously, Mark was Director of Engineering for Washington Closure Hanford in the US.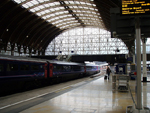 Lymm is a quaint village in the Town of Warrington. We spent the afternoon watching the Rugby Club of Lymm emerge victorious in their match and then joined the mates in the clubhouse for celebratory good cheer. The next day we visited Chester, a Roman Garrison on the River Dee. We walked the Roman walls, had a wonderful lunch sourced from local farms and visited Chester Cathedral at twilight. With its Roman and Tudor architecture, Chester is an architectural wonder and a pedestrian-friendly walkable city.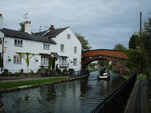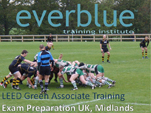 November 1-2, 2011
Thomas Vale's Business Development Manager, Sam Hollis was our host for the two day LEED Green Associate class held at the Forum Training Center, Stourport-on-Severn. Among the attendees were several BREEAM Assessors who are working with multi-national companies interested in LEED. Their knowledge and skill in green building was highly advanced. During the class, we discussed some of the similarities between the LEED and BREEAM standards. Our discussions were enlightening and thoroughly enjoyable as we learned together.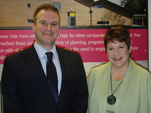 Stourport-on-Severn is a scenic town located in an area known as the Midlands. This region is considered the cradle of the Industrial Revolution. Less than 1km from the Forum Training Center was a Menzies Hotel with a full health club "The Waves" that serves the community. A visit to the Midlands was like a mini holiday.