I just had the pleasure of attending an ISSP Certification FAQs info session hosted by the International Society of Sustainability Professionals (ISSP) in regard to its new sustainability certification program. We've written about this topic before – about our excitement for an official sustainability certification. This particular webinar focused on the Beta testing process for the new ISSP-SA and ISSP-CSP exams, which is a sign that we are one step closer to this program going live!
I was a journalism major in college, so I'm accustomed to typing out everything I hear in a given conversation. My notes for this hour-long webinar are crazy long, largely because the participants shot off question after question about the new certifications and the testing process. I'll try to keep this as neat and organized as I can! Here we go!
The ISSP Sustainability Certification Program
First, you need to know that there will be two levels, both of which will require ongoing professional development.
Code of Ethics Declaration
Pass the ISSP-SA Certification Exam
ISSP Certified Sustainability Professional
Meet the ISSP-SA requirement
Pass the ISSP-CSP Certification Exam
Educational qualifications
Work experience (5 years or up to 2 years of sustainability-related training)
ISSP Beta Certification Application and Testing Process
ISSP will be allowing individuals to participate in a beta version of the ISSP-SA and ISSP-CSP exams this summer. This will help cultivate the testing process, the exam questions, and the scoring. Registration will open for the ISSP-SA beta exam tomorrow, July 15.
To apply, you will want to visit the ISSP Learning Center that will go live tomorrow. Once you register, you'll receive a user ID and password to the Learning Center. You'll upload your application material. You'll be able to complete the exam from your own computer or workspace using proctoring software. You will have to have a photo ID to confirm your identity. All of this will be described in the registration material.
Beta Certification Process
The ISSP staff will be taking some time to determine the passing score for the ISSP exams. They are using ISO 17024's process for validating the test. They will use the data from the beta testing period to determine an appropriate passing score for the ISSP-SA and ISSP-CSP exams.
So, to be clear, the regular process for taking an ISSP Certification exam is to submit an application, take the exam, and receive your score – pretty straightforward.
Questions?
And this is where it got fun. The chat window on the live webinar interface was busting with questions from many of the participants. We'll go through those questions now…
What are the costs for the ISSP exams? The ISSP-SA registration fee is $100 ($25 of which is considered a non-refundable application fee and $75 is a refundable exam fee if you don't meet the eligibility requirements). The ISSP-CSP registration fee is $200 ($50 is considered a non-refundable application fee and $150 is the exam fee).
What will the pricing be after the beta period concludes? More but not determined yet
Is there a handbook – one for SA and one for CSP? There is one beta handbook with information on both ISSP-SA and ISSP-CSP.
Will the exams be multiple choice? Similar format to LEED AP? Yes, the ISSP Certification exams will be multiple choice with each question requiring a single correct answer.
Is the test online and only offered through ISSP, or will Education Partners administer the exam? Yes, the exam is online. There are no plans for other people to administer the exams. ISSP is looking at ways to allow Educational Partners to do that in the future but haven't confirmed those details.
Do you have to be an ISSP member to take the exam? For now, yes. Sign up today! You have to be an ISSP member to take the beta certification exams. Non-members will be able to take the test starting with the official launch in November.
And how long does it take to be recognized as a member once you sign up? Meaning if I became a member today, would I be able to register for the exam tomorrow? Yes, you will be recognized immediately and be able to register tomorrow.
After the beta period, how will exam dates be scheduled? Open rolling testing or only on given periods? After the launch, ISSP plans to go to rolling applications and testing periods, but for the beta and the initial launch, the plan is to have specific test windows in which a person can take the exam.
Can you pay for the ISSP beta exams with purchase order or check? No, credit card or PayPal only for the beta. No checks or purchase orders.
Does the certification expire or need to be renewed? Yes, the ISSP Certification is good for 3 years. You will submit an application to be renewed, and your qualification for renewal will be your continuing education. If you let your certificate lapse, you'll have to re-apply and go through the process again.
What qualifies as continuing education? Will it mirror LEED? The continuing education requirements will be similar to other certification processes with points for various professional development activities.
How much time is allowed for the ISSP exams, and how many questions are in each respective exam? ISSP-SA will have 75 questions and need to be completed in 2 hours. ISSP-CSP will have 100 questions and need to be completed in 2.5 hours. There will be no breaks.
Will the CSP exam candidates need to be familiar in detail with particular ISO standards or GRI reporting or other rating systems – STARS? LEED? Candidates will not be tested on whether they're a LEED professional or whether they've taken GRI training. They will not be tested on those tools because there are already tests about them. ISSP is not trying to duplicate any of the tests that are out there. They want to test about key skills for sustainability professionals.
What are the benefits of ISSP Certification? You can be one of the first to claim an ISSP Certification! ISSP will also be discounting the price of it for beta testers. The ISSP staff want people to participate in the beta testing process because it will help make the exam the best it can be. The benefits for this certification program are akin to that of any professional certification program (more marketable, increased salary, better employment opportunities, etc.)
Is there a study guide? Eventually there will be a study guide or study materials. The ISSP team is in the beginning of that process now, but until the beta is complete and they're confident of what will be on the exam, they simply can't build reliable material. The content outline, however, should help participants understand what they will be expected to know.
How does the ISSP Certificate Program fit into all of this? The ISSP team believes that the ISSP Certificate Program gives individuals the knowledge that they need to pass the exam. The certificate will actually be accepted as a year's worth of training if participants intend to count training toward their eligibility requirement.
As the process matures, will ISSP recommend their Certificate Program graduates to take the ISSP-CSP exam? Absolutely! They are reaching out to them now.
Will the playing field eventually become level, or will ISSP Certificate always be the best way to prepare to sit for the exam? ISSP knows what is on the exam and can influence what is included in the Certificate. Will other education providers have that kind of access? ISSP is not claiming that its certificate program is the best or the only way to prepare for the exam. ISSP created its certificate program because there was a need for it when they started the program, and they still feel that it's a very good way to meet peoples' needs. There are other educational institutions that provide training that prepare people for the exam. We hope that people see it as a level playing field. We are not saying that you have to take the ISSP certificate to sit for the exam. If you have taken the ISSP Certificate, we will count that as 1 year's education if, for example, you don't have 5 years of experience.
Will the inside information regarding what is on the exam be available to other education providers? Test development must be separate from training. Our intention is to begin working with education partners and help them provide relevant information.
Will the ISSP Certification exams be open book – are reference materials allowed? No, the exams will not be open book, and there will be no reference materials allowed.
When the real exams launch in November, will candidates know their score immediately, or will there be any kind of deliberation period? Candidates will know their score immediately. The system should score pretty quickly.
Is there a cap on how many individuals can take the beta exams? ISSP will be capping the beta testing to 150 applicants, specifically for the ISSP-SA beta exam. They are expecting that some of those people will go on to take the ISSP-CSP beta exam.
Will there be a retake fee if you fail the exam? Will this differ for SA vs. CSP? Yes, candidates will need to pay again to retake the test if they don't pass it – this is the way all certification exams work.
Are there any free sample questions available? None right now. The ISSP staff want to check the ISO requirements to see if they can do that.
Will there be an official hard-copy certificate awarded (for Beta and real thing)? No hard-copy certificate. ISSP will issue a PDF (electronic) certificate.
Why wouldn't ISSP want to allow time for folks to learn of their passing the SA before opening up registration for the CSP beta exam? The ISSP team is pretty confident that candidates will pass the ISSP-SA beta exam and then take ISSP-CSP beta exam and pass it. They want to nail down these scores as soon as possible to make sure launch stays on target.
Can you take the ISSP-SA beta exam now and take the ISSP-CSP exam after the beta period is over? Yes, you can participate in the beta portion of the ISSP-SA exam and that's all and then later take the ISSP-CSP exam (in or after November). You do not have to take both if you don't want to.
Will the ISSP beta certification somehow be perceived as "less" than actual ISSP Certification, making candidates want to wait, or will there be NO differentiation upon certification? No, the beta test is real! If you pass the beta, you will be an official ISSP-SA or ISSP-CSP.
Phew! That's probably a good start. Let's take a moment to look at the ISSP beta testing schedule. See below.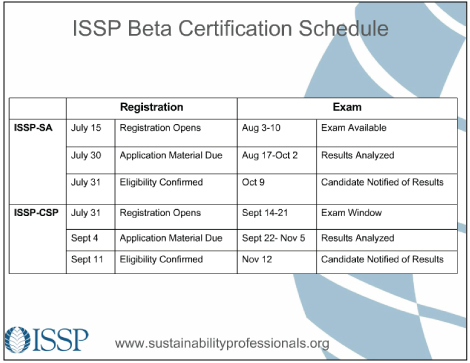 These ISSP Certification FAQs show that there is a lot of excitement in the industry. People want to know more about it! People are ready to get involved!
ISSP will be hosting another ISSP Certification FAQs webinar in August with even more updates about the program – this time, beta testing will be underway, so I'm sure there will be a multitude of updates about that process.