The Interstate Renewable Energy Council (IREC) is a standard-setting and credentialing body that provides accreditation to individuals and organizations that provide high-quality job training in the building performance, energy efficiency, and renewable energy sectors.
IREC Accreditations are five-year credentials that can only be earned by meeting requirements set by IREC Standard 01023. Only 21 organizations in the U.S. have earned IREC Accreditation.
IREC's credential program offers clean energy job training providers the opportunity to set their programs apart from their peers, but there is a reason it is given out sparingly. Applicants must go through a rigorous application process and meet extremely high standards to successfully obtain accreditation.
Specifically, IREC Accreditation requires applicants to demonstrate that their training programs:
prepare students for a defined job
are engaging for their students
have a successful track record of delivery
ensure an effective instructor-to-student ratio
put systems in place for continuous improvement
are responsive to changes in the industry
cover a topic from a pre-approved list of IREC teaching topics
comply with all other Credential Program policies outlined in the IREC Handbook
State & Local Government Agencies Encourage IREC Accredited Training
As the demand for high-quality clean energy job training explodes around the country, IREC Accreditation enables training providers to stand out as industry leaders in an increasingly crowded training marketplace.
It is also becoming more common for federal, state, and local government agencies to require that individuals involved in government-funded clean energy projects be trained by IREC Accredited trainers. For example, the U.S. Department of Energy highly recommends that individuals training to become energy auditors (who can then get involved in DOE's Weatherization Assistance Program) get certified through an IREC Accredited training provider.
Everblue is one of the 21 training providers in the country with IREC Accreditation. Better yet, our weatherization training center locations are nationwide and our scheduling is very flexible and customizable, so we can work directly with community action agencies to provide high-quality training to a team of employees when it's convenient for everyone.
IREC Accreditation Promotes Training Safety and Equity
IREC Accreditation helps protect the public from unqualified, unsafe, or under-equipped training environments. It also helps ensure that training providers are responsive to customer complaints and appeals and have an adequate process for remediating them. Accredited providers also ensure that the training experience they offer is fair and unbiased for all learners.
Everblue's IREC Accredited Training Courses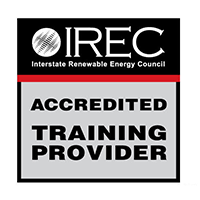 Everblue, an industry leader in green job training, has earned IREC Accreditation on its Home Energy Professional HEP Energy Auditor and HEP Quality Control Inspector courses. These certifications directly prepare students for a defined job in the energy efficiency industry and qualify them to participate in the U.S. Department of Energy's (DOE) Weatherization Assistance Program (WAP) – which supports 8,500 jobs and provides weatherization upgrades to approximately 35,000 homes every year.
In addition, when U.S. DOE officially releases new funding through its Energy Auditor Training Grant Program and related Contractor Training Program, it will be crucial for state energy offices and nonprofit organizations to partner with an IREC Accredited training provider to deploy those funds. IREC Accreditation serves as a nationally recognized, industry-backed, third-party acknowledgment of an organization's high level of quality and sustainability.
Choose High Quality Training
The intent of the Inflation Reduction Act (IRA) and Infrastructure Investment and Jobs Act (IIJA) is to invest in and support a clean energy workforce that can competently contribute to and grow our nation's economy. With unprecedented federal investment at stake, grant recipients must prioritize partnering with accredited organizations like Everblue that have a proven track record of success.
To learn more about Everblue's IREC Accredited training, give us a call at 800-460-2575.