How can state energy offices implement the Inflation Reduction Act's requirements for contractor training, apprenticeships, and home energy rebates, while also making a real, long-lasting difference in their communities?
Everblue is your trusted partner for navigating the complex landscape of the Inflation Reduction Act. Everblue is an IREC Accredited Training & Software Provider that provides high-quality workforce solutions in the energy efficiency industry.
With core competencies in Training, Rebate Management, and Contractor Tracking, Everblue can directly connect workforce development initiatives to support the distribution of rebates and integrate all pieces of the system, helping state energy offices, tribes, and community colleges with implementing the Inflation Reduction Act requirements.
IREC Accredited Training Provider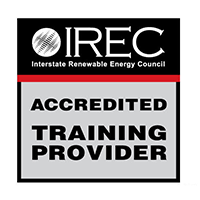 Since 2008, Everblue has provided BPI Certification, RESNET HERS Rater, HEP Energy Auditor, and other energy efficiency courses online and nationally in person through its open enrollment schedule and through private corporate training.
In addition, Everblue is happy to provide TREC Contractor Training Grant funding and application support to state energy offices.
Through its partnerships with state energy offices, tribes, community action agencies, utilities, prisons, community colleges, and employment agencies, Everblue shows an unwavering commitment to building a strong energy efficiency workforce.
EverForms: Rebate Management Software
Everblue's software division provides end-to-end technology solutions for apprenticeship, certification/licensure, contractor eligibility, and rebate tracking.
EverForms is a robust and customizable digital forms and workflow automation platform that manages the home energy rebate process.
The EverForms platform includes applications and approval workflows for verifying:
household income eligibility
home eligibility
contractors requesting rebates
vendor coupon validation and
project completion/close-out
The ability to house all data in one platform provides a complete solution for state energy offices implementing the Inflation Reduction Act programs like the home efficiency rebate program.
EverCert: Contractor Management Software
EverCert is a dynamic contractor management platform for workforce metrics and tracking. With over 100 integrations that include learning management systems, background checks, and rebate processing, EverCert is the turnkey technology solution for powering a nationwide directory of eligible contractors.
Everblue has partnered with 10+ state government agencies and weatherization assistance programs to provide impactful energy auditor training and end-to-end licensure management.
Everblue's experience and ability to specifically design technology for state agency credential management and project reporting fills a huge gap in the system. As state energy offices get closer to implementing Inflation Reduction Act programs, they will benefit from partnering with proven industry organizations.
Everblue streamlines the workforce development process, empowering state energy offices to effectively manage energy efficiency initiatives and promote sustainable practices in their communities.
To schedule a demo of the EverForms rebate management system or the EverCert credential tracking system, call (800) 460-2575 or email [email protected].