Everblue has teamed up with Humanscale to host LEED classes in 10 North American markets: Atlanta, Boston, Chicago, Dallas, Houston, New York, Philadelphia, San Diego, San Francisco and Toronto. The partnership was designed to provide career development for Humanscale A&D representatives while at the same time offer the LEED Green Associate training to facilities managers, architects and designers.
During the two-day training, Humanscale representatives have demonstrated their product line with regard to the LEED Pilot Credit Comprehensive Ergonomic Strategy, giving the attendees a hands-on approach to an Innovation in Design that was championed by Humanscale for the USGBC's LEED rating systems. It has not been unusual for attendees to leave the training with a goal of buying their very own Humanscale ergonomic chair. The Humanscale showrooms have offered the perfect setting of design, comfort and hospitality.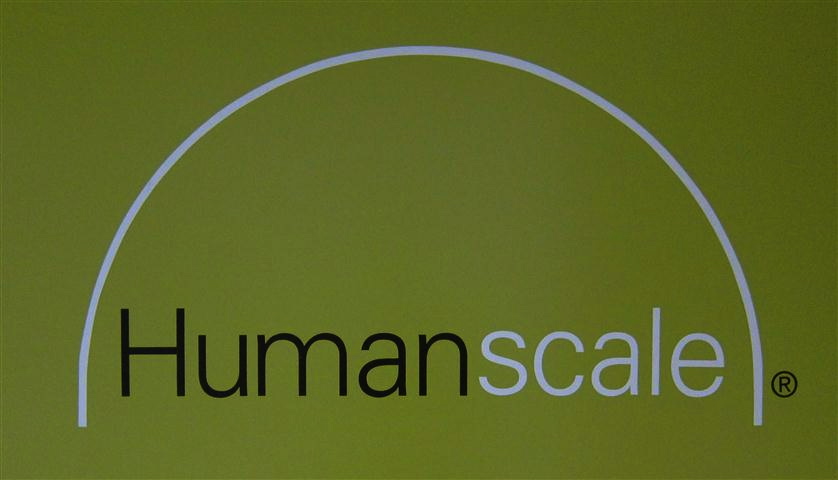 Jon Strassner, Director of A&D, Humanscale explained how the partnership came about:
"Humanscale was looking to get our sales people more involved in understanding LEED, so we decided to pursue LEED GA accreditation for a number of our people. We had a hard time finding a program to follow, and as a result, our pass ratio was quite low, and certainly not doing much to build our sales people's confidence. After meeting with Joan Mahon, we decided to partner with Everblue to train our people and our clients. We couldn't be happier with that decision, as Joan and her team are reliable, responsive and very professional. We've had a number of training sessions in our showrooms and we are ecstatic over the quality of client coming in to attend the training. High-end decision makers from major firms are sitting next to our people learning material for LEED GA! Not only are we receiving quality training, but we are meeting some very influential decision makers as well! We couldn't be happier with our partnership with Everblue, and look forward to many more of their training sessions."
From an attendee in Toronto, Everblue's Greg Hamra received the following rave review:
Hello Greg,
I just wanted to express how much I enjoyed my two-day training session with you and such a great group of industry diverse classmates. Over my 20+ years of being in the Facilities Management Biz and taking a fair number of training courses/seminars during that time, I can honestly say that your method of training was outstanding. You kept everyone engaged, informed, and most important "awake"… I also want to thank our host at Humanscale, Tim, for allowing us to use your wonderful venue, not to mention the tasty breakfast treats and of course lunch. I just love your products especially your seating. I'm having withdrawal symptoms now that I'm back using my existing chair. It was a pleasure meeting you all and I hope we will bump into one another somewhere soon.
Below: A picture from the Toronto training with Humanscale, with host Tim Au-Yeung front row left and Everblue's LEED Sr. Instructor Greg Hamra, center. Attendees tour the showroom to learn about the LEED Pilot Credit: Comprehensive Ergonomic Strategy and see the LEED Gold features of Humanscale Toronto.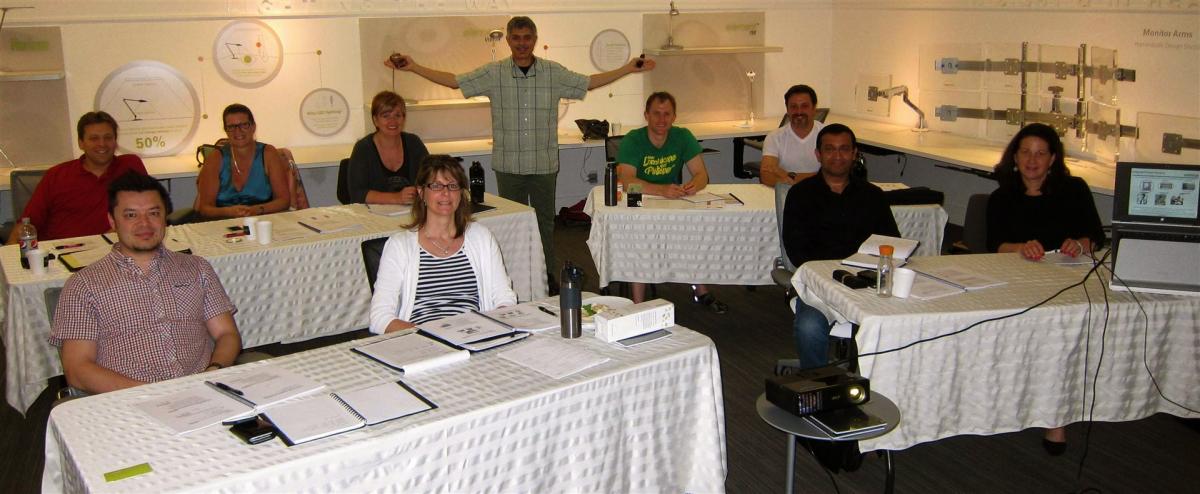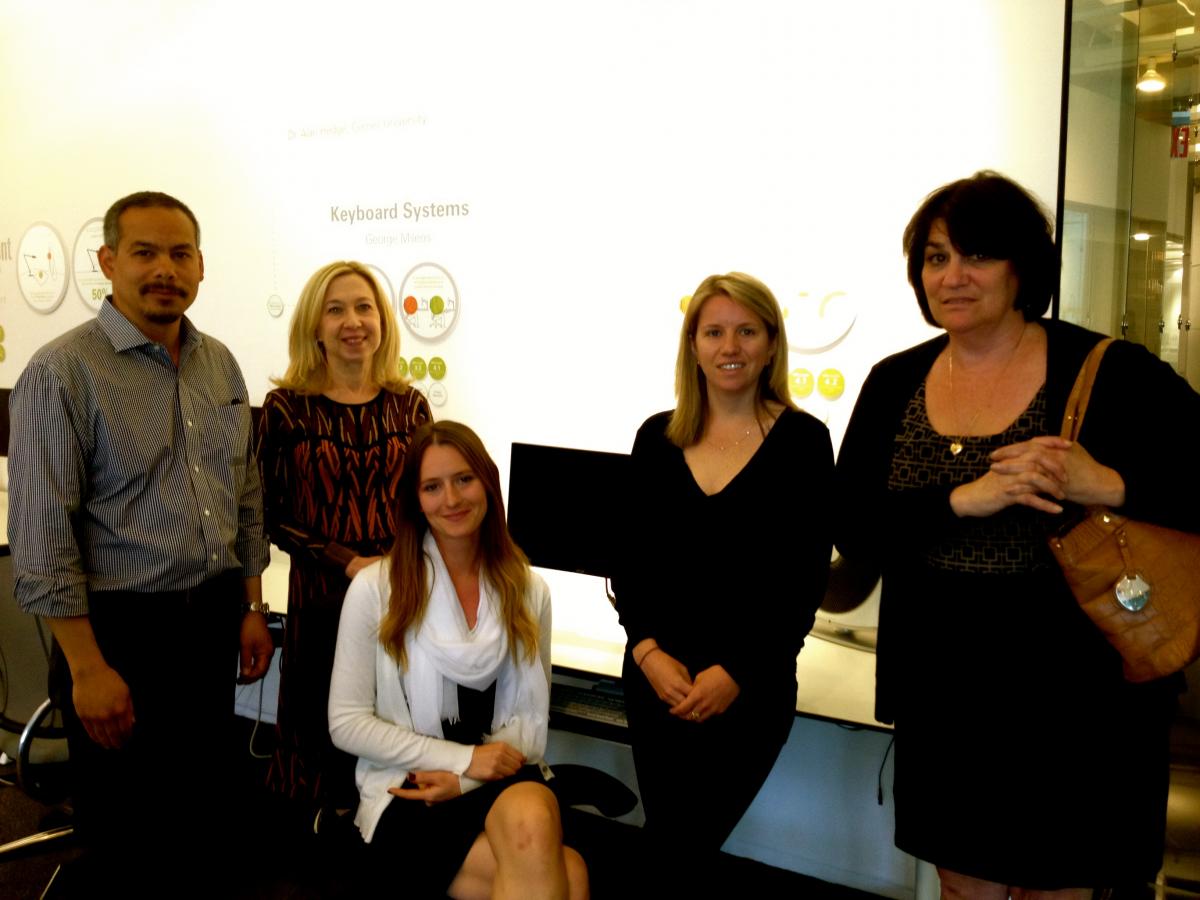 Above: Attendees of the NYC training with Humanscale's Sheril Kern, 2nd from left and Julia Barnes, center. Humanscale's NYC showroom overlooks Madison Square Park and features gorgeous art of the World Wildlife Fund, WWF. Humanscale founder and CEO Robert King has served on the National Council of WWF since 1999 and remains one of the causes most staunch supporters.
Interested in hosting a corporate class for LEED or sustainability training with Everblue? Call (800) 460-2575 or email us at [email protected]
About the Author
Joan Mahon was recognized as a Finalist for the 2012-2013 Educator of the Year Award for Partnership/Community Service by Career Education Corporation. She was one of 12 faculty members recognized out of 6000+ educators worldwide.