As simple as it may be to change a light bulb, there are some safety precautions that must be adhered to in order for the CFL to be an effective, safe, environmentally friendly option. Here are a few things you need to know when switching to CFLs:
Burn Out
What can consumers expect from a CFL when it reaches the end of its "life"? A CFL will start to dim over time. There may be a pop when it officially burns out, along with a distinct odor, as well as a small amount of smoke. The base of the bulb may turn black. These effects are not necessarily an indication of a hazard according to John Drengenberg, Consumer Affairs Manager at safety science company Underwriters Laboratories (UL) that regularly tests CFLs for compliance with safety requirements. "Any popping sounds or smoke that a consumer might see when a CFL burns out means that the bulb's end-of-life mechanism worked as it should have," he says. Safety standards for CFLs require the use of special flame retardant plastics to prevent subsequent safety hazards.
Breakage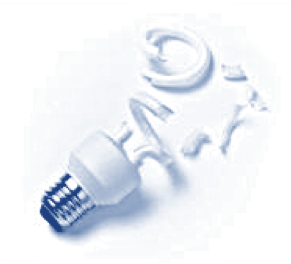 CFLs contain a very small amount of mercury (less than 1/100th of the amount in a mercury thermometer) sealed within the glass tube. Mercury is an essential part of CFLs: it reacts with the coating on the inside of the glass tube to produce light while using very little electricity. No mercury is released when the bulbs are in use. However, the bulbs do need to be handled with care to prevent breaking the glass. Screw and unscrew by the base of the bulb, not the glass, and never forcefully twist into the socket.
If the glass should break, follow these steps:
Have people and pets leave the room.
Open a door or window, and air out the room for 5-10 minutes.  
Turn off the HVAC system.
Collect materials needed to clean up the bulb – gloves, cardboard or stiff paper to scoop, damp paper towels to wipe, and duct tape to remove remaining debris. Avoid using a vacuum cleaner.
Place all debris, including cleaning materials, in a sealable container, label it, and place it outdoors in a protected area to await proper disposal.
Wash hands after clean up.
Leave HVAC off with window and/or door open for several hours, if possible, to continue airing out the room.
Proper Disposal
It is best to recycle CFLs when they no longer work. Contact your local municipal solid waste agency directly, or go to earth911.com to identify local recycling options. Some stores, such as Lowe's and Home Depot, take back used CFLs, in addition to batteries and other potentially toxic household items. Broken bulbs need to be properly packaged in sealed containers for safe handling.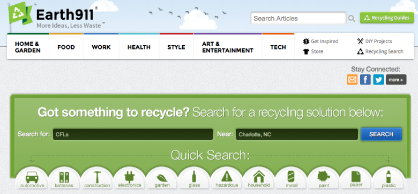 Benefits and Risks
CFLs are a simple, effective way to reduce energy consumption. Mercury has to be taken seriously, just as climate change and energy-efficiency must be taken seriously. Energy-saving CFLs reduce demand for electricity, which in turn reduces the amount of coal burned by power plants, which reduces emissions of mercury when coal is burned. By taking the proper precautions when handling, and disposing of CFLs, the benefits outweigh the risks.