If you're planning on earning a LEED credential and demonstrating your knowledge of sustainability concepts, your first step is to pass the LEED GA exam.
If you're just getting started with LEED and want a better understanding of the LEED credential process, visit our New to LEED? Start Here! series.
Registering for the LEED Exam
Through your research of the LEED credential process, you'll find that the LEED exams are managed by the U.S. Green Building Council (USGBC). This means that all exam candidates must purchase their LEED exam directly from the USGBC.
The USGBC created the Leadership in Energy and Environmental Design (LEED) standards, and they manage information about exam candidates and credential holders in their online portal.
When you visit the USGBC website to register for your LEED exam, you'll see a series of numbers representing the exam fee. It can be somewhat difficult to determine which number reflects the actual exam fee that you will be expected to pay. We developed this handy cheat sheet to show how much the LEED GA exam costs whether you are a full-time employee of a USGBC Member company, a military veteran, a full-time college student, or a regular individual.
---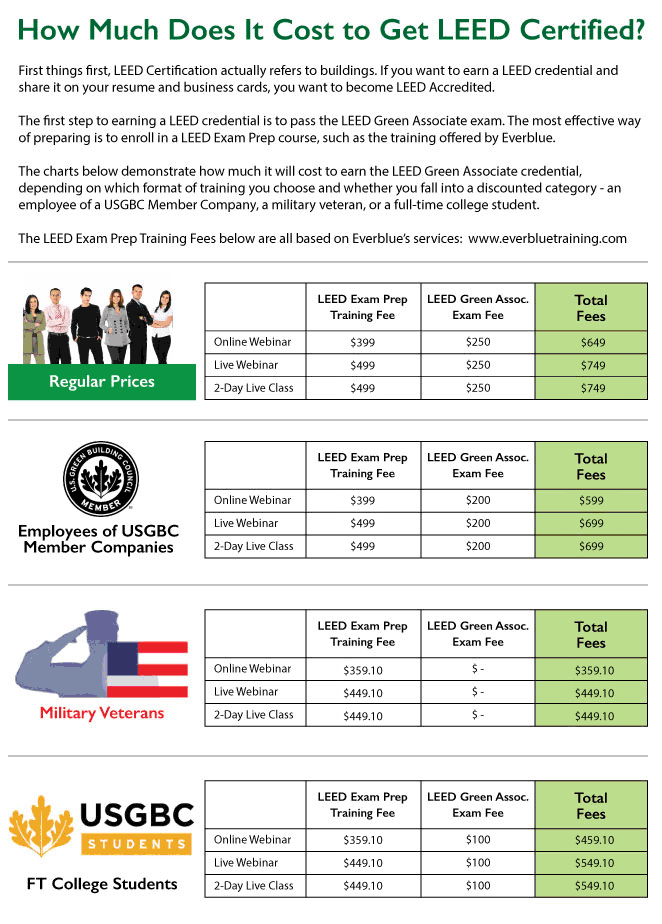 ---
As you can see, there are several ways that you can get discounts on the LEED exam (and LEED training). We should also explain these categories in slightly greater depth.
Regular Individuals – This is what that USGBC refers to as a "non-member." Within the context of the LEED exams, a "member" is only someone who works for a USGBC Member Company in a full-time capacity. Individuals who are members of their local USGBC chapter are considered "non-members." Many exam candidates will fall within this first category.
Employees of USGBC Member Companies – This is the bolded number you see on the USGBC website. This category refers to an individual who works in a full-time capacity for a company that has paid a membership fee to support USGBC. You can search for your organization on the USGBC Directory. Everblue has agreements with some USGBC Member companies, such as Wells Fargo and Humanscale, which grant training discounts to employees of those companies. These agreements vary by organization.
Military Veterans – The USGBC has partnered with the Veterans Administration to reimburse the LEED Green Associate and LEED AP exam fees. The VA will cover 100% of test fees per attempt, whether a candidate passes or not. Visit the VA website for more information. Candidates must apply for benefits and reimbursement.
Full-Time College Students – The USGBC reduced the LEED Green Associate exam fee for college students in January 2016. Students must verify their student status by providing their school name, student ID number, and graduation date.
For further questions about LEED training discounts or the LEED GA exam, please open the chat window in the bottom right of your screen and chat now with a live representative. We also have staff available by phone – call us at (800) 460-2575!
To begin your LEED training efforts, enroll in a LEED Green Associate Exam Prep Course. We offer live and online training options to suit your schedule, budget, and learning style.