Solar energy is arguably the fastest-growing sector of our decade. As such, professionals from many different backgrounds are starting to look to solar as a new career. Money is usually one of the first considerations someone has when thinking about switching careers. And with solar installation being the most newsworthy occupation, you're probably wondering about solar installer salary.
While this shouldn't be the #1 reason to start a new career, there's no denying that it's a factor, so let's look into it. First, let's get on the same page about what a solar installer job entails.
Solar Installer Job Overview
Solar Photovoltaic (PV) Installers assemble, install, and maintain solar panel systems on roofs or other structures in compliance with site assessment and schematics. This may include measuring, cutting, assembling, and bolting structural framing and solar modules. They may also perform minor electrical work, such as checking currents.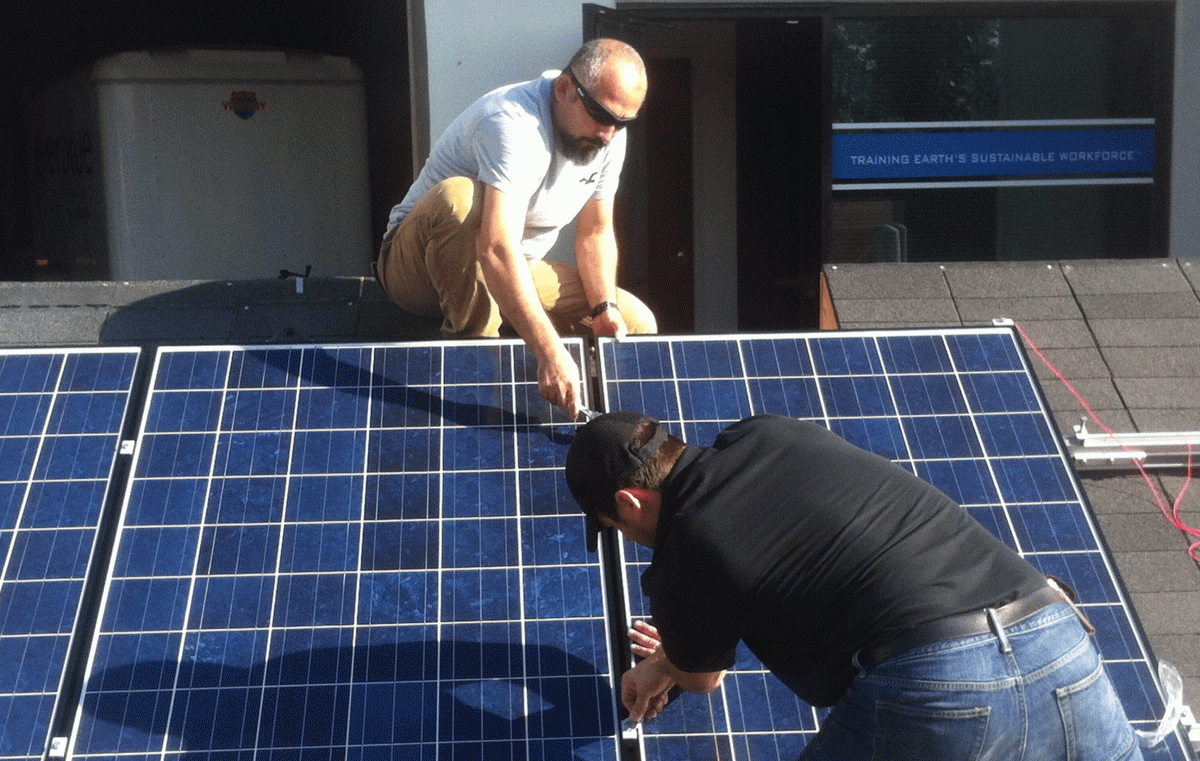 Other names for this job might include Apprentice, Electro-Mechanical Solar Technician, Installer, Journeyman Electrician PV Installer, Lead Installer, Photovoltaic Fabrication and Testing Technician (PV Fabrication and Testing Technician), Photovoltaic Fabrication Technician (PV Fabrication Technician), Photovoltaic Installation Technician (PV Installation Technician), Photovoltaic Installer (PV Installer), Photovoltaic Panel Installer (PV Panel Installer).
Solar Panel Installer Pay
A solar installer's salary will vary slightly depending on which research you look at, but the overall consensus is that a solar installer will make $35,000 – $45,000 each year.
Numbers falling within this range are mentioned on at least 8 different salary-related websites. This estimated solar installer salary range falls in line with Indeed.com's research, which evaluated 1,837 employees, users, and past and present job advertisements on Indeed in the past 36 months (last updated 7/12/21). Indeed.com found an average salary in the U.S. of $21.31/hour.
These numbers may change depending on:
Education
Work Experience
Certifications/licensure
Location
We'll dive into each factor below.
It's important to note that, as with any occupation, minimum wage may differ by jurisdiction and wages and benefits vary by employer. You should consult your prospective employer for actual salary figures.
Education
Most solar panel installers receive training at a community college or technical school, like Everblue. Many take solar training courses to learn about electricity, safety, panel configuration and design, and solar installation technique.
Installers trained as electricians or those that are licensed as general contractors can make significantly more money than career-switching newcomers.
Work Experience
OwlGuru.com explains that a solar installer's salary can be as low as $32,590 if you're still a newbie with no experience, to over $64,600 if you have a ton of experience under your belt.
Similarly, the typical hourly pay is $23 and can range from $16 to $31, again depending on if you are new to solar or a seasoned professional.
According to Payscale.com, experience strongly influences income for this job. Most people move on to other jobs if they have more than 10 years' experience in this field.
Certifications/Licensure
Solar installer licensure and certification requirements vary by state. More and more locations are starting to require a passing score on a state licensure exam and/or for individuals to obtain third-party solar certification.
The U.S. Bureau of Labor Statistics notes that certification by the North American Board of Certified Energy Practitioners (NABCEP) is required for many jobs, particularly large commercial installations and residential installations.
Location
A 2019 article from money.usnews.com shared solar installer salary statistics by region.
The best paying cities for solar PV installers were:
Santa Cruz, CA: $72,300
San Francisco, CA: $58,650
Urban Honolulu, HI: $58,630
Visalia, CA: $58,590
Kahului, HI: $55,450
Note – in the 2016 version of this article, Kahului was again listed but with a salary approximately $10K less than the 2019 figure. In fact, all of the cities in the 2016 salary were lower than the 2019 figures. This shows that salaries are continuing to rise for solar installers.
The best paying states were:
Oregon: $58,180
Hawaii: $56,920
Texas: $53,700
Massachusetts: $53,180
Arizona: $51,840
According to Recruiter.com (date of article unknown), solar PV installers obtain the highest salaries in New York, which has an average pay rate close to $71,030 per year. Here is the Recruiter.com list of best paying states for its year of research: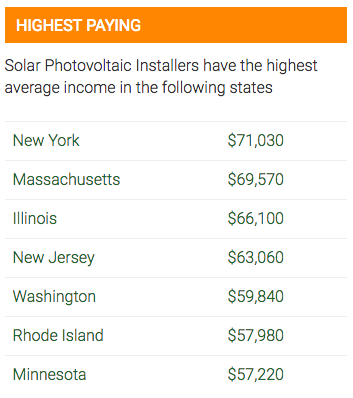 In addition to the base salary figures presented above, Payscale.com shares that the average additional compensation for this job includes $1,900 in bonuses and $400 in profit sharing.
A good rule of thumb is to demonstrate to prospective employers that you are hard-working, reliable, and educated. If you come into a job with electrical know-how and NABCEP Certification, you're getting things started on the right foot. If you stay at the job for more than a year, you'll demonstrate your loyalty and commitment to the company and potentially gain bonuses, salary increases, and promotions.
To get started, call Everblue at (800) 460-2575 to discuss your goals or visit our Solar Training page to review course options.