On July 1, 2017, the state of Idaho implemented the 2017 version of the National Electric Code (NEC), which sets the foundation for electrical safety in residential, commercial, and industrial occupations. Currently, only one other state has implemented the 2017 NEC code, though more states are expected to put its rules into effect this summer. This code update is important, especially when we think about how to install solar panels in Idaho.
By adopting the most up-to-date version of the NEC Code, Idaho stands out as a leader for supporting electrical safety and encouraging the growth of solar installation jobs. As we will go over in this post, Idaho offers two pathways to licensure for those interested in adding solar installations to their business – one involves becoming a licensed electrician, and the other involves earning a NABCEP Certification.
If you want to learn more about the NABCEP Certification program, please visit our Introduction to Solar series.
How to Install Solar Panels in Idaho
If you're ready to learn how to install solar panels in Idaho (including the Idaho electrical license requirements), keep reading!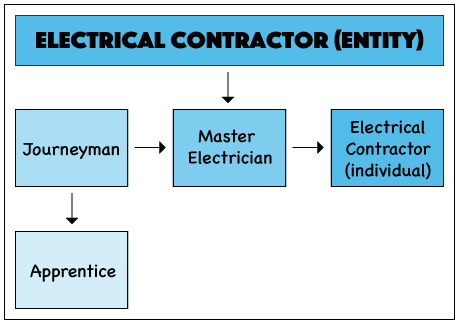 The state of Idaho offers the following electrical licenses (in order of achievement):
Apprentice Electrician
Journeyman Electrician
Master Electrician
Electrical Contractor
The Idaho Photovoltaic (Solar) Installer license is one of nine Specialty Electrical Licenses. To earn a specialty license, an individual can follow this pathway of licensure:
Specialty Electrician Trainee
Specialty Electrical Journeyman
Specialty Electrical Contractor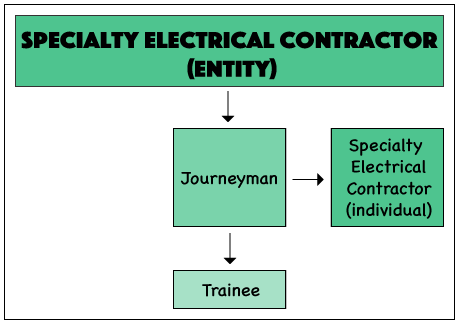 For more information about the eligibility requirements for each license phase, please visit the Idaho Division of Building Safety website.
Why Earn the Specialty License vs. the Electrician's License?
The Specialty Electrical licenses offer an opportunity for individuals to install solar even if they are not licensed electricians.
Let's look at the Journeyman phase as an example. The Journeyman Electrician must document a minimum of 6,000 hours of work experience as an apprentice, have completed four years of approved electrical apprenticeship school, and pass an exam. On the Specialty side, the Electrical Specialty Journeyman must document a minimum of 4,000 hours of work experience, show proof of NABCEP Certification, and pass an exam.
As you can see, the 4-year technical education can be "substituted" with a professional solar panel installation certification from NABCEP.
In short, there is a long and formal process to become a licensed electrician. However, if you get NABCEP certified, you can earn the Specialty Electrical license with much less time and money. To see what the NABCEP Certification process would look like, see our page on the NABCEP PV Installation Certification requirements.
Not to mention, if your goal is to install solar, the Specialty Electrical license is simply a better fit than the traditional electrician's license. After all the time and money spent, licensed electricians are able to perform a wide range of actions – but solar installers don't need all that. They just need to be able to connect to the service panel with a breaker or disconnect. Solar installation is a specialty skill set, and Idaho provides a quick and easy pathway to obtain the specialty license.
A few specific notes about the Photovoltaic (Solar) Installer License:
The license holder must be employed by a licensed electrical contractor whose license is in the same category.
The license holder may not countersign a contractor's application as a supervising specialty journeyman except for work in his specialty.
Applicants for this license class must provide proof of photovoltaic installer certification by the North American Board of Certified Energy Practitioners (NABCEP) or equivalent.
Any person with the solar photovoltaic license can perform the following types of installations:
Solar Photovoltaic DC Systems: Install, maintain, repair, and replace all electrical equipment, wires, and accessories up to and including the inverter.
Solar Photovoltaic micro-inverter/AC Systems: Install, maintain, repair, and replace all electrical equipment, wires, and accessories up to and including the AC combiner box.
Are You Ready to Join the Solar Workforce?
If you live in Idaho, and you want to add solar installation to your list of skills, let us help you work toward the NABCEP Certification with our NABCEP PV Installation Professional training program.
Our multi-course Combo program covers a comprehensive range of solar energy topics, including electrical safety, solar design and sales, and hands-on solar panel installation.
With this set of fundamental skills under your belt, you'll be well-equipped to begin documenting your 4,000 hours of work experience (equivalent to 2 years) and preparing for the Electrical Specialty Journeyman exam and license.
For more information about installing solar panels in Idaho, give us a call at (800) 460-2575 or email [email protected].