We recently held a free live webinar called "LEED & PMP – Perfect Together." The purpose of this information session was to help our LEED students navigate the expectations and processes associated with earning a Project Management Professional (PMP) Certification. As outlined in the presentation, there is a high crossover of skills between PMP Certification and LEED Accreditation. It is quite common for LEED professionals to seek a project management certification due to this alignment of values and experience.
One of the most popular questions during the presentation was about how to get project management experience to qualify for PMP Certification. To apply for PMP Certification, an individual with a four-year degree must have at least three years of project management experience that includes 4,500 hours "leading and directing projects" as well as 35 hours of project management education.
Whew! Those experience requirements seem quite steep, don't they? The reality is, if you are a working professional, there is a good chance that you have already acquired a great deal of this experience already!
Although the Project Management Institute (PMI) website declares that the 4,500 hours must be spent "leading and directing projects," the actual requirement isn't quite that rigid. Thankfully, PMI is somewhat flexible. You don't have to be the Project Manager. You just have to demonstrate that the number of hours of work that you're claiming in your exam application were part of a project and that your role can be described using PMI terminology. If you are unfamiliar with PMI's terminology, you should enroll in a 35-hour PMP Exam Prep course.
You will want to list one of these project management roles that appropriately defines your involvement with the project: Project Contributor, Project Leader, Consultant, Supervisor, Project Manager, Administrator, Educator, or Other. PMI really wants project work experience, whether leadership or not. Most of your hours will probably fall into the execution area; that's probably what they expect. As long as your involvement fits into one of PMI's process areas and can be supported by a manager (in case you get audited), your experience should be accepted.
To be clear, PMI defines a project as an activity that is temporary in nature and has a beginning and end date; has a set of objectives; has an organization structure; has resources; may be tangible or intangible; has end-product deliverables that have the potential to realize business benefits; and is unique in some way.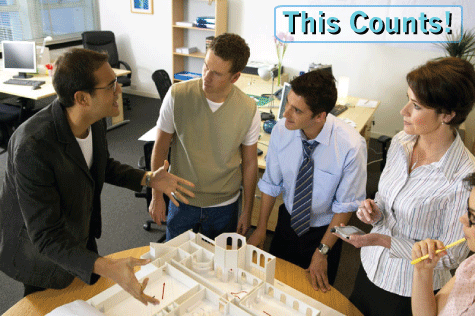 The professionals who pursue LEED Accreditation — architects, engineers, construction managers, facility managers, general contractors, sustainability consultants — are among the same professionals who seek a PMP Certification. At the end of the day, the job responsibilities related to these careers all work toward a final project. Let's take a look at some of the construction activities and sustainability goals that would meet the project experience requirement…
Renovating a bathroom
Remodeling a kitchen
Replacing floors in a house
Adding a porch or patio to a house
Constructing a commercial or residential building
Achieving a level of LEED Certification
Earning LEED Accreditation
Upgrading heating, ventilation, and air conditioning systems
Waterproofing a basement
Soundproofing bedrooms and bathrooms
Repairing plumbing and electrical systems
Installing energy-efficient thermal insulation, lighting, or low-e window glass
Implementing a Green Team or Corporate Sustainability Strategy at your firm
Hiring/training a new employee
Hiring a vendor or consultant to complete specialized work
Construction professionals embody project management skills and values on a daily basis. These types of activities often require managing people, expenses, resources, timelines, paperwork, and client expectations. If these activities sound familiar to you, then you're well on your way to documenting project experience for PMP Certification! If you have specific questions about your project management experience or want to learn more about pursuing a PMP Certification, please call (800) 460-2575 or email [email protected]