Those looking to get into the sustainability industry usually begin with researching qualifications, such as education, certifications, and licensure. Then they look for corresponding job titles. If you're reading this, you're probably interested in green building and sustainability, so we're going to help you with how to find LEED jobs.
What's unique about LEED is that the phrase itself represents a skill set as opposed to an occupation.
In some cases, LEED will specifically be referenced in the job title, but more often than not, you'll find LEED listed among eligibility requirements and knowledge areas.
If you're new to LEED and want to get a better understanding of what jobs align best with it, please visit our What is LEED? section.
Important LEED Job Keywords
To aide in your job search, let's first differentiate between two commonly misunderstood phrases that may come up during your research.
LEED Certification is a designation for high-performance green buildings
LEED Accreditation is a designation for people who understand LEED requirements
Though LEED has been available for over 15 years, it's possible that some employers may not be aware of this distinction and may use the wrong phrase in the job listing. It will be up to you to use context clues to decipher which phrase is intended.
A knowledgeable employer may say LEED Accreditation or may list the specific credential name, such as LEED Green Associate or LEED AP, to provide further clarification of what's expected.
For example…
---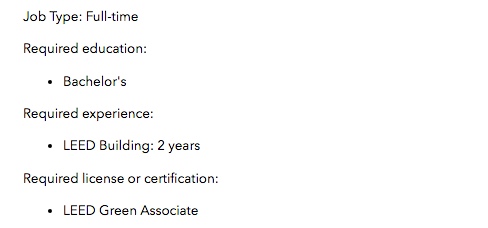 ---
Speaking of LEED Accreditation credentials, there are two other distinctions that we should cover and may come up on a job listing.
LEED AP vs. LEED AP Specialty
Qualifying for LEED AP
LEED AP vs. LEED AP Specialty
LEED AP can refer to "inactive" LEED professionals who passed their LEED exam under an older version (pre-2009) OR to "active" professionals who have passed the newer LEED AP Specialty exam.
With regard to the second grouping, these professionals are more commonly known as LEED APs with a Specialty, such as LEED AP BD+C, as opposed to LEED AP alone.
Technically, these two sets of acronyms refer to different types of LEED professionals. You should know which one you are.
It's more likely that employers want a LEED AP Specialty professional because their knowledge is more up-to-date. Seeing LEED AP on a job listing could be an oversight.
Qualifying for LEED AP
Regardless of which LEED AP is listed on a job posting, candidates should be aware of the official LEED credentialing process.
Because LEED AP is outdated, this version of the LEED exam is no longer available. If you're thinking that "LEED AP" is ultimately your goal, then you should set your sights on "LEED AP with a Specialty."
To become a LEED AP with a Specialty, a candidate MUST:
Pass the entry-level LEED Green Associate exam
Choose a LEED AP Specialty to study (there are 5 available)
Then pursue & pass the LEED AP Specialty exam
Now that we have an idea of what these LEED terms mean, let's continue to break down the types of LEED jobs that you will want to find.
Types of LEED Jobs
If you begin your job search by typing "LEED Jobs" into Google, you'll find USGBC Jobs as one of the top listings. This makes sense, considering that the U.S. Green Building Council (USGBC) created the LEED standards.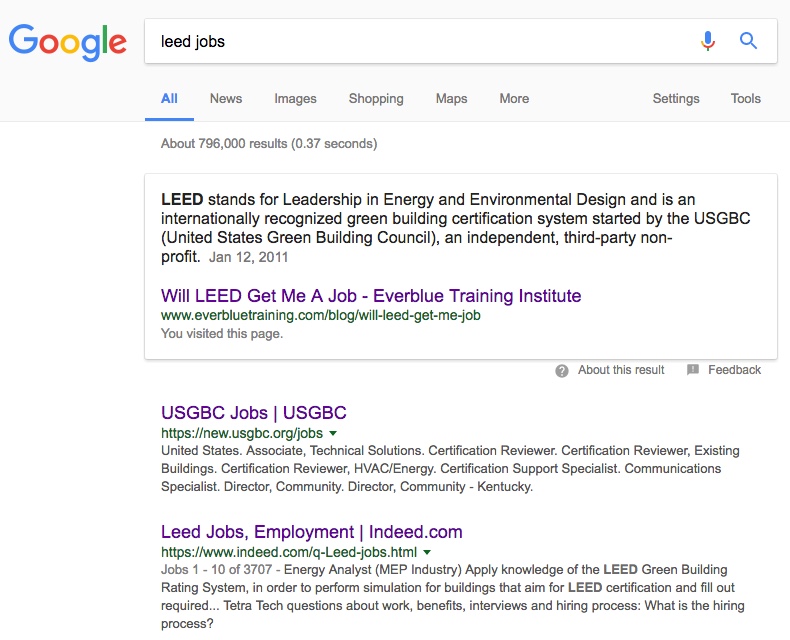 On this page, you'll find jobs working for USGBC. Some will be more intimately involved with LEED than others, given that USGBC staff has administrative responsibilities in addition to technical responsibilities.
Looking at a more well-known job search site, Indeed.com, you'll find a wide range of jobs that reference LEED, such as:
Energy Solutions Development Consultant
Energy and Sustainability Analyst
Sustainability Project Coordinator
Energy Analyst
Building Sustainability Consultant
Data Center Construction Project Manager
Designer & Documentation Specialist
As you can see, the common keywords among these job titles are "energy" and "sustainability," which makes sense since LEED aims to reduce energy and improve sustainability in buildings. In other words, the LEED skill set will be frequently utilized in these positions despite the fact that LEED is not mentioned in the job title.
When LEED appears in a job title, it's often going to be a LEED Project Manager or LEED Sustainability Consultant. In both of these cases, the individual will directly be involved with managing LEED project documentation and/or advising LEED project members on strategies to incorporate into their sustainable building project.
Finally, we showcased in our Best Jobs for LEED series the ways in which other professional occupations use LEED in their job responsibilities. Virtually anyone interested in improving environmental sustainability can benefit from the LEED skill set. There are applications for interior designers, pest control companies, plumbing contractors, product manufacturers, and real estate attorneys, even though these occupations don't necessarily scream "building sustainability" at first glance.
To learn more about how LEED can align with your professional goals, you should enroll in a LEED Green Associate Exam Prep course today or call us at (800) 460-2575.